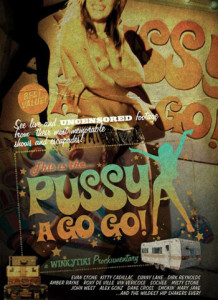 Pussy a Go Go is a fake documentary about a traveling burlesque carnival show — or, rather, the (often sexual) exploits that go on behind the scenes. It is stuffed with interviews, hilarious character names, psychedelic video effects, and rambunctious music, all edited together into a fast-paced conglomeration resembling a porno only when cocks and pussies start coming out. Pussy a Go Go is also entirely improvised, which really adds to its charm and atmosphere.
Director Octavio Winkytiki obviously knew what he was doing when he cast Evan Stone into the lead role of Rick "Duct Tape" Johnson, an "official carnie" who has been with Pussy a Go Go for 10 years. Much time is spent with Evan rambling to the camera, but he (unsurprisingly) plays the character very well. My favorite line of his, on his long career as a carnie: "it's different now… because uh, it's not the same." While mopping up condoms and juices, he explains that he has dreams of becoming a rich rockstar. He doesn't know how to play the guitar yet, but he'll learn. Oh, he'll learn.
The majority of Evan's rambling centers around Sunny Lane, a new girl at Pussy a Go Go who is just different. I love the rendering of Evan's lovesickness:
Evan's not the only one with a story, though. Everyone has one. In the first sex scene, Amber Rayne plays Vicky Bender, a chick who was born into the business of Pussy a Go Go. Through some thick and distracting music, she writhes around in a claustrophobic red booth, waiting for hard cocks to push through the holes and into her hands and mouth.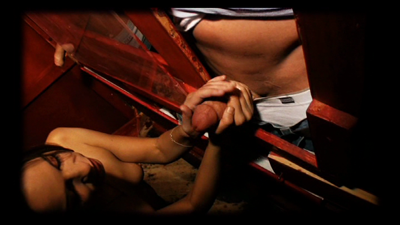 She pleases them like a maniac, then they move to a sleazy room, where the guys (Dane Cross, Alex Gonz, and John West) go to town on her pussy and ass — and, eventually, both at once.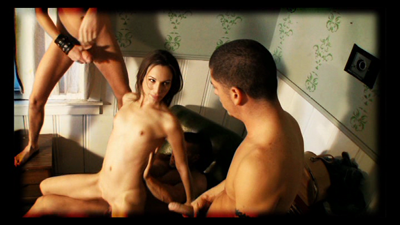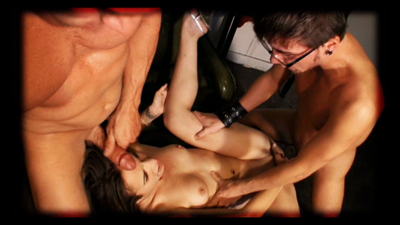 The success of this scene can be attributed to Amber's joyousness and desire to please. Example: When Dane Cross spits on her while she is in the midst of an orgasm, she yells, "oh fuck yeah!" I approve. Very much.
The second scene is the reason I took notice of Pussy a Go Go, because it stars Roxy DeVille, one of my favorites, and Vin Vericose, a new dude who impressed me in Eon McKai's On My Dirty Knees. Vin's crusty mom brings him to the Pussy a Go Go trailer, explaining that her virgin son needs a girl before he goes blind looking at "nasty magazines." Enter Roxy (a.k.a. Alabama).
Roxy gives Vin a great blowjob enhanced by Vin's moans of "fuck yeah," then he fingers her for a short time and they fuck on the Pussy a Go Go stage.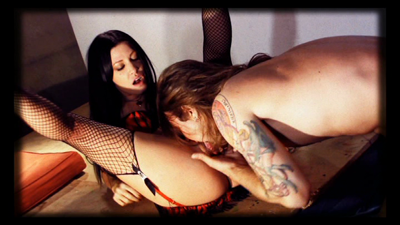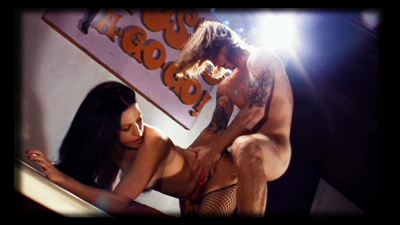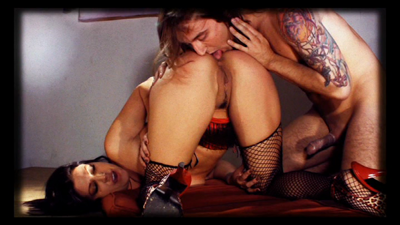 Sadly, the sex is pretty standard. Roxy is very vocal, as usual, but doesn't really say anything. The fact of Vin's "virginity" is not mentioned or played upon. Vin gives Roxy an all-too-brief rimjob and also fawns over her feet. These moments add flair to the scene, but I was otherwise unenthused by the action.
These first two scenes are average in length, but Pussy a Go Go also features three short scenes. These scenes seem to be meant to add ambiance, but I found them awkward. In the first one, Kitten de Ville gets it on with a real winner named Dirk Reynolds. While Evan Stone's sleaziness is almost endearing, this guy is oozing icky sleaze out of his ears. Fortunately, I guess, their little scene is so draped in shadows that I don't have to look at the guy much.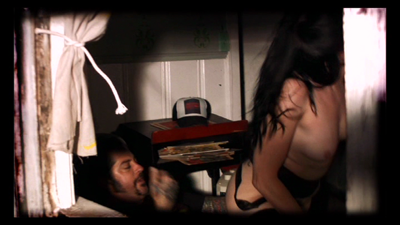 There are two other short scenes later on, but let's get them out of the way. One features Smokin' Mary Jane playing with herself solo in the red booth, which might be alright if her audio existed at all — instead it feels like a trippy and out of place music video. The other short scene is yet another between Kitten and Dirk, still in the dark but this time saturated with foot fetish action.
Meanwhile, new girl Sochee Mala chats with Misty Stone about what it's like dancing in Pussy a Go Go. Their improvised conversation and shared joint make for the perfect build-up to a furious scene on a dingy mattress in some back room.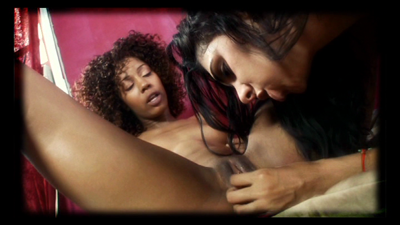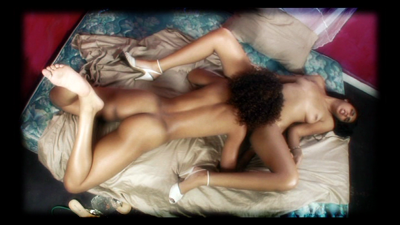 Misty smacks Sochee around, ordering her to service her and calling her a dirty whore at every turn. Misty really carries the weight of this scene — Sochee's just along for the ride — but the dynamic works in this case. Sochee is the n00b, after all.
In the last instance of between-scene silliness, Sunny Lane and Evan Stone have some exceedingly awkward conversation in the trailer, complete with a googly-eyed Evan and fun house mirror effects. Then, finally, Evan gets his way with Sunny on the Pussy a Go Go stage. Sunny is dressed in an adorable polka-dotted skirt and corset, and the lighting is delicious.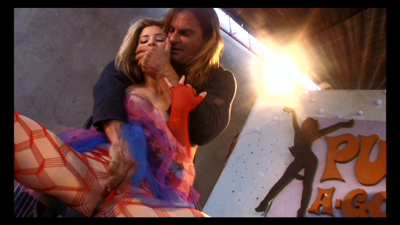 Evan tells Sunny that he can tell she's a virgin, and she likes the idea of him helping her "grow up." They fondle each other, both readily confessing to voyeurism, masturbation, and fantasies they've had. I really started to believe that Evan had been jacking off in his trailer to the thought of Sunny, and that's saying a lot.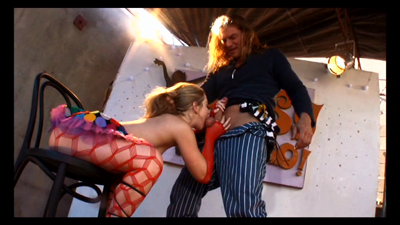 After an insanely expert blowjob (during which I suspended my disbelief and pretended any virgin could do that), he fucks her tits. Then Evan lays down and Sunny crouches over him, her heels knocking against the wooden stage as he fingers her.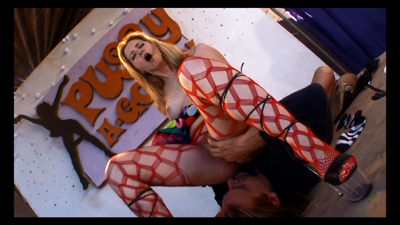 And the sex is nothing short of fantastic, with Evan fucking with the fervor of a man who has wanted to fuck this chick since he met her, and Sunny responding to his cock with the joyous surprise we all imagine we will experience when we first have sex (before we're disproved). "Wow," she moans, her eyes rolling back.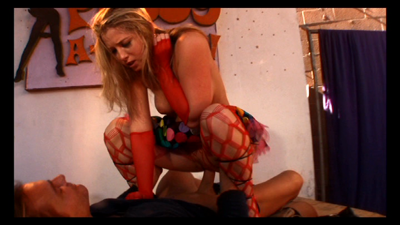 This is virgin deflowering done right, and while I enjoyed Roxy and Vin's scene, this one blew it out of the fucking water and beyond. I swear, I had to keep myself from coming every minute while watching this scene.
There's no denying that Pussy a Go Go is entertaining, and it will probably be a long time before I'm so amused by the stuff between a porn film's sex scenes. The improvised dialogue works incredibly well, and the documentary style makes everything feel so real I almost believe Pussy a Go Go exists. With the exception of Roxy and Vin's scene, the longer scenes rocked — but the shorter scenes harmed the atmosphere of the film more than they helped it.
Nonetheless, Pussy a Go Go is a highly enjoyable porn film, especially if you're in the mood to spend two hours engulfed in a world of burlesque dancing, trash talking, and Evan Stone being a carnie.
Stream Pussy a Go Go here.