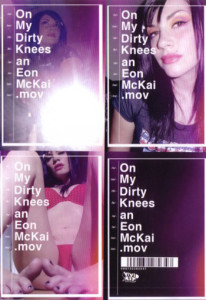 Eon McKai understands something about porn that many directors don't: male porn stars can be more than disembodied penises. Of course, he understands a lot of other things, too — like how to satirize art school and how to cast cute ladies — but his choice of male talent is one thing that stands out in On My Dirty Knees.
The storyline, if you could call it that, is vague; this is a film about "fucking your way out of your hometown." While one scene is a real-life couple fucking, most of the film is about fucking without love, for reasons ranging from fame to money. But these girls aren't victims; they're powerful, persuasive women who know how to make men bow down to them. In the form of fucking, of course.
The first scene features real-life couple Andy San Dimas and Vin Vericose. They begin by flirting on an overpass, then steal away into a wooded area for a fantastic, suck-heavy blowjob. The blowjob continues in a different area, still outside, atop some lettered blocks. They fuck in various positions on the blocks. The lighting is bright, yet filled with shadows, giving the whole scene a very voyeuristic feel. My favorite part of this scene: the sound of crickets.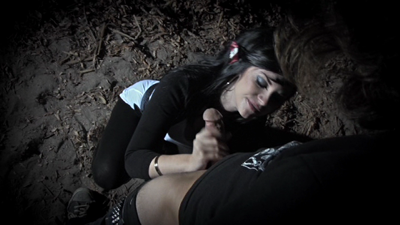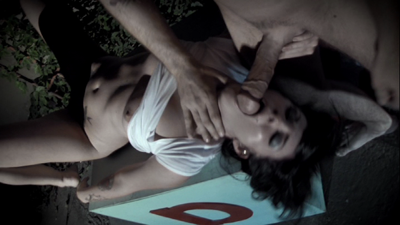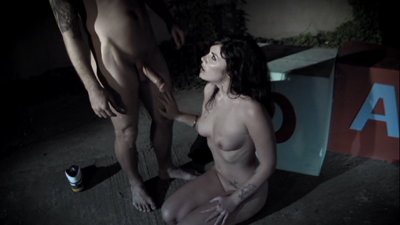 Next, after an interlude, Violet Skye shows up at Dane Cross's apartment to crash. Dane is so nerdy, so awkward, that I assumed he was a porn n00b; turns out, he is already an established star, just really good at playing a n00b. Violet and Dane engage in a hilarious and yet completely realistic awkward conversation that is, ironically and probably inadvertently, one of the best displays of acting I've seen in porn. Dane challenges Violet to take off her clothes, then slides his cock out of his jeans as she strips. I was so entranced at this point in the film that, the first time I watched it, I came the moment Dane finally began touching Violet.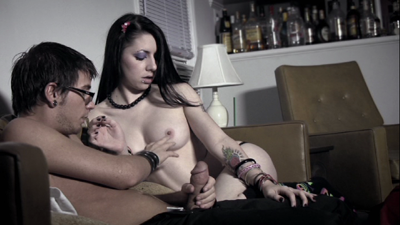 To my slight dismay, Violet and Dane quickly shed their awkwardness and lapse into porno mode. Their interaction is still hot, just less unique. They fuck in some interesting positions and lock eyes many times. Dane's moaning, which is higher-pitched than stereotypical man-grunting, is very sexy. Violet's moaning, on the other hand, is pretty bland.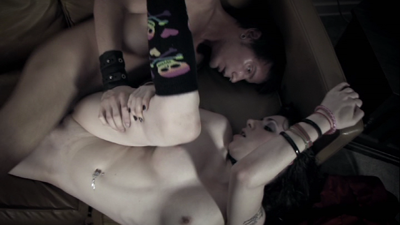 The next scene begins at a dark, loud party. Alex Gonz fondles Andy, then they find a couch and Andy spreads her legs so Alex can bury his face in her pussy. The lighting cycles through a variety of colors; the music throbs; party-goers watch aimlessly from the sidelines. This is the only instance of extended pussy licking in the film, unfortunately. Andy overplays it a bit, but Alex really goes for the gold.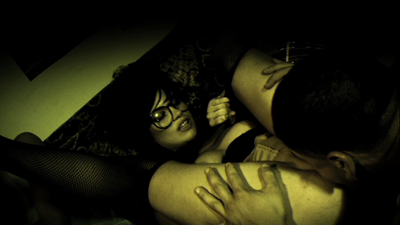 Andy and Alex escape the party and find their way into a bathroom. Both of them let their lustful tendencies take over, feverishly going at each other, eventually sweating profusely. I wasn't sure whether to be aroused or disturbed by Andy's choke-centric blowjobs; she makes a sour, pained face when she gags. This scene wasn't my favorite; it felt detached in a kind-of empty way, and Andy's moaning grated on me. Nonetheless, there is something to be said for animal lust, wet hair, and fucking standing up.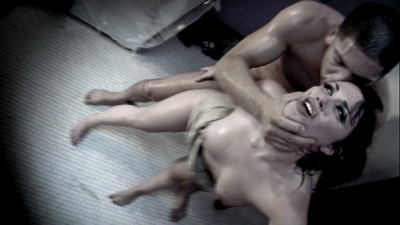 The fourth scene is the only one with a title: Micro Fame Fucker. Violet shows up at the nicely-decorated apartment of Daniel (a.k.a. Danny Wylde), a non-specific "artist" whom Violet admires. More deliciously awkward conversation ensues, then they launch into a make out session. Violet kneels in front of Daniel on the bed and gives an excellent blowjob, then they fuck.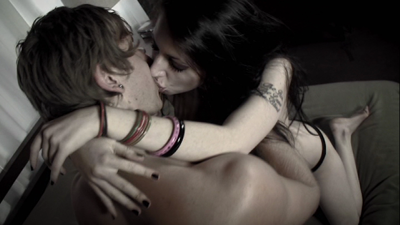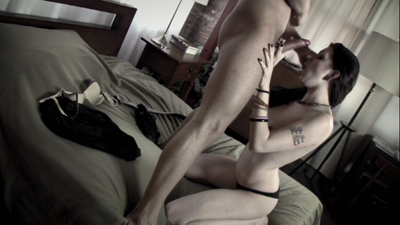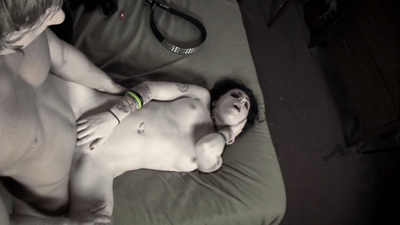 As in Violet's other scene, her moaning here is nothing special; but the scene is saved by Daniel's hotness and Eon's excellent camerawork and editing. There were a few missed opportunities that bothered me — specifically, for a brief moment, there's a shot of Daniel briskly fingering Violet. I really, really wanted to see more of that, but I never did.
The final scene is a bit of a departure from the scenes before it. In this scene, Andy meets with some porno dude (Alec Knight), and promptly puts on a show for him and his video camera. Basically, she acts like the whore/nympho stereotype of porno chicks, complete with baby-talk. The scene vacillates between Eon's regular shots and the lower-quality shots from Alec's camera, which surprisingly worked for me — I actually enjoyed the lower-quality shots, as they matched the rawness of the action.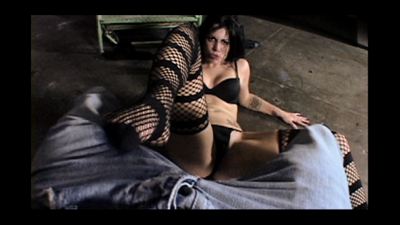 Andy licks and sucks Alec's cock through his jeans and rolls around on the floor playing with her pussy. A lot of time is spent giving Alec a blowjob, and while I appreciate Andy's skills, I was a bit tired of blowjobs by this point in the film. They eventually fuck with Andy on a cow-spotted chair, but not for very long.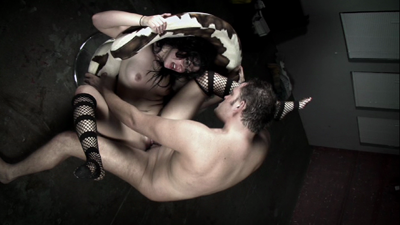 There was something both horrifying and arousing about this scene. I felt dirty for enjoying it, but in a good way. Eon does a magnificent job of taking the stereotypical girl-performs-for-dude porno trope and using its inherent creepiness to enhance the scene.
Eon McKai's penchant for beautiful and artistic footage and editing is showcased mostly between scenes. His editing during the scenes is more subtle, but definitely adds pace. He also has quite the eye for unique camera angles. The only thing I didn't like was when he cut in the middle of moaning.
Unsurprisingly, On My Dirty Knees is pretty awesome. Eon's deft camerawork makes for interesting and hot shots that simply don't exist in the average porno. The desaturated coloring of the scenes, coupled with the lighting, adds a certain rawness to the action — there is no airbrushing here.

On My Dirty Knees is at its best during blowjobs, as both Violet Skye and Andy San Dimas are fabulous at sucking cock. I would have appreciated more pussy licking to even things out, as well as more variety in the moans of the ladies (that's kind-of a weird thing to criticize, but for an alt film, I was expecting more dirty talk). Nonetheless, Eon is spot-on with his scenery, dialogue, and choice of attractive dudes, making for a great and hot film — no matter which nitpicky elements are missing.
Stream On My Dirty Knees here.