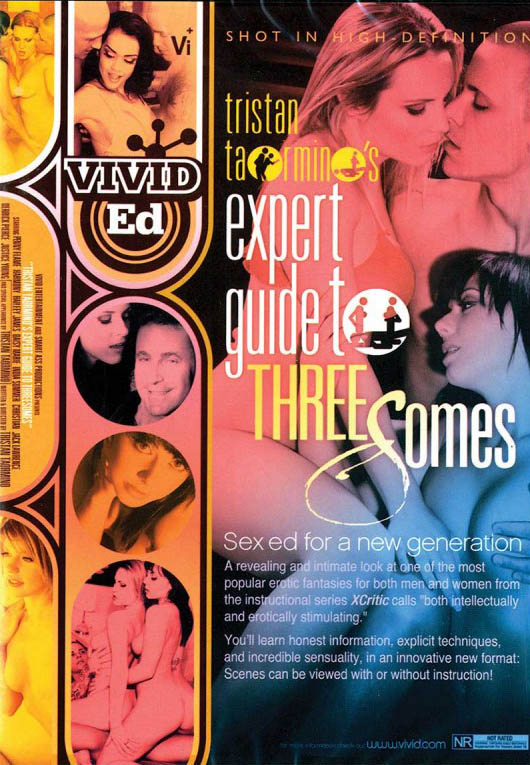 Tristan Taormino's Expert Guide to Threesomes begins with a lesson from Tristan, about nine minutes long. As you might imagine, nine minutes isn't much time to go beyond the basics. Tristan explains the reasons people engage in threesomes, the types of threesomes (the triangle threesome in which everyone is sexual with everyone, and the "V" threesome in which two people have sex with a third person, but not each other), and the opportunities that threesomes present (e.g., for you to have sex with a person of a gender different than your partner's).
Tristan lists and explains eight main tips, beginning with "Get on the same page" and finishing with "Talk about it afterward." Unfortunately, there is not much in the middle that struck me as non-obvious. Many of the rules have to do with setting boundaries, sticking to them, and communicating. To test my hypothesis that some of her tips were self-evident, I asked my friend (who has never had a threesome) what her tips for threesome-goers would be. She gave me three main points that almost directly coincided with some of Tristan's. I did appreciate, however, that Tristan gives some excellent examples to make her tips more meaningful.
All of this advice is useful and agreeable, but, disappointingly, little of it is implemented throughout the three sex scenes. We never see the stars discuss their limits, so we can't see them follow through, communicate throughout the scene, or check in afterward. Obviously, this is porn, so it is perhaps silly of me to expect such things; how could pornstars pretend to be having a real-life threesome, anyway? But without any of these communicative moments, the film plays more like a collection of three sex scenes with a lecture tacked on the front.
The first scene features Haileey James, India Summer, and Jack Lawrence, in a "V" threesome in which Haileey and India interact minimally. Haileey is adorable as fuck, with an upturned nose and beautiful lips, and I must find more of her. I'm familiar with Jack Lawrence, and he is a quiet guy who loves performing cunnilingus. India hurts the scene, for me; her moaning doesn't have much range, and seems to be all loud cries.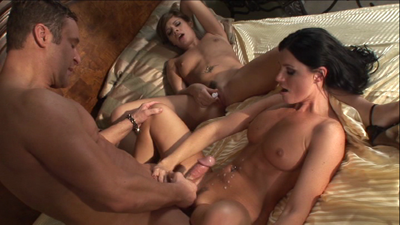 Jack puts his fingers and mouth to work on both women, then they break out the Layaspot for some extra stimulation. Although they consistently use what I understand to be the wrong end of the Layaspot, I enjoyed seeing it incorporated — one of my favorite moments was when India held it against Haileey's clit while Jack fucked her. Any time Jack fucked India, which was less frequent, I was displeased.
Scene two involves Daisy Marie, Christian, and Derrick Pierce. This is another "V" threesome, this time with the dudes steering clear of one another (unfortunately).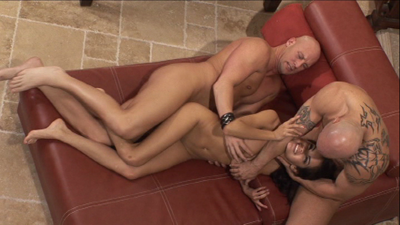 I like all of these performers, and there were some refreshing laughs had by them at times, but the scene felt bland to me. Daisy spends most of the scene sucking one cock while being fucked with another — not exactly the most original (or realistic, if you ask me) sex act for one chick and two dudes to engage in. At one point, Daisy rides Christian while Derrick looks on, jacking off; this is nice, but short-lived.
The third, final scene is between Penny Flame, Harmony, and Justice Young, in a triangle threesome. Harmony's dirty talk, Penny's licking of Justice's feet, and the inclusion of the Hitachi Magic Wand all add spice to this scene… yet I still wasn't very into it. As in the previous scene, a lot of attention is paid to fellatio, with little room for cunnilingus.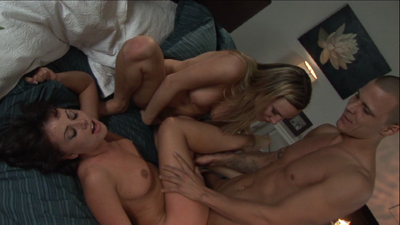 I was surprised by how little communication actually took place in these scenes. Definitely no more communication than in the average porn film. The editing (per the porn film standard) cuts out most instances of awkwardness or changing of positions, so everything seems to move unrealistically smoothly. Also, there is soft music in the background of all the scenes. It's tolerably modern, but any music still detracts from the action, in my opinion. The only thing that truly connects these scenes to the lesson preceding it is the few pop-ups and voice-overs that sporadically remind the viewer that "this is not a contest," "it's okay to sit back and watch," etc.
I wanted to like this film, as I have a lot of faith in Tristan Taormino, but it missed the mark for me. I didn't feel very enlightened by the lesson, and I didn't crave the sex scenes past the first two watches. My individual taste may have a lot to do with it, though, as I consider myself fairly tuned-in to the importance of communication, especially in sexual matters such as threesomes, and I also expect more originality from these pornstars.
It is entirely possible that some couples could watch this film and glean a lot from it, and think it's hot, if they are not big porn watchers. And of course Tristan's instruction is down-to-earth and very appealing. If you're thinking about a threesome, it certainly couldn't hurt to watch Tristan's lesson first — just don't expect the three subsequent scenes to be very instructive.
Buy Tristan Taormino's Expert Guide to Threesomes at SheVibe, or stream it now!
Browse more Expert Guides here or stream them here.