I've never thought strapless strap-on dildos were the second coming of Christ. Let's start there. I have my Joque harness, I have well-loved strap-on dildos, and I am comfortable combining those things and fucking someone silly. I've never felt like strap-on sex wasn't "intimate" enough, or like I needed extra genital stimulation in order to enjoy it. For me, the pleasure comes from wielding a cock, achieving ideal positioning and thrusting, and watching myself plunge into the depths of an orifice. (I love labia, all labia, labia forever — so I will take literally any chance to ogle them.)
Strapless strap-on dildos attempt to eliminate the harness aspect altogether. These double-ended toys have a bulb end for the wearer to insert, and a shaft end with which to penetrate the receiver. Bodies can get closer, the toy is more integrated to sex, and partners feel more connected. Ostensibly. Ideally. It's tempting to don rose-colored glasses when considering these toys. I know because I did it myself.
The "strapless strap-on" category of sex toy didn't exist until a crafty lesbian developed and patented the design of the Feeldoe, which she brought to Tantus for production in the early '00s. For some good old-fashioned fun, I highly recommend poking around the inventor's website, which is very gay, delightfully outdated, and laden with clipart and GIFs. My favorite quote: "We don't supply any pictures of naked people. Seducing you is your partner's job, not ours!"
Now, many sex toy peddlers have released their own strapless strap-ons: Vixen, Fun Factory, Fuze, Wet for Her. Even the bigwig manufacturers — Doc Johnson, Cal Exotics, Swan — are getting in on the action. One of the more recent additions to the category is the ShareVibe, a re-imagining of Fun Factory's original Share. Now with rechargeable bullet vibe in the base! Creepy bandaid color option! A shape that looks either genius or hella uncomfortable!?
It was time, I decided, to see if this type of toy could work for my partner Kynan and I. So I rounded up several strapless strap-on dildos: the ShareVibe, Tantus Feeldoe More, Fuze Tango, and Tantus Realdoe Stout. A decent sample size! Yeah! Legit!
I went in optimistic, but that didn't last long. In bed with Kynan, staring at the spread before us, I realized, who really wants to have such scientific sex? I don't mind lining up dildos for a tasting flight when I'm alone, but I felt bad roping poor Ky into it. He'd already suffered enough for my reviews.
Still, we soldiered on. Like consummate professionals, we spent hours having mediocre sex, pausing frequently to take borderline-illegible notes in a notebook. On another occasion, to avoid having to decipher handwritten notes, we tape-recorded the session with my phone. It was such a perfect encapsulation of our tribulations that I edited the hour-long file down to the best, silliest 5 minutes just for you:
Note: Kynan has a vulva and uses he/him pronouns.
Kynan: This is Article 1: Tango. Piph wearing the Tango.
Epiphora: With the Tango in the Tango. Tango on Tango.
Kynan: Oh! Tangoception.
Epiphora: But how am I supposed to fuck you like this?
Epiphora: Oh god, is it inside of you?
Kynan: It is.
Epiphora: I have to let go, I'm sorry. I'm sorry.
Kynan: "Is it in yet?"
Epiphora: Ah! It's on a pattern, why!? No.
Epiphora: So not acrobatic enough for this.
Kynan: It is awkward.
Epiphora: It's falling out!
Kynan: (laughs)
Epiphora: It's falling out and I'm on bottom! Do I have to fucking close my legs, is that it?
Kynan: You gotta that shut that hole. (both laugh)
Epiphora: Closed for construction. No access right now.
Epiphora: This is the Feeldoe More.
Epiphora: Oh my god, your face looked like you just got shocked.
Kynan: Well, I mean, I just got punched in the cervix.
Epiphora: Oh my god, it's SO LONG.
Kynan: (laughs) We don't want more!
Epiphora: We don't want more!
Both: We want less!
Kynan: Feeldoe Less! (both laugh)
Epiphora: That would be the Stout, Ky.
Epiphora: Is it tiring?
Kynan: I either have to prop myself all the way up on my arms, or I have to lie on you, because I can't brace myself with my legs when they're together.
Epiphora: Yeah, your legs are useless.
Kynan: I'm like a fish. I'm basically a mermaid now, with a dick.
Kynan: Piph is lying down and I'm on top. Ky on top.
Epiphora: Ky on top! The aerial position?
Epiphora: Oh, see, that's nice. Can I just have that? 'Cause that's nice.
Kynan: See? Is it against your clit there?
Epiphora: Yeah. It's good. It works. See that's why, when you're on the bottom, and you're the one wearing it, you're like, "this is fine, I like this."
Kynan: And the person on top is like, "I thought was going to be the one being pleasured!"
Epiphora: Right. Right.
Kynan: Ew, the head shape is terrible on this. It feels horrible inside me.
Epiphora: Yeah, it's not good.
Kynan: It's scraping my insides. It's doing bad things to my pubic bone.
Epiphora: Thanks, cum rag. You're so helpful all the time.
Kynan: So the Welsh word for the language Welsh is "Cymraeg." And every time I think cum rag now I think —
Epiphora: It sounds like cum rag!
Kynan: I know!
Epiphora: That's good!
Kynan: We're, like, halfway done.
Epiphora: Yeah… I mean…
Kynan: This is the Realdoe Stout. I remember you hated this one when I was fucking you with it.
Epiphora: I think you hated this one. I think we all hated this one.
Kynan: We might have both hated it, but I remember you specifically were like, "end it now" when I was on top of you.
Epiphora: (laughs)
Epiphora: Yep, you're in the right place, just keep pushin'… oh my god…
Kynan: Oh god! Sorry.
Epiphora: It's fine. Just push it back in. It's just, the pubic bone is like, "no, can you not?"
Kynan: All I'm trying to do is keep it inside my body, which makes it hard to thrust when it's just like, I can't thrust with my vagina. (both laugh) 'Cause when you have a strap-on you're thrusting with your pelvis. When you have this, I'm just trying to thrust with my pussy and see if it works.
Epiphora: Piph on top riding Realdoe. I am scared.
Epiphora: It feels like an intrusion. You know what I mean? Like it doesn't feel like a thing that is supposed to feel good. It feels like something that you would get at the doctor or something —
Kynan: Have to deal with.
Epiphora: And you'd be like, I don't like it, but at least I'm getting an IUD, or —
Kynan: Counting the dots on the ceiling. Just let it end.
Epiphora: I'm not… no… oh… ugh! Noooooooooo.
Kynan: Yeah. It's not good.
Epiphora: Now our friend here, the ShareVibe. It's so erect.
Kynan: I can't open my legs.
Epiphora: Oh OK, do you want me to lay down?
Kynan: I mean if you want me to use it on you.
Epiphora: Ky's legs are together forever, it's fine. (both laugh)
Kynan: Oh my god, I can't laugh, it's coming out!
Epiphora: The way that you're just creeping along with your legs together though is really funny.
Kynan : It's like a horror movie character or something.
Kynan: What even is this pattern?!
Epiphora: I don't know! It's changing a lot.
Kynan: (imitates vibration pattern)
Epiphora: I really feel like I don't know where your pussy is, and I don't like that because, like, I need to know all times where your pussy is.
Kynan: (laughs)
Epiphora: I don't feel like I am sexy right now, and I don't know how to fix it.
Kyna : I mean it works… if all you desire is like, "can I be penetrated with a thing?"
Epiphora: Right, exactly. If your bar is —
Kynan: Insert point A into slot B.
Epiphora: "Does it not hurt?"
Kynan: Oh god.
Epiphora: Wow, it just went like…
Both: BOI-OI-OING! (both laugh)
Kynan: I don't like any of them.
Epiphora: I know!
Kynan: I'm trying to find something redeeming about stuff, and I hate them all.
Epiphora: So, they're all stupid and we hate them all. You're welcome. The end. Review written.
It became clear that the answer to my question was no. Strapless strap-ons do not work for us. For many valid reasons. Reasons that are likely to be true, at least partly, for a lot of other couples.
So strap yourself in. I'm about to get detailed as fuck.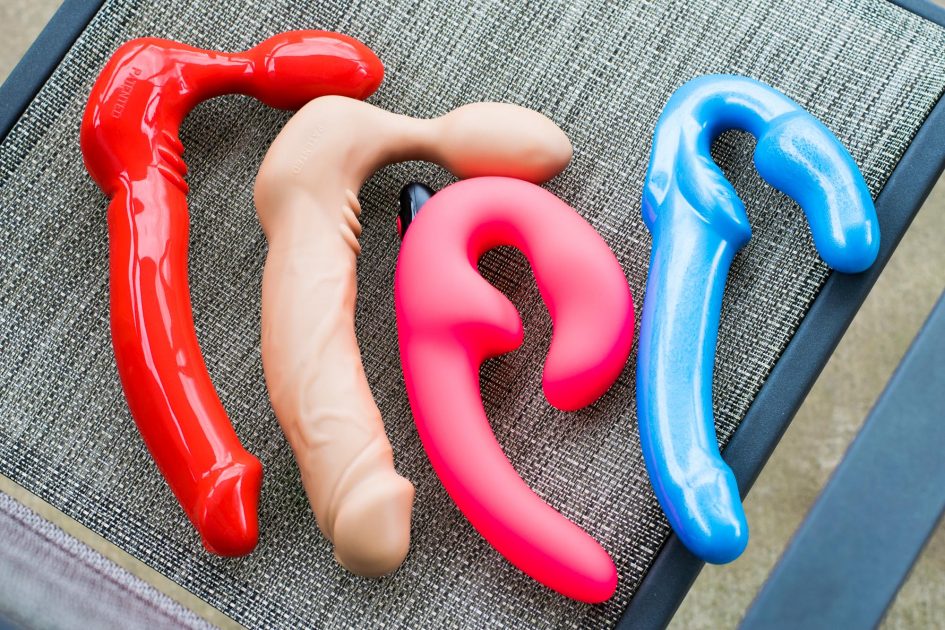 PROBLEM #1: one thing we learned early in our testing was that, unless the dildo wielder is wearing a harness, they often have to keep their legs together to keep the toy from slipping out of their body. Sure, if either of us concentrated and did super-kegels, we could keep the bulb inside ourselves. But otherwise, nah bruh. These dildos are too heavy, and as much of a boss as my vagina is, I cannot and will not actively clench with it the entire time I'm fucking someone. I'm getting a stress headache just thinking about it.
You have to close your legs, clamp onto the dildo for dear life, and waddle over to your partner.
Unsurprisingly, this makes missionary complicated. The wearer can't use their legs for leverage (as Ky described it, "I'm basically a mermaid now, with a dick") and must prop themselves up on their arms — as if they're doing a push-up — which is neither practical nor sexy. Consequently, the wearer can barely guide the shaft into their partner without help and can't tell what's going on down there without verbal confirmation. "How am I supposed to fuck you like this?" I asked Ky as I struggled. With the roles reversed, Ky had less trouble, but he still felt hindered. "I can't thrust with my VAGINA," he complained.
At least we have laughter, you know?
In cowgirl, the wearer still has to shut their legs most of the time, but at least they don't feel completely inept at fucking.
The ShareVibe aims to fix the falling-out issue with its extreme curves, but this had unfortunate repercussions. Ky couldn't hold the bulb in, even while clenching, because the toy was trying to fight its way out in order to spring back into shape. For me, ironically, the ShareVibe was both the one that locked into place best and the one I wanted out of my body the soonest. I couldn't stand the way it incessantly jammed my cervix.
I had marginal success wearing the Realdoe Stout. Its matte silicone helped it stay in me, sort of, so that I could thrust without closing my legs, sort of. But I was distracted by the pervasive feeling that it wanted to escape. With these toys, it always feels like danger is imminent.
PROBLEM #2: worn without a harness, the shafts of these toys hang much lower than a regular strap-on dildo or a penis. Whereas a strap-on would generally sit atop my mons, these are all too heavy and floppy. They droop. They dangle.
So regular ol' missionary turns into a battle against gravity, and at one point the dildo was grazing the bed it was hanging so low. In cowgirl, with me wearing the toy, the length and position of the shaft prevented Kynan from rubbing his clit against my body — which he's able to do with penises and regular strap-on dildos. In Ky's words: "well cool, you just ruined the one thing that I wanted from being on top."
The ShareVibe was the exception to this rule, but not in a good way. Its incredibly furled body wants to always be furled. You have to quite literally pull the shaft downward to use it properly, and you can imagine how that feels to the various involved orifices. My cervix is shuddering as I write this.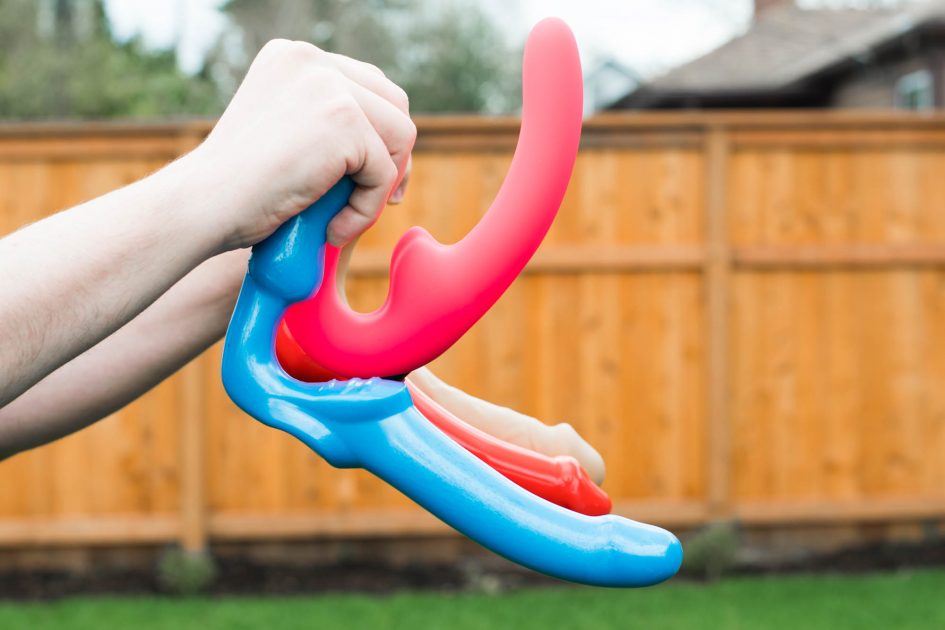 Conventional wisdom goes that strapless strap-on dildos do their best work when stabilized by a harness, but that's too simplistic. Remember, two strap harnesses don't provide support in the genital area, so while they ensure that the toy doesn't dislodge entirely, they don't keep the bulb from migrating, especially during vigorous thrusting.1 Also, it doesn't matter whether the toys are more secure in a harness if my partner hates every single shaft… just sayin'…
The ShareVibe was the only dildo we tried that was actually worse in a harness. Threaded through the Joque' s O-ring, the curve of its shaft became so severe ("it's gonna penetrate my own bellybutton!") that most positions were uncomfortable — even impossible — for the receiver. Ky was on top of me on the couch, normally a favorable position, and he had to lean into me to avoid feeling poked internally.
It occurred to me in this moment that the ShareVibe would work if we were both ghosts, able to drift into each other. Alas, we are not dead.
PROBLEM #3: the wearer's bulb side is too big, too long, too uncomfortable. Kynan refused to wear the cervix-punching Tango and became increasingly annoyed with the bulb shape of the ShareVibe, which was bothering his cervix and clamping against his vagina — a pressure which intensified with the addition of vibration. "It's pushing everywhere inside," he whined.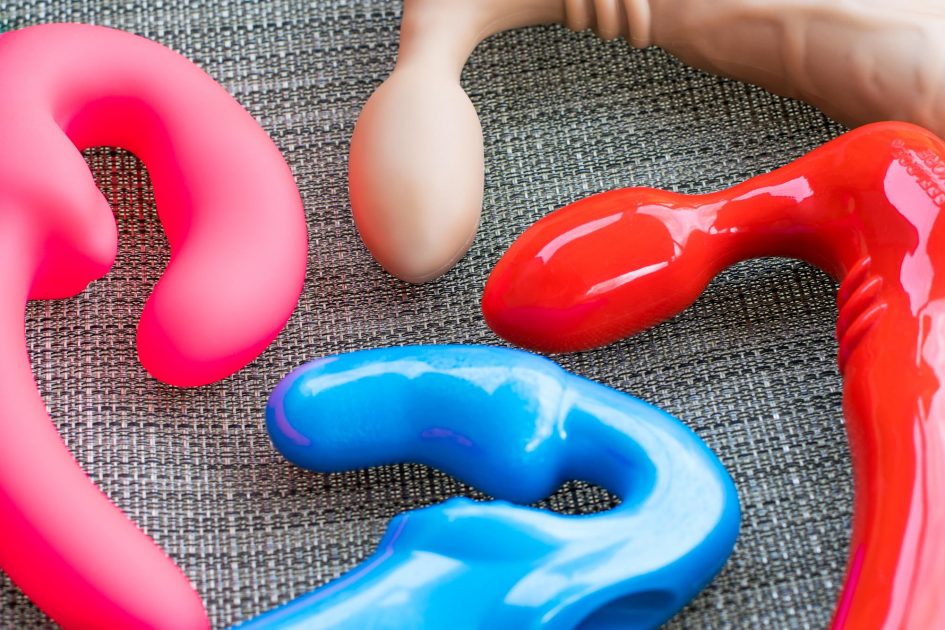 When I wore the ShareVibe, I understood immediately: it felt like it was giving me cramps. I couldn't bear to keep it inserted for more than a few minutes.
None of the other bulbs caused me pain, but none of them caused me pleasure, either. Which seems like an important thing to note, since otherwise why the fuck am I enduring any of this?
PROBLEM #4: the receiver's shaft side is too long, too rigid, too boring, too uncomfortable. Ky and I encountered two types of shaft in our testing: ones with dramatic, abrupt heads, and ones we called "rods" — thin, undefined tubes. All were too rigid. None of them did anything for either of our G-spots, and in fact did bad things to our pubic bones and cervixes.
"Nothing about this is good," Ky groaned as I tried to fuck him with the Realdoe. "Ew, the head shape is terrible on this," he said when I used the Feeldoe More. We found ourselves longing for the "rods" simply because they didn't have jutting heads, but even those were prone to cervix poking.
Because yeah, cervixes exist. That's why we prefer shorter shafts and softer silicone for strap-on action, but none of these dildos seem to understand that. Their firm silicone felt intrusive rather than pleasurable, and their lengthy shafts prevented our bodies from getting close. Doesn't that kinda defeat the purpose of using this kind of toy?
Not even blowjobs could salvage things. I wore the dildos one by one and had my boyfriend suck me off. The Tango was the only one that wasn't too large or poorly angled, but it holds zero aesthetic appeal — the nondescript blue silicone shaft in his mouth made me feel like a smurf. I'd much rather watch someone go to town on Buck while I hold a vibe on my clit.2
PROBLEM #5: the experience of using these toys is far from seamless, and in fact most of the time is actively unpleasant.
Kynan and I had brief moments where everything clicked, where clits were enjoying themselves and cervixes were at ease and the whole thing didn't seem like some sort of sex olympics turned slapstick comedy. But those were fleeting. In the entirety of our tape-recorded hour-long session, I could discern only one moment where we were content enough to stop complaining and just kiss. (It was when I was wearing a harness with the Tango in it.)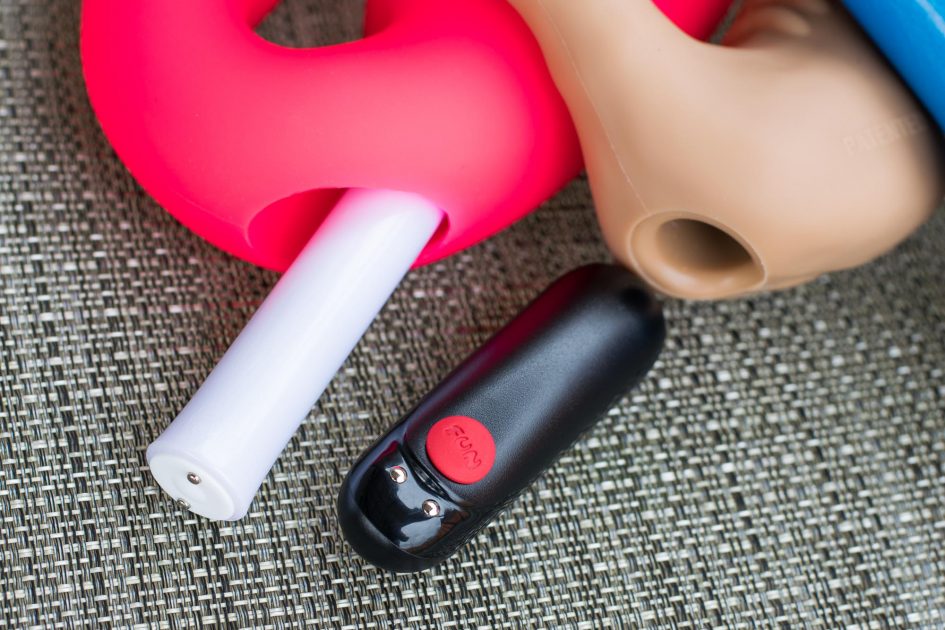 When it was tolerable, vibration was the reason. If the wearer lays on their back, they can chill out for a sec and appreciate the clitoral stimulation. It helped that instead of using a shitty watch battery bullet, we used the powerhouse We-Vibe Tango. ALL HAIL TANGO, THE SAVING GRACE OF SO MANY THINGS. The ShareVibe comes with its own rechargeable bullet, but it's terribly buzzy and only has one steady setting. The Tango doesn't fit in the ShareVibe's hole, either, unless you pad it with something.3
Mostly, the focus of sex became babysitting the current dildo, not relaxing and having fun. We did not feel more connected — we felt distracted. The more we fucked, the lower the bar became until using any toy that simply didn't cause discomfort was a relief. Sentences such as "well, the head of this one isn't doing weird things to my pubic bone" and "its shape is boring but at least it doesn't hurt" were uttered.
Kynan summed up both our thoughts perfectly: "I mean, it works if all you desire is 'can I be penetrated with a thing?'"
Our standards are higher, though, and we know that what we want is better achieved with other toys. For strap-on sex, I like to wear my favorite harness with Shilo or Mustang (or whichever dildo my partner wants!?!? OH, THE FREEDOM!), and to get clitoral vibration I'll use the Dusk + Tango, or a dildo from Fuze + Tango.
In a perfect world I'd be able to go balls-deep in my partner, our skin touching with no impediments, him grinding against me and enjoying the penetration, while the toy vibrates against my clit and nudges my G-spot. But I now know that is a daydream. That is a utopia.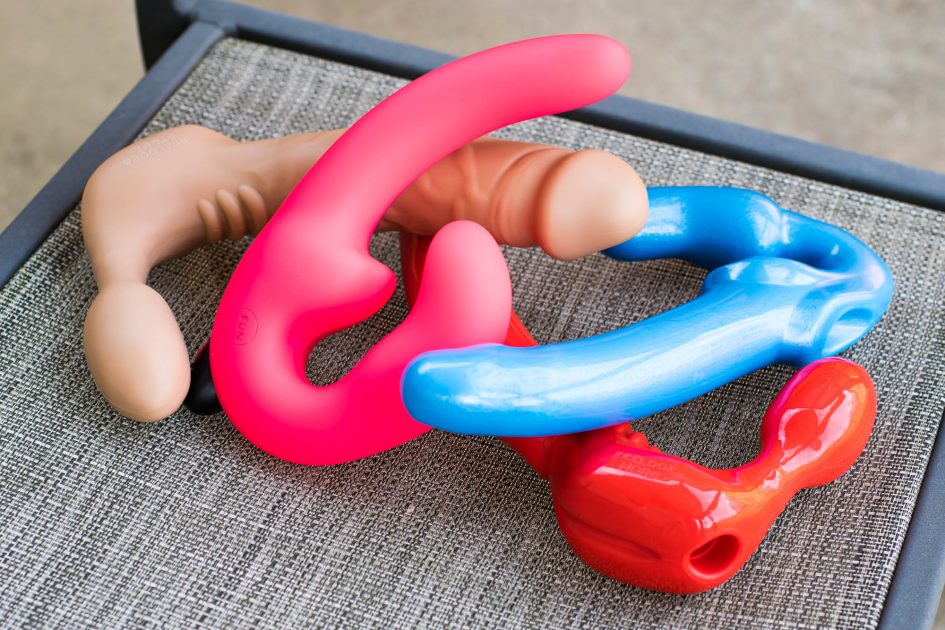 Strapless strap-on dildos must satisfy two finicky humans rather than just one. This makes them even more individualized and difficult to recommend. Questions to ponder: what sort of shape and angle does the wearer want? The receiver? Do you want vibrations? Will you be attempting to use it without a harness (I wish you luck)? Do you have a strong opinion about the finish on your silicone (I prefer glossy, Ky does not)? The squish factor?
This is a lot of questions, my friends. This is a lot of ways for things to go awry. This is the type of sex toy that could very well end up in the bottom drawer, an optimistic purchase with disappointing results.
I don't want to talk you out of this style of toy completely, and I certainly don't want to discourage new companies from attempting double-ended dildo designs. But I'm a realist, and I prefer my sexual encounters to feel organic, not orchestrated. And that says a lot coming from a person who, upon fisting someone for the first time, loudly narrated, "oh my god! My whole hand is inside of you! You are a miracle!" I'm a total dork, but even I like some semblance of eroticism. I also like sex that doesn't make me feel like a goddamn oaf, and this is definitely NOT THAT.
Exhausted after all our testing, Kynan and I eschewed the dildos and penetration altogether. I grabbed the Magic Wand Rechargeable, Ky the We-Vibe Tango. We laid side by side, lightly kissing and caressing each other as we used the vibrators on ourselves. I was struck by the contrast. For the previous hour, it had felt almost not like sex at all. Suddenly, I felt close to my partner again. We relished the simple, uncomplicated pleasure. One might even call it intimacy.
Double-ended dildos can be found at SheVibe, Tantus, Early to Bed, Smitten Kitten,
Pleasure Chest, Babeland, She Bop, Lovehoney (international), and Come As You Are (Canada).
You'd want an underwear or single-strap harness for best results.
This is not as logistically difficult as it may seem; you just have to position the dildo a little off-center.