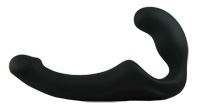 I'm not the ideal candidate for a double-ended dildo, mainly because my boyfriend is not ready for penetration in the least. But he is willing to suck any cock I can acquire, and I just really wanted a cock, so I acquired the Fun Factory Share.
The Share is a quite large — 9 inches long altogether — and freakishly floppy. Held by the bulb, the shaft bobbles all over the place. It's fun, but not exactly what a double-ended dildo should be like. This has to do with Fun Factory's silicone, which is very soft, squishy, and has a matte finish to it. (The Tantus Feeldoe has a much glossier finish.)
The bean-shaped bulb is daunting. 5 1/2″ long with a diameter of 1 3/4″, it is no small feat for me to insert it cold turkey. Ow, ow, and ow. Obviously, the point is for the bulb to be big enough that it will not budge once inserted, but I still think it should not be this large.
Once fully inserted, my cock was not the perky hard-on I wanted it to be; instead, it hung lazily from between my legs. I wanted it to feel more like a real cock, but it really just felt like a phallic chunk of silicone dangling from my vagina. It definitely stayed inside me with little effort, but then again I didn't try running or even walking around extensively. I laid down on the bed and ordered my boyfriend to suck my cock.
He dribbled some watermelon-flavored lube on my cock and began stroking and sucking me. I thought the arch at the base of the shaft would stimulate my clit, but it didn't feel like much. As my boyfriend sucked, though, he twisted his hand around the base of my cock, tugging upward… and soon I was moaning at the sensation of the bulb massaging my G-spot. It was pretty hot watching him suck me off. I urged him to pull on my cock harder. There was still a bit of discomfort from the bulb stretching me out, but it wasn't as noticeable coupled with the G-spot stimulation.
My boyfriend reported that he had a lot of fun sucking my cock. Even though it was his first time doing so, it didn't wear out his jaw. Silicone is a perfect material for sucking on, as it is flavorless and completely safe — and, of course, soft and semi-realistic.
Using the Share solo was a disappointment, however. The matte silicone of the shaft put up resistance against my insides. No matter how much lube I used, it felt like there wasn't enough. It reminded me of how it feels to use a dildo right after I squirt — not dry, but not lubricated. I couldn't control my thrusting at all by holding the bulb, so I held the Share between the shaft and the bulb. The head of the shaft hit my G-spot, but the dildo itself was too heavy, too unwieldy, and the texture of the silicone continued to bother me. I can safely say I would not want to be fucked with the Share.
So, once in a while, when I feel my vag can handle it, I'll whip out the Share and ask for a good cock-sucking. Otherwise, I'm guessing it will stay at the bottom of my toy box.
Get the Share at SheVibe, Babeland, Early to Bed, Good Vibes, Pleasure Chest,
Fun Factory, Come As You Are (Canada), or Lovehoney (international).

Get the double-ended dildo of your dreams at SheVibe, Early to Bed, Smitten Kitten, Babeland, Pleasure Chest, She Bop, Come As You Are (Canada), or Lovehoney (international).