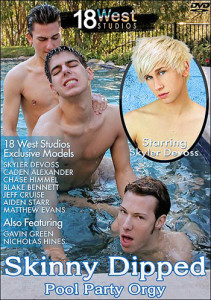 I have a thing for twinks. Luckily, I'm young enough that it's not yet creepy, but sometimes watching twink porn makes me feel like a pedophile. This tended to be the case with the low-budget twink-filled porn film Skinny Dipped, for one reason: acne. Of course, there are many more problems with the film, but that one encapsulates what exactly makes it all so shitty — inexperience on practically every front.
Skinny Dipped has six scenes. One of them is decent. The rest range from "lame" to "ugh."
Scene one: Jake Jensen and Aiden Starr suck each others' soft cocks in a bathroom. They get in the bathtub and wash each others' hair. Aiden gives Jake a short-lived rimjob, then out of nowhere they're fucking and moaning at the top of their lungs. After about 0.2 seconds, Jake comes on Aiden's back, and Aiden comes on Jake's face.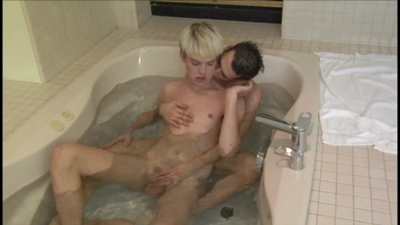 Scene two: Gavin Green, a gay college student who has never done porn, jacks off on a chair while staring at a magazine. He manages to make absolutely no sound until he comes. The cameraman proceeds to quiz him on his orgasm, 'cause that's normal.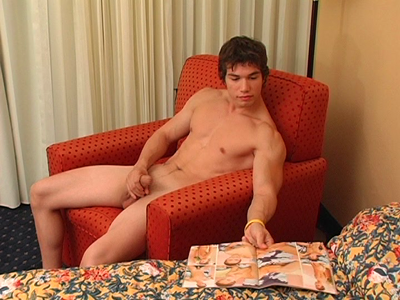 Scene three: Oh, sweet reprieve! Caden Alexander and Skyler DeVoss aren't half bad. I think Skyler might be their poster boy; he gets his his face put in a bubble on the front cover of the DVD. He's pretty cute and totally gay, though unfortunately not at all free of acne. Anyway, Skyler and Caden cuddle in bed, then Skyler goes to work on Caden, sucking his cock, licking his asshole in a hot rimjob, then fucking him until the headboard bumps against the wall. While there is certainly nothing exceptional about this scene, it at least turned me on.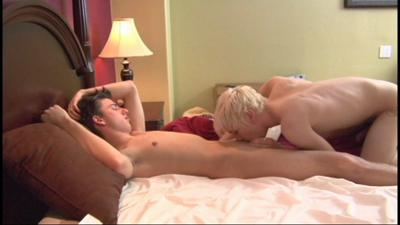 Scene four: Nicholas Hines jacks off in much the same format as Gavin, only with moaning.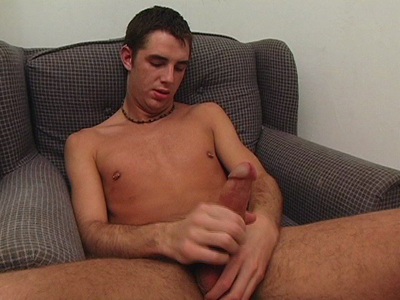 Scene five: Caden Alexander, Blake Bennett, and Chase Himmel goof off in a pool, then fuck. Their moaning unflinchingly straddles the line between pain and pleasure. The uber-hot sound of people taking pictures can be heard above the splashing. Even underwater blowjobs can't save this scene.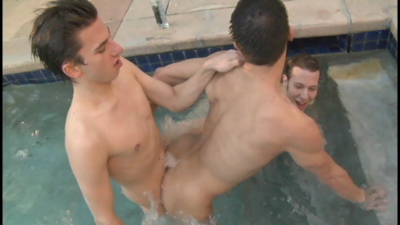 Scene six: Jeff Cruise is totally gay, but his friend, Matthew Evans, isn't. That is, until Jeff puts his mouth around Matthew's cock. Then the deal is sealed, and they sixty-nine and have totally boring sex on a thin towel on the cement near the pool. If that doesn't sound hot enough, imagine the sounds of neighborhood construction and dudes yelling at each other in the background. At one point, some guy in the distance yells "yeah boyeee!" I am not kidding.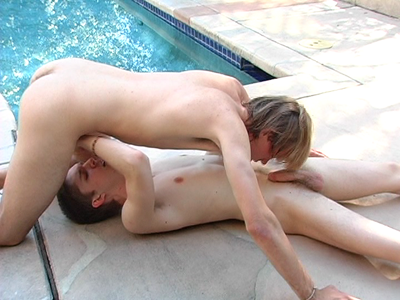 As much as I wanted to like Skinny Dipped based on the cute boys alone, their acne (including some serious butt acne, which really doesn't fly in an anal-based film) and boring performances got in the way. Newflash: you can't just be a cute gay boy. You have to actually know how to perform and make sex half-interesting to watch. Not to mention the ridiculously bad background noise in some of the scenes, and the haphazard editing which killed any semblance of flow. The filmmakers did not seem to care about making a porn film that looked/sounded good, flowed, or featured hot performances; they just cast cute boys and called it good.