Four years ago, my G-spot was forever changed by a revolutionary sex toy called the Stronic Eins. Not really a dildo and definitely not a vibrator, the Eins features an internal weight that facilitates a back-and-forth thrusting movement. This "pulsator" felt unlike anything I'd ever tried, wiggling against my G-spot so enthusiastically, and quickly became one of my favorite insertables. Fun Factory's Stronic line proved that innovation is still possible in the sex toy industry — true innovation, not gimmicky and spurious "innovation" with air quotes.
So a few weeks ago when an email popped up with the subject line CONFIDENTIAL: Secret Preview of New Stronic?, it set my heart fluttering. I was in the middle of writing a different email, but I immediately abandoned it to open the new one. An embedded image revealed the shape and colors for this new toy, the Stronic G. I maybe gasped.
A G-spotty shape? Pool blue as a color option? In a thrusting Stronic? Dude. I could not say yes fast enough.
Releasing a more G-spot-oriented Stronic was a logical next step, and anytime I see logic from a sex toy company these days I'm impressed. (#jaded.) Although the original Eins stimulated my G-spot quite well, the toy's non-committal shape felt like a bit of a cop-out — and in the back of my mind I always low-key wished for more of a curve. Follow-up Stronics weren't quite right: too textured, too bulbous at my vaginal opening, and in the case of the disastrous Bi Stronic Fusion, equipped with a buzzy clitoral arm that made me want to turn to a life of crime.
But it looks like I won't be going on a killing spree anytime soon, because in the Stronic G, all the things I ever wanted from the Stronic line have finally come together. It's less bulky, it's in a color I love, it hits my G-spot like a dream, and, in a shock twist I did not anticipate, I CAN USE IT HANDS-FREE.
Much of the Stronic G's success can be attributed to its intense curve and flat tip, a shape that is notoriously effective for my G-spot (I squirted for the first time with the similarly-blunt LELO Ella). While the Eins will slip out of my body in 2 seconds if I don't hold it, the Stronic G hooks right into my vagina, past my pubic bone. As long as I don't go overboard on the lube, I can leave it unattended save for minor adjustments to keep it G-spot-side-up.
The Stronic G works my G-spot like a robotic lover. It's less of a back-and-forth thrusting and more of an up-and-down movement, pounding up against my G-spot with ease. The toy's generous 10 settings offer a range of sensations, from a punchy pulse to a fluid thrusting to unique patterns that tease me deliciously. It feels so impossibly, distractingly pleasurable it renders me unable to speak normally; one time I found myself breathily chastising my cats mid-masturbation.
Writing about it is making me want to use it, and writing reviews almost never arouses me.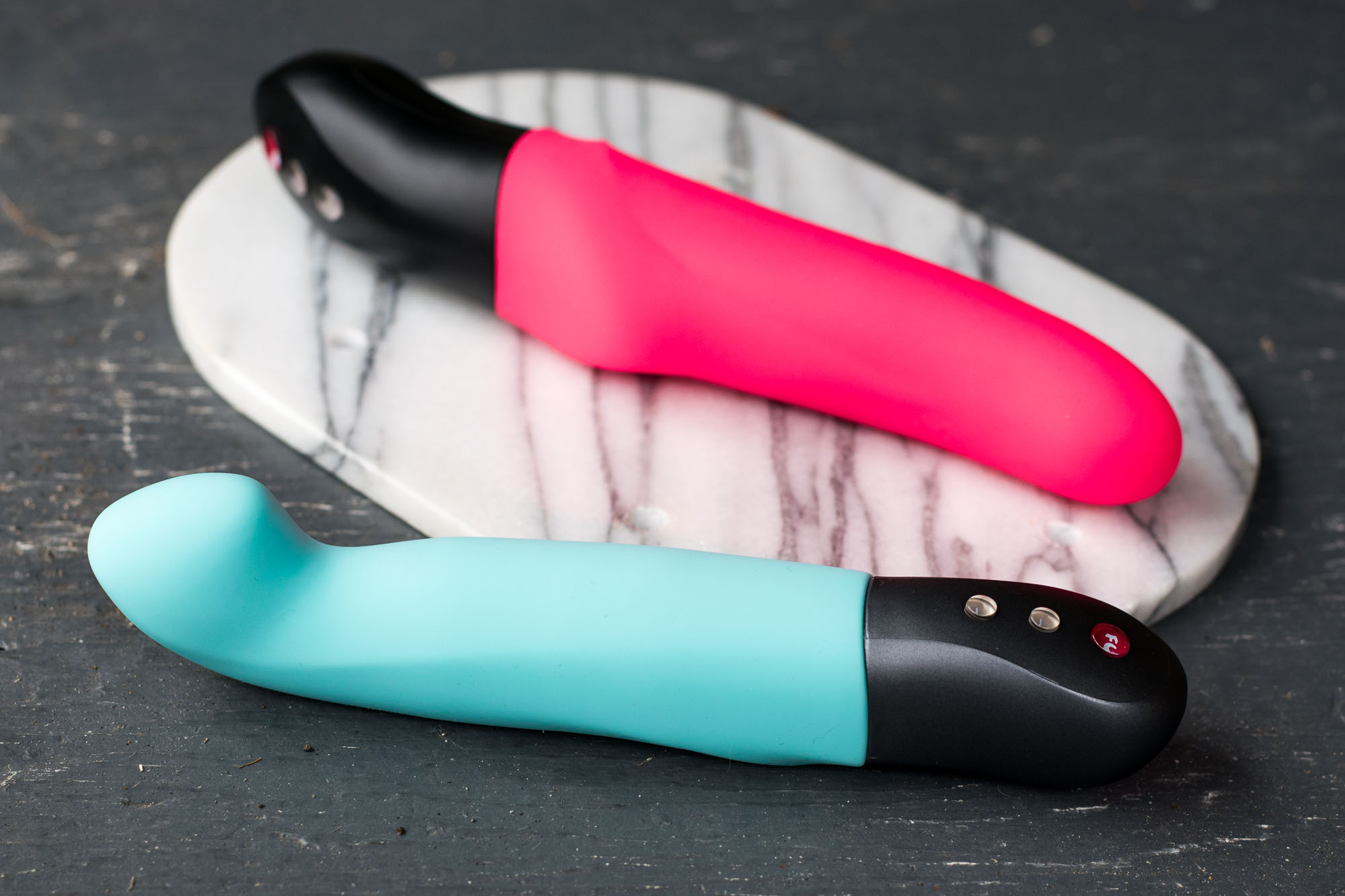 It's the intensity of the shape + the consistency of the movement that unlock all my G-spot's secrets. I swear I can feel my G-spot swelling and filling with fluid when I use this toy. I have to put my Throw down because nearly every time I come with this toy, I gush a little — and I've done nothing to earn it except hold a vibe on my clit.
Automated, unwavering G-spot stimulation. Casual squirting. Y'all. It's the life.
I didn't know it could get much better than the Stronic Eins; I had no idea it could be this good. It's like when I went to a Mexican restaurant recently to get a breakfast burrito and the menu said "make it a chimichanga for $1 more." The possibilities of the world opened up. Angels sang. It was beautiful. (And delicious.)
Movement aside, the shape of the Stronic G is inherently stimulating. Even if it dies, I can just go analog with it. Its built-in settings aren't fast enough to make me squirt like a geyser, but it brings me right to the precipice. All I have to do is turn it off, get a quick thrusting rhythm going, and in no time I'm exploding — ejaculate in seemingly every direction, splashing my thighs, compelling me to take a shower afterward.
The Stronic G is smaller and lighter than the Eins, at 1.45″ in diameter. The handle is slimmer, with a slight texture for added grip, and shrunken buttons. It's a little shorter, and the lack of a useless "clitoral nub" helps me insert it further — so bracing it against my fingers (if I even have to) is less of a reach. The silicone has a smoother finish as well; it's not grainy like the Eins. The biggest difference, though, is that the Eins glides back and forth more readily, while the Stronic G zeroes in on my G-spot with rapid upward movement.
It's quite relentless. On some days, if my vagina is feelin' sensitive, the Stronic G can be borderline uncomfortable. Sometimes, the faster settings are too much — like when someone's aggressively fingering me and I'm like, "wow, this feels good, but maybe you should slow down." This is not a toy for people who are easily overwhelmed by (or unfamiliar with) G-spot stimulation, and the shape isn't for everyone; some G-spots and pubic bones find it off-putting. If you aren't sure, I recommend testing the waters with the Moka, Choosy, Siren, or Ella first before plopping down $170 on the Stronic G.
While this toy feels nothing like fingers — nothing is anything like the glory that is fingers — it's the closest a sex toy has ever felt, and it's the only hands-free version I've ever encountered.1
The Stronic G is what the Mona Wave wishes it could be. I mean, shit, it's what a lot of sex toys wish they could be. Normally when I read sex toy marketing materials I roll my eyes at the overblown promises. When I read the Stronic G description, I find myself nodding sagely.
The Stronic G has truly redefined lazy masturbation. When you find yourself being brought to orgasm so effortlessly, you acclimate to it — you forget that usually you have to do a lot more work to achieve the same effect. It starts to fuck up your brain. It makes the mere act of holding a dildo seem exhausting. Thrusting sex toys yourself becomes passé.
It's a funny and rare thing: a top-tier toy being usurped by its successor. I still love the Stronic Eins, but if I'm in a G-spotting mood (A.K.A. most of the time) or a lazy mood (same), I'm most likely going to grab the Stronic G. Can you blame me? Like right now, I'm sitting at a cafe, finishing my latte, eyeballing the menu and considering ordering a breakfast burrito. But why bother if I can't make it a chimichanga?
Get Stronic G at SheVibe, Spectrum, Enby, Good Vibes, Babeland, Fun Factory, Smitten Kitten, Lovehoney (international), Come As You Are (Canada), or Passionfruit (AU/NZ).

Get a Stronic of your choice at SheVibe, Spectrum, Enby, Good Vibes, Babeland, Fun Factory, Smitten Kitten, Lovehoney (international), or Come As You Are (Canada).
By the way, snarky commenters of the world: I'm aware that fucking machines exist. They also cost a shit ton more, take up a lot more space, and are not compatible with my jacking off situation.