In this episode of True Life: I'm a Sex Toy Reviewer, I am in disbelief as I unbox this sex machine, because I still don't believe that someone would send this to me, ever, let alone for free…
But there it is. A Sybian. In all its hulking glory. Safe and sound, with the grotesque attachments neatly folded into a ziploc. It's smaller than I imagined, but still quite a beast. It's heavy, it's loud, and the puny "handles" on the sides are laughable. I don't know where I'm going to store it, and my boyfriend will never forgive me for acquiring yet another huge sex accessory.
Too bad. If someone offers you a Sybian, you say yes. This is law. You do not turn down a Sybian. Even a used Sybian from a stranger on the internet, and especially not after you look up the price of a Sybian. Right now it's $1345. That's not missing a decimal point. And that's on sale. (For $150 extra, you can get a different cover in the color of your choice! For $195, a lifetime warranty! Lay-a-way plans available!)
I didn't know what to think at first, when I received the email:
First off, love the blog! You are responsible for my new wonderful arsenal of sex toys.

So here's my situation: Shortly before he died, my husband bought me a Sybian. We, I, used it a couple times but I just couldn't get the hang of it. It's been one year since my induction into the Wonderful World of Widowhood(tm) so I got it out from under the bed and tried it again. Ugh. Gave me the sads.

As you know, Sybians are ridiculously expensive. I don't want to just throw it away. Would you know of anybody who would want the base and possibly attachments (I don't know if the attachments can be sanitized)? Do you want it?

You've given me so much confidence in buying toys for myself since my husband died. Weird. I know. So this is my awkward offer of a Sybian to you.
It was so sweet, so sad, so sincere, yet nearly suspicious in its sincerity. At its core, this was a stranger on the internet offering me a used sex machine. With almost any other toy, I'd probably pass. But this is not just any toy. This might literally be my only chance ever to own a Sybian. If I said no, I could live to regret it. I can handle regrets about crucial life choices; regrets about sex toys — no.
In the next email, she explained that her husband had been a microbiologist, so she knew how to sanitize correctly. That was all I needed. I forked over my address.
This is about all I knew about the Sybian before receiving it:
So that's basically what I did first. Except not in a cute dress while on live radio with Howard Stern. More like, in my fleece pajama pants, with the Sybian perched on a chair, grabbing weirdly at the chair arms. I didn't bother putting on porn, so I spent about 8 minutes getting off to Lady Gaga's "Swine."
It was good. The orgasm was strong. Gotta say, using dials like the ones on the controller really makes you feel like a badass. I only had to turn it up about a third of the way. I was sweaty, though, and wished I had not kept my pants on.
Later in the day, I set out to use it with one of the insertable attachments. Which I realized COMPLETELY MATCHED MY NAIL POLISH IN AN EXTREMELY DISCONCERTING FASHION: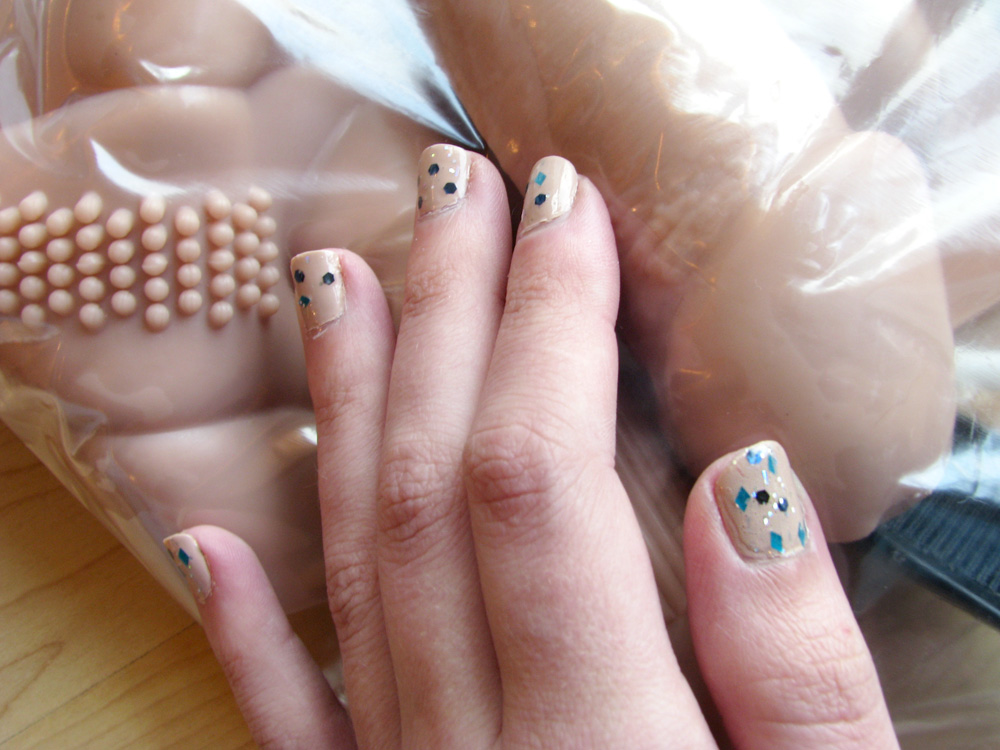 But I wasn't sure whether to use a barrier on the attachment or not. According to the Sybian website, the attachments are made of a material called C-Flex:
C-Flex® is a family of patented thermoplastic elastomers which range in hardness from 5 shore A to 95 shore A. C-Flex® TPE's are biocompatible polymer blends which meet or exceed the current United States Pharmacopoeia Class VI test requirements. C-Flex® does not contain latex rubber, polyvinyl chloride, silicone rubber, or polyurethane.
Since this tells me quite a bit of nothing, does anyone have any input? Some dude on Reddit thinks he knows how to adequately clean the attachments between partners (like, with serial killer meticulousness), but he's a dude on Reddit. So I went old school for now and slathered the attachment in saran wrap. I turned on some porn, placed the Sybian on my exercise mat on the floor, added some lube, and awkwardly lowered myself onto it.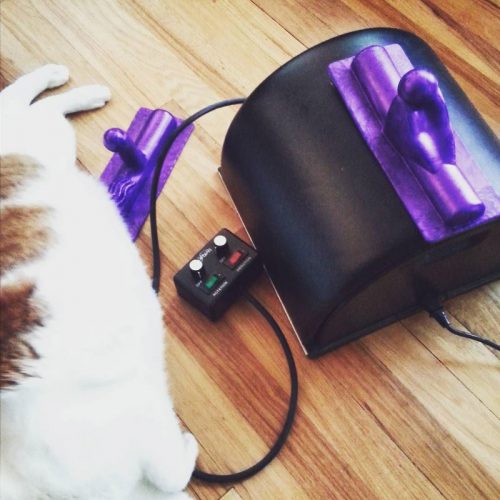 This time, I was able to turn on the rotation for the insertable portion. That wasn't nearly as intense as the vibration — I was able to turn it to high pretty quickly. But I DIDN'T KNOW WHERE TO PUT MY HANDS. If I sat up straight and laid them on my thighs, the attachment didn't come into enough contact with my clit. If I leaned forward and put them on the floor, there was too much pressure on my clit. So I had to settle for pressing my palms into the edges of the Sybian itself.
I am so not used to humping things. It's never been how I roll. So it was just strange, and I felt sort of disassociated, because I wasn't doing much. The orgasm was decent, again, but my wrists hurt like hell afterward, and I think my exercise mat has permanent indentations from the corners of the Sybian. Not to mention there's lube all over it.
Although the Sybian is clearly a chore, I am very honored to have inherited it — if even just for comparison and bragging purposes. Thank you, anonymous reader, for thinking of me as the recipient of your unwanted Sybian. I will take good care of it. In fact, I shall station it in my living room and cajole people into trying it when they come over, Howard Stern style. I figure it's the right thing to do.