Epiphora's all-time favorite sex toys
🏆 Welcome to the hall of fame of the very best sex toys in existence — according to me. 🏆 These are my desert-island sex toys, the ones that have stood the test of time and make my genitals believe in miracles. (I've excluded toys that are no longer in production to protect your sanity.)1
Browse my favorites directly at:  

SheVibe   

Lovehoney (international)   

Come As You Are (Canada)   

Early to Bed   

Good Vibes   
Spectrum Boutique   

Smitten Kitten
Wondering where to shop or hunting for discount codes? Visit my buy toys and sales & deals pages. Check out my toybox for all my reviews and my gift-giving guide for more on choosing toys.

Vibrators
Versatile as fuck, with a shape that fits between the labia like a dream.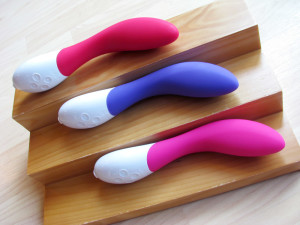 "Obsessed" may be a word that describes how I feel about the Mona 2. It's so good I own three of them. This vibrator is deceptively simple-looking, but it succeeds precisely because it gets everything right: it's rechargeable, strong, waterproof, and its shape feels awesome both internally and externally. Best of all, its wide range of vibration intensities suit my genitals' any mood: from a gentle tickle to a damn powerful finish.
My favorite way to use the Mona is clitorally; its handle helps me reach my clit easily, especially during sex. It also reaches my G-spot, pressing up into it with the same ridge that fits so nicely between my labia. With an impressive play time of 2.5 hours, the LELO Mona 2 is a well-rounded vibrator I reach for again and again.

Get the LELO Mona 2 at LELO, SheVibe, Lovehoney (international), Come As You Are (Canada), Early to Bed, or Spectrum Boutique.
A cordless version of the legendary powerhouse — my favorite quick orgasm tool.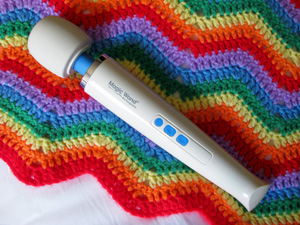 A triumphant upgrade from the classic Magic Wand, widely regarded as the most powerful vibrator of all time, the Magic Wand Rechargeable is a hefty workhorse of a vibrator loved by those with all sorts of genitals. It plays an essential role in my life as a lightning-fast orgasm inducer and finisher during longer sessions. If I'm feeling lazy and just want to surround my vulva with intense vibrations, there's nothing I'd rather use.
This beast of epic vibrational proportions has a broad head and large body, great for covering a lot of surface area with a lot of oomph. The handle doesn't vibrate my hand nearly at all, I can use it while plugged in if the charge is depleted, and its vibrations are sure to get me off in even the toughest situations. OH, AND IT LASTS 4.5 HOURS ON A SINGLE CHARGE. Just strap it to my body forever.

Get the Magic Wand Rechargeable at SheVibe, Lovehoney (international), Come As You Are (Canada), Early to Bed, Good Vibes, Spectrum Boutique, or Smitten Kitten.
A cult classic that stimulates with oscillation, not vibration.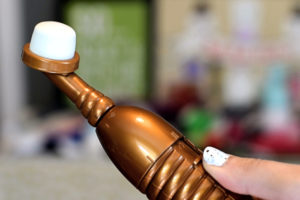 The Eroscillator is a sex toy that repays you not just in orgasms, but in good orgasms. Long, resonant ones. Ones that make you forget that you're using a sex toy that seems forever stuck in the '90s. It does so with a unique type of stimulation: a subtle back-and-forth oscillation that feels different and deeper than traditional vibrations.
This reliable AC-powered toy comes in a few versions, all of them great. And it has truly stood the test of time, holding up as one of the greatest clitoral stimulators I've ever tried. It changed my masturbating life; it elevated my expectations for sex toys; it helped me achieve dual orgasms. And you can have it from me when you pry it from my cold, dead hands.

Get the Eroscillator at SheVibe, Lovehoney (international), Good Vibes, Smitten Kitten, or She Bop.
Self-thrusting toys that pummel my G-spot with very little effort.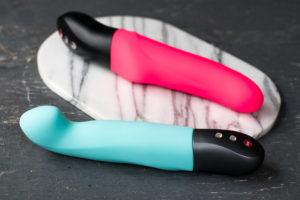 Hoooly shit. The word "revolutionary" gets thrown around a lot in this industry, but Fun Factory's Stronic line has actually earned it. These toys do not vibrate; they contain weights that move back and forth to create a thrusting motion. Yes, like a Shake Weight. For your vagina. And it really does feel unlike anything else I've tried.
These toys stroke my G-spot like robotic lovers. The generous 10 settings offer a range of sensations, from a punchy pulse to a fluid thrusting. The Stronic Eins glides back and forth more readily, while the Stronic G zeroes in on my G-spot with intense upward movement. And I barely have to do anything! So lazy. So good. I often crave these toys specifically — a sure sign of excellence in my household.

Get the Fun Factory Stronic of your choice (just not the Bi Stronic Fusion, plz) at Fun Factory, SheVibe, Lovehoney (international), Come As You Are (Canada), Good Vibes, Spectrum Boutique, or Smitten Kitten.
The epitome of "small yet mighty."
When it comes to petite clitoral vibes, We-Vibe's are hard to top. Other contenders have come and gone, but the Touch and Tango remain some of the strongest rechargeable vibrators out there for their size. Both are small enough to nestle in the palm and impressively powerful, with deliciously rumbly vibrations. Especially the Tango, d-d-dang.
The Tango is also extremely versatile — capable of replacing many of the shitty bullets that come with other toys, or snuggling into a harness. Personally, I enjoy pairing it with the Dusk "butt plug" and wearing it vaginally, with the vibe hugging my clit, for HANDS-FREE MOTHERFUCKING ORGASMS.

Get the We-Vibe Touch at We-Vibe, SheVibe, Lovehoney (international), Early to Bed, Good Vibes, Spectrum Boutique, or Smitten Kitten.

Get the We-Vibe Tango at We-Vibe, SheVibe, Lovehoney (international), Come As You Are (Canada), Early to Bed, Good Vibes, Spectrum Boutique, or Smitten Kitten.
An incredible G-spotter, a solid clitoral vibe, and a damn good long-distance toy.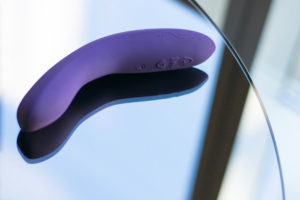 It was love the moment I first touched this toy to my clit. The Rave has pleasing, highly-adjustable vibrations and a corresponding (and actually fun?!) phone app for long-distance play, but what really takes this toy to superstar level is its curved, asymmetrical shaft. I doubted it until I felt the G-spot fireworks it was capable of setting off. Now I'm hooked.
It's an ingenious design for an insertable: the Rave's rounded tip and stubby shaft allow me to thrust wildly without poking my cervix, and its handle curves ergonomically toward me. I enjoy it clitorally too, but for buzzing G-spot goodness, for inducing squirting where previously there was not a drop? That's its forte.

Get the We-Vibe Rave at We-Vibe, SheVibe, Lovehoney (international), Come As You Are (Canada), Early to Bed, Good Vibes, Spectrum Boutique, or Smitten Kitten.
A supremely rumbly dual-motor vibrator, best enjoyed clitorally.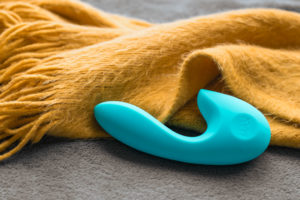 The SenseVibe was designed to be a dual stimulation toy — and it sucks at that. But that's okay because dual vibes are overrated. Instead, I use this vibrator against my clit, where I can truly appreciate the deep, deep rumbles it offers. And boy does it.
The SenseVibe features two motors which chug along in tandem, creating profoundly satisfying vibrations that surpass most other sex toys on the scene. The sensation is incredible, and the sheer power is perfect for when I need that final push, or when I'm using a vibrating insertable that's competing for my genitals' attention.

Get the SenseMax SenseVibe at SheVibe or Spectrum Boutique.
The teeniest, most pinpoint stimulation ever… and it feels awesome.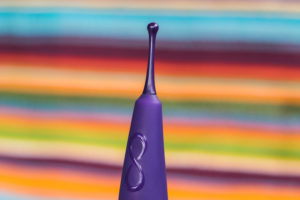 I was skeptical at first. Could a tip that tiny really get me off? Turns out, yes. More than yes. This unusually-shaped vibrator offers a whole new flavor of stimulation — a hyper-focused buzz — that feels undeniably great.
The Zumio targets my clit with laser-like precision. It features a range of vibration settings, takes up pretty much zero space against my vulva, and doesn't vibrate my hand. It's not for the faint of clit, and it's very very very very pinpoint, but its vibrations are good and no other toy I can think of replicates its sensations.

Get the Zumio at SheVibe, Lovehoney (international), Early to Bed, Good Vibes, or Spectrum Boutique.
An impressive smaller version of traditional wand-style toys.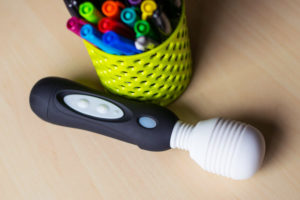 This battery-operated toy aims to offer serious vibrational power in a smaller package… and it SUCCEEDS! The vibrations are strong, the design makes sense, and the price is very right, at less than $50 on SheVibe.
When I'm on a trip and need something small yet powerful to whip out and appreciate in a hotel room, this toy is my ticket. It's also less bulky during partnered sex than a standard wand vibrator. It may not be flashy, but it gets the job done very reliably.

Get the Vibratex Mystic Wand at SheVibe, Lovehoney (international), Come as You Are (Canada), Early to Bed, Good Vibes, Spectrum Boutique, or Smitten Kitten.
Satisfying, well-rounded clitoral toys.
What do I look for in a clit-focused toy? Tons of steady vibration intensities, a robust motor, and a shape that is both pleasurable and easy to use. The Toyfriend Snazzy and LELO Siri 2 hit all those marks. The unique shape of the Snazzy surrounds my clit, like it's giving my genitals a hug, without ever feeling foreign. The cute, egg-shaped Siri 2 is LELO's best compact external vibrator — small enough to nuzzle into my vulva, but not so tiny that it leaps out of my fingers. Both of 'em are stimulating little buggers!

Get the Toyfriend Snazzy at SheVibe, Good Vibes, Spectrum Boutique, or She Bop.

Get the LELO Siri 2 at LELO, SheVibe, Lovehoney (international), or Good Vibes.
A girthy insertable beast with serious power.
Internal vibrations aren't usually a strong selling point for me, but the Big Boss is a noteworthy exception.
Unlike many silicone vibrators, the Big Boss' surface is plush and flexible. And its powerful vibrations resonate from within the body of the toy, rather than rattling at the surface, so they don't numb or buzz my vagina to death the way most internal vibes do. Oh yeah, and it's thiiiiick. Which, you know, is definitely a plus. Just ask my G-spot.

Get the Fun Factory Big Boss at Fun Factory, SheVibe, Lovehoney (international), Come As You Are (Canada), Good Vibes, Spectrum Boutique, or Smitten Kitten.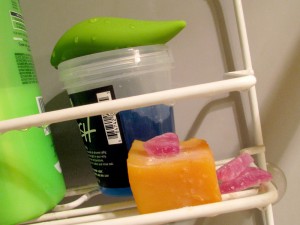 Pinpoint clitoral stimulation is this vibe's specialty, although it's pretty good at disguising itself as a leaf also. It sort of writhes at the tip, offering excellent targeted stimulation. Actually, this toy's tip is so tiny that it made me realize how much of a lefty my clit is!
More in my review.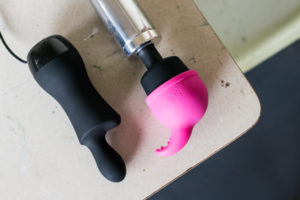 Doxy is known for industrial-strength vibrators, and that reputation is not wrong. The Don offers extremely thuddy vibrations all funneled into a small tip. The flagship Doxy wand is reliable, hardy, obscenely powerful, and ultimately, I am an absolute sucker for having orgasms without removing my pants. Both do glorious things to my clit.
More in my review.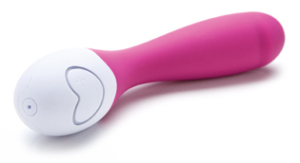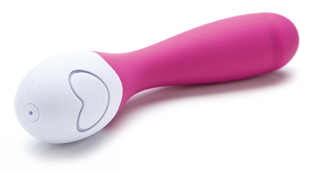 One of my favorite mid-range vibrators, the Cuddle has the versatility that is the hallmark of a well-thought-out sex toy, and it's only $69 — a great deal for a rechargeable. Fairly petite but wonderfully curved, it makes it an excellent clitoral vibrator as well as a manageable insertable.
More in my review.
Dildos
A life-changing G-spotting dildo that makes me gush like a geyser.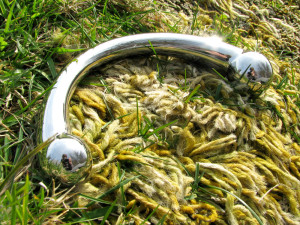 Two spheres of extreme G-spot stimulation. One and a half pounds. The sex toy, the legend. This parenthesis-shaped stainless steel dildo altered my perception of sexual pleasure forever. I've still yet to find another toy that makes me squirt as effortlessly and intensely.
It's the pairing of a perfect, ergonomic shape and a smooth, weighty material that makes the Pure Wand a G-spot god. Measly words can't adequately describe what it feels like: intense, overwhelming, unrelenting. I can squirt over and over with it if I have the energy, or I can just relish in its extraordinary G-spot stimulation. I get nearly hyperbolic when I talk about this toy — but it deserves every bit of praise.

Get the njoy Pure Wand at SheVibe, Lovehoney (international), Come As You Are (Canada), Early to Bed, Good Vibes, Spectrum Boutique, or Smitten Kitten.
Squishy, unbelievably perfect dual-density dildos.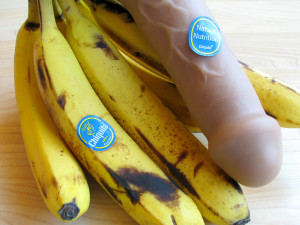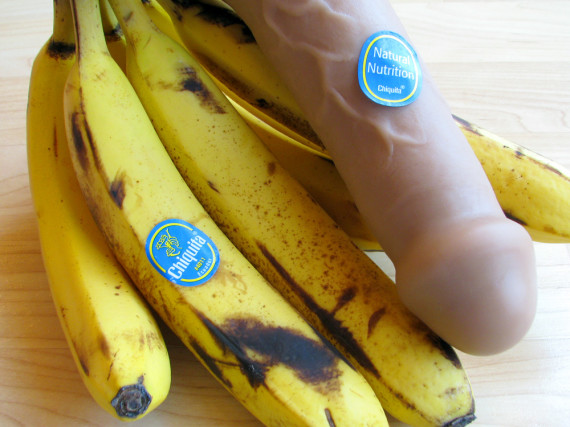 When it comes to soft dildos, Vixen Creations knows what the fuck they're doing: this is as close to a surefire line of toys as I've ever seen. VixSkin is the company's dual-density silicone, characterized by a spongy outer layer and firm core. It's highly detailed, delightfully soft, and honestly? Incomparable. If I'm going to use a silicone dildo, there's a 90% chance I'll want one of my VixSkin toys.
With Vixen's selection, you can really get any size and shape you desire. My favorites include Buck (a luscious, G-spotting wonder, and my favorite for receiving blowjobs), Mustang, and Maverick. There's also Randy, a glorious beast that induces serious squirting.

Get Vixen Creations VixSkin dildos at SheVibe, Lovehoney (international), Come As You Are (Canada), Early to Bed, Good Vibes, Spectrum Boutique, or Smitten Kitten.
Gorgeous, handmade glass dildos that feel absolutely incredible.
Glass is a fantastic sex toy material, offering both frictionless glide and stimulating weight, and Crystal Delights is easily my favorite purveyor of glass toys. Their products are each adorned with a Swarovski crystal that shines for miles, but that's just a cherry on top of how they feel in use. Which is: amazing.
The Star Delight, with its stimulating bumpy shaft and pronounced G-spotting head, is a dildo for all seasons, while the Crystal Twist feels unlike anything else, as I gleefully twist its ridges against my G-spot. It's so good, y'all. Both of them are so good.

Get the Star Delight and Twist at Crystal Delights.
A beautiful, double-ended wooden dildo that makes my G-spot sing.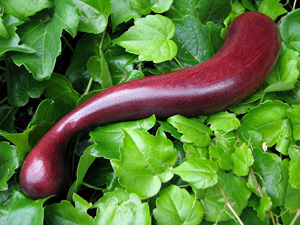 The Seduction is gorgeous both aesthetically and vaginally, from end to end. While it may look more like a decorative sculpture than a dildo, its pronounced S shape feels curse-word-droppingly good. Especially that thicker end. Unf. It gives me a glorious full feeling and hits my G-spot with such a freakish intensity.
Plus, the lightweight wood and ergonomic shape keep the Seduction from being heavy or unwieldy, so it's a fabulous toy for longer sessions, and especially for G-spot stimulation, which can entail a lot of thrusting. Easily my favorite wooden dildo, and definitely one of my top G-spot dildos.

Get the NobEssence Seduction at SheVibe, She Bop, or Peepshow Toys.
A thick dual-density dildo with ridges that stimulate the vaginal walls.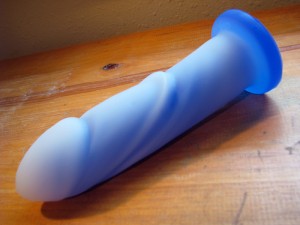 It's as if the Cush knows exactly what my vagina wants. This impeccably-designed dildo is made of O2, Tantus' signature dual-density silicone, so the outer translucent layer is squishy while the inner core remains rigid. Mostly, though, it does something many toys do not: it stimulates the front walls of my vagina.
It's hard for me to find a straight dildo that impresses me like this, but Cush's combination of formidable girth, slightly forgiving silicone, and well-placed ridges really work for me. I love clenching around it; the ridges are quite stimulating, and it's just plain fun.

Get the Tantus Cush O2 at Tantus, SheVibe, Spectrum Boutique, or Peepshow Toys.
A vibrating G-spot toy in the shape of heaven. I can only assume.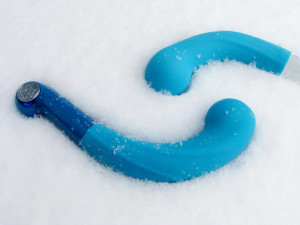 This silicone-dipped vibrator relentlessly targets my G-spot, stirring some of the most acute, unforgiving G-spot stimulation I've ever experienced. Like, it's almost not fair? It doesn't seem right? And yet it is.
The friction from the silicone creates a sort of pulling sensation against my G-spot, replicating the "come hither" motion that the area loves so much. The vibration, although not the toy's forte, adds an extra jolt that makes me sit up straighter. The shape is what really makes this toy amazing, though. When I'm in the middle of using it, I never want to remove it from my vagina.

Get the Jopen Comet II Wand at SheVibe, Good Vibes, or Peepshow Toys.
Look, it's the dildo that taught me to squirt!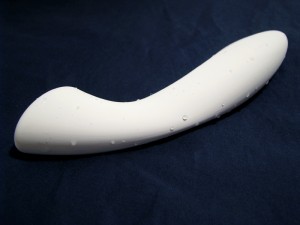 I'll always have a special place in my heart for the LELO Ella. I'd never experienced a toy that worked so harmoniously with my body until I used it: my vagina luxuriated in the sensually-shaped straight end, then I turned it around and oh, oh wow. The hooked, flat tip so thoroughly stimulated my G-spot it compelled me to thrust faster and faster, until I ejaculated for the first time. Yeah. I'd say this dildo gets the job done.
The Ella is so simple, and that is what makes it so great. It doesn't vibrate, but it glides effortlessly, its shape is flawless, and I'll be forever grateful for its role in my squirting life.

Get the LELO Ella at SheVibe, She Bop, or Peepshow Toys.
A cute, firm silicone G-spotting dildo that stays where you put it.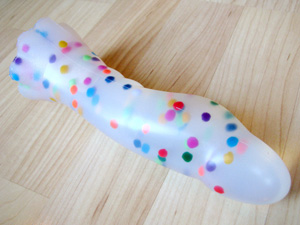 Truly stationary dildos are hard to come by, so the Jollet is a unique gem. It's not meant for thrusting; it's meant to just hang out in the vagina. Yet still, it provides incredible stimulation: the bump hugs my G-spot, while the girth provides a great sense of fullness. It does not budge, even when I orgasm. Great for lazy masturbators such as myself.
I have more than enough toys that I can thrust with, if I'm in the mood for that, but only the Jollet if I'm in the mood to be filled and not have to worry about holding the dildo inside. The silicone is stiff and unforgiving, which makes its G-spot sensations all the more delicious.

Get the LuzeArte Jollet at Spectrum Boutique.
New York Toy Collective Carter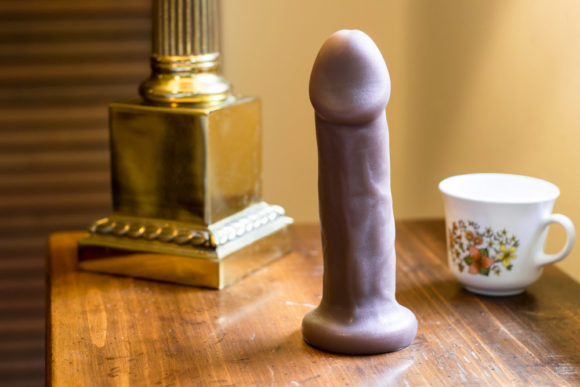 If ever a toy could soothe me into an epic G-spot orgasm, this is it. The nice-'n'-girthy size and cushy silicone are a perfect match. I'll be just masturbating, minding my own business, when my orgasm approaches and turns into a squirtfest.
More in my review.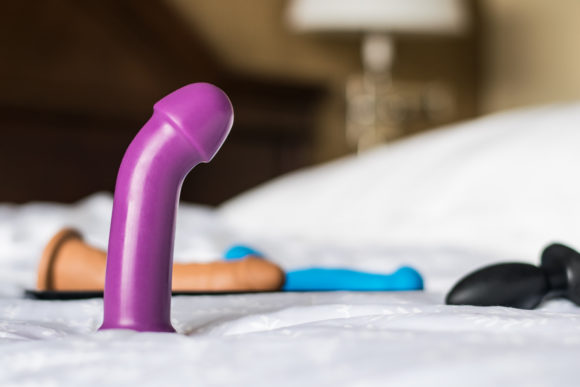 Ugly as sin and unfortunately-named, this dildo seemed poised for mediocrity — until I used it. That hooked, pronounced head is pretty much a G-spot miracle worker, and the squishy dual-density silicone formula provides some cushion even as I'm pounding away. Squirting usually ensues.
More in my review.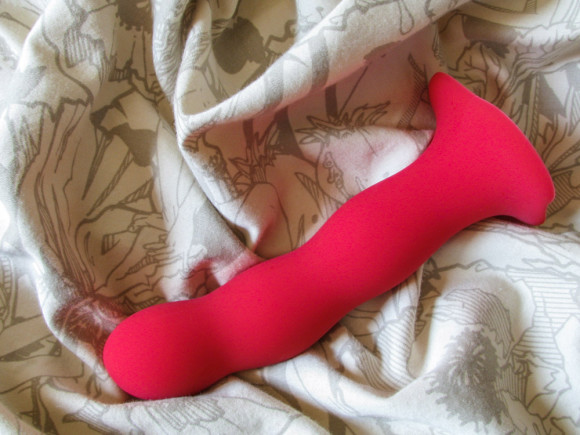 It's a dildo with several kegel balls housed within it. YEAH. That means when you move it around, the balls roll. Do you see where I'm going with this? It feels very nice. Even if I have to exhaust all my arm strength to fully appreciate it.
More in my review.
Anal
Butt plug perfection. And I don't use that word lightly.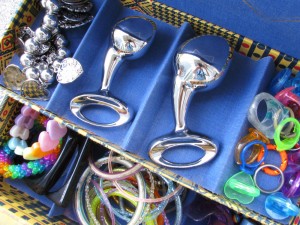 The Pure Plugs are flawless, glorious nuggets of shiny stainless steel, and hands down, they are the best butt plugs I've ever tried. Available in three sizes (large is my favorite), they are super comfortable, weighty jewels. Easy to insert, secure, and those bases! It's as if they actually took asses into account!
I wish I could more accurately describe how the Pure Plugs feel in use, but trust me, they're fantastic. Stainless steel is a rad anal toy material: heavy, hygienic, smooth, compatible with all lubes. One time I joked about the Pure Plug staying with me after I die, placed in a nook next to my urn. I'm tempted to say that everyone who is into anal play should own one. Put one in your ass, be astounded, THE END.

Get the njoy Pure Plug at SheVibe, Lovehoney (international), Come As You Are (Canada), Early to Bed, Good Vibes, Spectrum Boutique, or Smitten Kitten.
My favorite silicone butt plug, with all the right curves.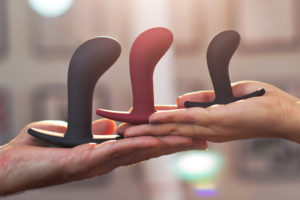 It was love at first insertion. An ideal first butt plug, and one that you can grow into as it's now produced in three graduated sizes, the Fun Factory Bootie is a just-right sort of toy that I'm always happy to use. It goes in smoothly, pops into place, and the sensation I get from its curved tip is way better than the lackluster feel of a boring straight plug.
The design is simple but very well done. Besides the sensation of wearing the Bootie, I really appreciate its base, which is both extremely safe and extremely comfortable. The price tag's not bad, either.

Get the Fun Factory Bootie at SheVibe, Come As You Are (Canada), Early to Bed, Good Vibes, Spectrum Boutique, or Smitten Kitten.
NobEssence Romp
Breathtaking beauty and amazing sensation all in one anal plug.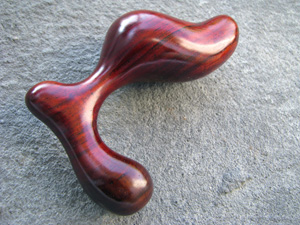 Gah, this butt plug! It is so good! I don't know how they came up with this majestic shape, but it is perfect in every way. It feels substantial but not overwhelming, hugging the inside of my ass gracefully. The wood — which is drop-dead gorgeous — is smooth and lightweight. Plus the base rests comfortably and stealthily between my cheeks.
This whole toy is just so ergonomic. In my ass, it stays snug and yet squeezable, filling me up in a very specific and shapely way. I don't fully understand the Romp's powers, but that's okay. The way it feels speaks for itself.

Get the NobEssence Romp at SheVibe, She Bop, or Peepshow Toys.
A wonderfully filling toybox staple.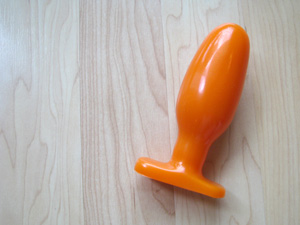 This silicone butt plug may look unassuming, but its simplicity is its strength. The Ryder does not purport to do anything more than fill up orifices, but it does so with the most thought-out shape it could. Similar in design to the also-great Neo, Juice, and Tru Butt Plug, the Ryder's wide bulb feels noticeable but not invasive. It's a nice plug for everyday use and long-term wear, especially because the base just snuggles in between my cheeks — never poking or getting in the way.
This is one solid motherfuckin' butt plug. This is a butt plug that means business. It does its job and does it well. Bless.

Get the Tantus Ryder at Tantus, SheVibe, Spectrum Boutique, or Peepshow Toys.
Everything else
Natural, body-safe lube… and the most high-tech way to utilize it.
Lube! It's the best. My favorite brand is Sliquid, because they have a robust catalog, and all of their lubes are glycerin- and paraben- free. There are a handful of other body-safe lube companies out there (Sutil, Blossom Organics, Good Clean Love), but Sliquid's track record, seniority, and sheer selection put it at the front of the pack for me.
Then, because I am ridiculous, I put my lube in an automatic "soap" dispenser. Not kidding when I say this contraption revolutionized my sex life, both solo and partnered. Lube is more integrated into the experience of sex, less of an interruption… it's simply easier. Now I just thrust a toy or my palm under the spigot and wait for the glorious, motion-activated bzzzt.

Get Sliquid lube at Sliquid, SheVibe, Lovehoney (international), Come As You Are (Canada), Good Vibes, Spectrum Boutique, Smitten Kitten.

Get the Automatic lube dispenser at Amazon. (Or get the Warm Touch at SheVibe or Spectrum Boutique.)
The best waterproof sex blanket and the most supportive sex pillow.
I hesitate to call these sex enhancers when at this point they're both more like sex requirements for me. The Throe, a magical waterproof blanket, gives me peace of mind — a must-have if I'm on my period or think I might squirt. I have sex on it. I lay my dirty dildos on it. I wipe my lubey hands on it. I own three of them, and they have made me disown towels forever.
Then, sex positions are infinitely better — and oh my god, easier — with a Wedge lying around. Like all Liberator shapes, the Wedge's core is made of furniture-grade foam, and its removable cover has a water-resistant liner. Particularly amazing for getting a boost during oral, or for added elevation in the spooning position. Fuck a pile of pillows — the Wedge is way more supportive and stable.

Get the Liberator Throe at SheVibe, Good Vibes, Spectrum Boutique, or Smitten Kitten.

Get the Liberator Wedge at SheVibe, Lovehoney (international), Come As You Are (Canada), Early to Bed, Good Vibes, or Smitten Kitten.
Comfy kegel balls with internal balls that add extra sensation.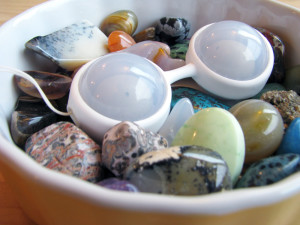 All hail the LELO Luna Beads, my favorite kegel balls. Many other kegel balls feel like nothingness (which kinda defeats the purpose of wearing such a thing!), but these ones offer interchangeable weights and a noticeable rolling sensation when I move around. Sometimes I can make the balls vibrate very subtly just by clenching.
Oh, yeah, and they tone the PC muscles, too. But mostly the sensation of the inner balls rolling around is just really fun. It makes my vagina say, "hello, I exist!" I have worn the Luna Beads at home, to social events, in the car, to DMV. They're awesome for making mundane tasks less excruciating.

Get the LELO Luna Beads at LELO, SheVibe, Lovehoney (international), or Spectrum Boutique.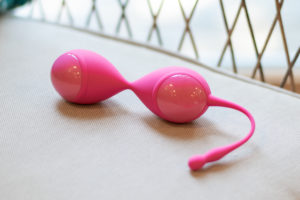 My favorite inexpensive kegel balls! Also known as the Dr. Laura Berman Shades of Purple Anastasia's Delight Orgasm Balls. Because they aren't coated in a ton of silicone, the balls on the inside jiggle pleasantly and are easily felt the way the LELO Luna Beads are — for less than half the price. At only $25, they're an excellent deal.
The harness to end all harnesses.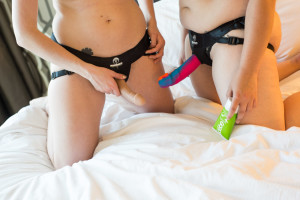 So comfortable, so adjustable, so perfect. The Joque harness makes strap-on sex worth having. I once heard it described as "the Subaru of harnesses," which is pretty damn accurate. It is utilitarian in the very best way.
The Joque is made of poly-spandex fabric. Instead of wrestling each time with straps and buckles, it can be adjusted once, then subsequently stepped into like underwear. Its stretchy O-ring holds dildos of many sizes. Most importantly, though: it's freaking MACHINE WASHABLE. I have other harnesses, but they can't compare to the ease, comfort, and durability of the Joque.

Get the Spareparts Hardwear Joque at SheVibe, Lovehoney (international), Come As You Are (Canada), Early to Bed, Good Vibes, Spectrum Boutique, or Smitten Kitten.
My partner's favorite non-human thing to stick his dick into.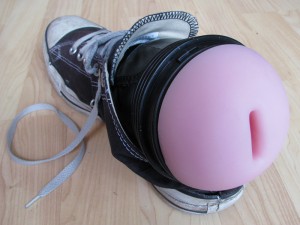 The years go by, and the Fleshlight remains the gold standard for my most treasured penis owner (my boyfriend). He loves the luscious material used to make them, and the hard case makes it easy to wedge the toy somewhere and go to town. There are about a million Fleshlight styles to choose from, from basic orifices to extremely detailed porn star vulvas, lips, and butts, and a wide array of internal textures. There's even a build-your-own option.
I'd be remiss not to mention Fleshlight's main competition, though: penis toys from Tenga. He hasn't tried them, but I've heard they're similarly rad.

Get the Fleshlight of your choice at Fleshlight, Fleshjack, SheVibe, Lovehoney (international), Come As You Are (Canada), Early to Bed, Spectrum Boutique, Good Vibes, or Smitten Kitten.
The greatest non-dildo things to ever inhabit my vagina.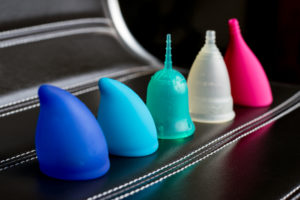 If you've not yet heard or understood the gospel of the menstrual cup, let me swoop in and convince you. I've been using them exclusively for many years, and the honeymoon, um, period, has yet to wear off.
Menstrual cups are reusable bell-shaped receptacles that sit in the vagina to collect period blood. I routinely forget I'm even on my period when I'm wearing a menstrual cup — that's how comfortable they are. I can wear cute underwear, hop in a pool, go to a sex party. Menstruating life is good. Which one you should get depends on your own body and needs, but I like the Diva Cup best, and Fun Factory's Fun Cups are a great way to experiment and determine your preferences.

Get the Diva Cup (and other menstrual cups) at Amazon.

Get the Fun Factory Fun Cups at Fun Factory, SheVibe, Early to Bed, Good Vibes, or Spectrum Boutique.