For years, literally, ever since I dubbed the Eroscillator "the best sex toy I've ever tried," people have been asking me whether it's worth the extra cash to get the Top Deluxe version of the toy. I've always had to say "I don't know; mine is the more powerful one and I've never tried the regular version," which pained me because I hate not having an answer to anything sex toy-related. I'm cool with feeling like a failure in some respects (I can't do a crossword to save my life), but not that one.
So finally, my online amiga of many years, Frankie, agreed to loan me their Eroscillator 2 Plus for comparison purposes. This is a true friend. And now I have all the T, and not much of the shade. Because the Eroscillator 2 Plus is surprisingly great, and not at all a sad shadow of its mightier counterpart. Good news for wallets everywhere.
A little background, if you're unaware: the Eroscillator is something of a cult classic sex toy, much like the Pure Wand, only it's not blessed with good looks and is often overlooked and berated. It changed my masturbating life with its deep, penetrating oscillations. It helped me achieve dual orgasms. It has figured prominently in many of my Jack-Off Journals, and it has its own tag on this here blog. For a good solid year after I reviewed it, I uncontrollably compared all clitoral vibrators to it. I've now accepted that no vibrator will feel like the Eroscillator, and I still use it just about as much as I did when I got it in 2009.
So, the Eroscillator and I, we've been places. In fact, Frankie's Eroscillator is pristine and the base of mine is broken from a highly unfortunate fall off my desk when a cat decided to brush against it. I "repaired" it with duct tape, and I try to tell myself that it has character now, but my soul will never fully recover.1
Both Eroscillators have three power levels, but the Top Deluxe is said to have a stronger motor and therefore 35% more power. Expectedly, the 2 Plus is quieter; Top Deluxe has a lower, more ominous timbre to it. And the 2 Plus definitely starts out at a lower level — its first setting is pretty light, and if you're not sensitive, could be a waste of your time. But its second setting is stronger than the Top Deluxe's first, and its third setting continues this trend. Here, let me mansplain it to you with a drawing: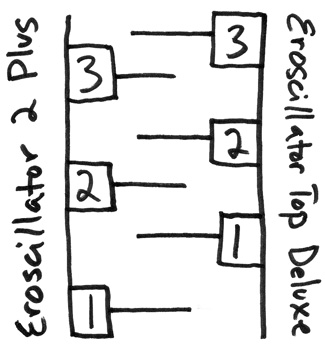 Any discrepancy in spacing between the levels is a result of my terrible drawing skills, not the knowledge of my clitoris. My clit is a perceptive little thing, yes, but not that perceptive. I was surprised by how subtle the differences really were. It is not a stark contrast that would cause one to bolt up in bed and scoff at the nearest cat.
Instead, I have determined that if my Eroscillator ever dies, I will probably replace it with the cheaper 2 Plus. Because the answer to the ultimate question is no, I don't believe the Top Deluxe is worth $55 more — not for me, and not for most people. That last setting on the Top Deluxe is nice, but not necessary to life.
UNLESS: you're coming from the land of Hitachi or Wahl; you like a lot of clitoral pressure; you have a feeling in the pit of your stomach that you're gonna need the most power you can get; you use a lot of vibrators internally (and therefore require more clitoral oomph); you can't stand not having the tip-top model of things; and/or you absolutely must experience the marshmallow Ultra Soft Finger Tip attachment in all its glory.
Yeah: the marshmallow dulls the oscillation the most, so it does its best work perched on the Top Deluxe. Which sucks, because it's my favorite attachment these days. The three attachments that come with the 2 Plus are acceptable — they're just not squishy.
The point remains that everyone with a clitoris should own the Eroscillator. But now, I can definitively say that the least expensive package also brings the oscillating goodness. $145 is still a lot of money, but the Eroscillator is a sex toy that repays you not just in orgasms, but in good orgasms. Deep ones. Ones the resonate through the legs of the clitoris. Ones that make you forget that you're using a sex toy that looks like it was designed in 1998 (because it was).
The depth of its ugliness is matched only by the depth of the pleasure it brings. Get one, get one soon.
Your options are many: