March 4th, 2010
You know what's hard to watch? An hour and 16 minutes of nothing but cocksucking. But I did it — boy, I did it — in the name of reviewing. Tristan Taormino's Expert Guide to Advanced Fellatio, that is. I watched it in the bedroom, with my laptop hooked up to the TV via HDMI. I even changed my screenshot hotkey to make it easier to reach over with my left hand and take a screenshot. Meanwhile, my right hand was occupied with the Vixen Astrovibe, trying to decide how I felt about it, and the Jollies Jollet, already knowing I love it. I'm putting this on my resume as an example of my ability to multi-task.
March 8th, 2010
Having just made a "toys to give a second chance" list, I decided to jack off with ONLY GLASS DILDOS. I used to have quite the obsession with glass dildos, but my love for them lately has waned quite a bit. I thought I'd try some old ones to see if I could "teach old dongs new tricks," as my amigo Carnivalesq put it.
Turns out, dildos can surprise me. I tried the Lemon Drops, which I was previously very meh about, and it was suddenly kind-of awesome. Why? Well, I was inserting it further than I had in the past. Because I am now insane. Well, at least my vagina is.
I watched the first scene of The Rebelle Rousers, with Kimberly Kane and some chick. The chick was doing this stupid, husky moan, as though she thought she was SO HOT for it. Some people can get away with husky moans (Jada Fire!), but she cannot. Yes, I am the keeper of the husky moans.
March 15th, 2010
Oh my god, anal beads are so awkward. I eased each bead of Flexi Felix into my butt and settled back in my desk chair. Dildo of choice? The oft-ignored Tantus Twist. The beads shifted in my ass as I thrusted with the Twist. I think I need to incorporate anal play into masturbation more; it's very intense and different.
With the Eroscillator on my clit, I prepared myself for THE ORGASM OF A LIFETIME. That's what happens when you pull anal beads out mid-orgasm, right?! You should've seen me, riding the dildo, hunched over and grabbing at the eye sockets of Flexi Felix, trying to hold the Eroscillator at the right angle against my clit. Actually, no, you shouldn't have seen me. It was muy awkward.
And I did pull the beads out as I came, and it felt good, but also semi-distracting from my clitoral orgasm. I wasn't quite done, so I moved on to G-spot stimulation with the Ophoria Beyond 1 and Beyond 3. I kept the Eroscillator on my clit, this time with the G-Point attachment, and brought myself to a wonderful dual orgasm.
March 18th, 2010
This masturbation session began without flair; I used my new dildo, the Whipspider Rubberworks Mantoy (yes, it looks like a piece of poop, I agree, and the name is horrific, I agree, but it's girthy and I like it) and had a regular ol' clitoral orgasm.
But then I whipped out the Ophoria Beyond 3. Knowing how powerful that dildo can be if thrusted crazily, I inserted it and wasted no time. I thrusted like a maniac, and in less than 15 seconds, I squirted all over my desk chair (covered in the Throw) and onto the floor. It was an insane amount of ejaculate, so I took a picture.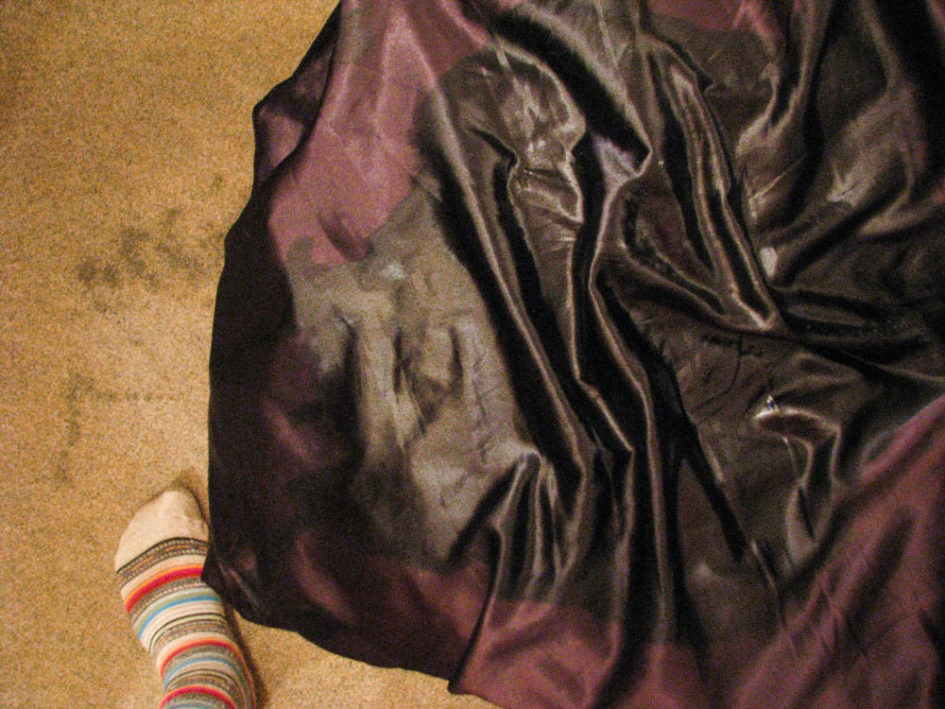 My friends on Twitter freaked out and deemed me (and my socks) awesome. I was proud.
March 26th, 2010
Wanting to switch things up, I decided to jack off in the spare bedroom, at my laptop and little desk in there. Thank god for the Eroscillator and its insanely long cord, because the only outlet I could find was across the room. I watched Seven Minutes in Heaven 3 in sync with Carnivalesq — the whole thing. It was exhausting as hell, and not exceptionally arousing. So afterward, I rewarded myself with pizza.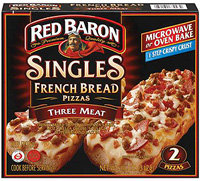 And it was all worth it.