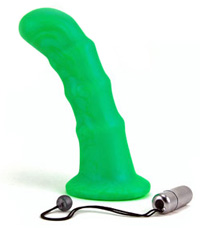 I knew I had to have the Astrovibe the moment I saw it. It did not matter what size it was. It didn't matter if it vibrated or not. It didn't matter if it came in a grubby plastic bag or a classy, satin-lined box. I just needed it.
Because it's freaking lime green.
And not only that — it's lime green with bluish swirls. This is one sexy dildo; unless, of course, you hate green (but then I'd just rather not know you).
The Astrovibe is made of 100% silicone. It's a very soft, squeezable silicone that flops slightly if you wave it around. It's pretty fat, at at 1 7/8″ in diameter (at its widest point) and 6 5/8″ in length. It has a hefty base that is ideal for getting a good grip and thrusting like crazy. Or pretending the dildo is a gun and "shooting" your partner when s/he walks in on your masturbation session. No, of course that hasn't happened to me… why do you ask?
The Astrovibe is incredibly easy to insert, although I can't insert the whole thing. I get to where the last ridge is just against my vaginal opening, and I can't go any further, lest I poke my cervix. That's okay, though — there's plenty of dildo to thrust, and those ridges are more noticeable than I expected them to be. They're a lot less intense than the ridges of the Soft Serve or Echo, though, which means they're a bit too subtle for my personal, texture-loving tastes.
The curve of the Astrovibe doesn't stimulate my G-spot all on its own; it's too floppy and soft for that. But if I thrust, my G-spot definitely responds favorably. It's not the most awesome G-spot stimulation ever (I prefer harder materials), but it works.
The Astrovibe has a hole in its base and comes with a watch-battery-guzzling bullet. The bullet has a very nice retrieval cord attached to it, but I still never use it. I don't need vibrations, but they're there if someone else does. (Although I'd recommend the We-Vibe Tango or Screaming O Vooom instead.)
Is the Astrovibe revolutionary? Outside of its greenness, no. No sensations I haven't experienced before. But it's a nice, thick, green (!!!) dildo with a pleasant texture and G-spot curve, so anyone looking for that combination of features would be mighty pleased to experience the Astrovibe.