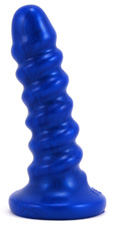 As I've previously mentioned, I'm quite fond of ice cream inspired dildos. And even if no ice cream should come in this freakish shade of blue, the sweet idea behind the Vixen Creations Soft Serve is apparent in its wavy shape and delicious name.
In fact, the Soft Serve appeared on my radar a while back, back when it came in a luscious shade of orange. I'm apparently really hung up on aesthetics (either that or I fear change), because my lust for the Soft Serve fizzled when I saw the new blue color. One thing hadn't changed, though: the deliciously textured shape. My vagina would appreciate it, I knew, even if my mind was preoccupied with images of the orange version.
The Soft Serve is stout (5 1/2″ long) and not too thick (1.25″ in diameter), but its swirls are very pronounced. Unlike the old Soft Serve, which was made of super soft VixSkin, the new blue Soft Serve is made of regular pure silicone. Still, it is pretty flexible. Texture is its forte, and the small overall size of the dildo allows for much thrusting, and much stimulation from the ridges. Even light thrusting produces a pleasurable sensation. Really, any movement at all makes the swirls noticeable internally, which is wonderful for a texture slut like me.
Although I'm not one for dildos up the butt quite yet, I did try the Soft Serve anally. As expected, the texture continued to feel delicious. I can imagine that those who love texture and who love thrusting in the ass would really, really like the Soft Serve. So it is great for both vaginas and asses! Woo!
I also couldn't help but compare the Soft Serve's stimulation with that of the similarly ridged (and much adored by me) Tantus Echo. The Soft Serve's ridges feel more abundant, I'd say, while the Echo's feel larger. The Soft Serve is a much more petite dildo — shorter and thinner than the Echo — and thus more ideal for warm-up. The Echo is definitely more of a finisher, but the Soft Serve is a seriously solid option for maximum stimulation with minimum girth.
I always welcome more warm-up dildos, especially textured ones, and the Soft Serve fills that niche nicely. Alas, it's not orange — and let's face it, I may always fantasize about that beautiful shade of orange — but my vag doesn't discriminate.