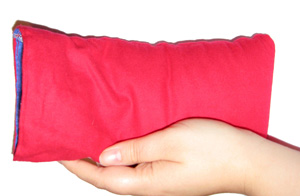 The ChillDil (or if you prefer, there's a Twitter account), the brainchild of That Toy Chick, is a sleeve for heating and cooling sex toys. It can be microwaved or placed in the freezer. That Toy Chick's kickass copy should convince you of why it is superior to traditional temperature-acquiring methods:
[Sex] toys are usually sold with instructions to heat or cool in a bowl of appropriate-temperature water, which would involve getting a bowl, microwaving (or even traditionally boiling) water or cracking ice cubes into it, hauling the whole thing to one's bedroom or other sexy staging grounds, and periodically dunking, waiting and drying off the toy if a "re-up" of heat or cold was desired. Bowls were knocked over, water-toting-intentions were questioned, and generally those that had to deal with lack of privacy often played with their toys at room temperature, rather than bother with the water method.
There's even an optional waterproof sleeve insert, so that toys can be warmed or cooled amidst play without making your ChillDil gross. Hell to the yes.
Help make the ChillDil happen!
Here's where That Toy Chick needs you desperately. On the ChillDil kickstarter campaign page, you will see that $160 out of $500 has been pledged UPDATE: Wow, that was quick! The goal of $500 has been reached! You can still keep donating until the deadline of December 10th, though, to help ChillDils get off the ground even further.
I know this is an unfortunate time to be asking for donations, but That Toy Chick deserves to be backed by the sex blogging community. She's the one behind the massive manufacturer list, after all! She's practically a saint. I hope that many of you can find at least a couple bucks to donate. Especially for the upcoming winter nights, I'd love to have an easier way to warm up my Pure Wand!