If you ask me, sex toys are way better gifts than socks or body wash. Now I may be biased, considering I own hundreds of them and have been testing them and reviewing them for many years, but you know. The point is, I have OPINIONS about things that go on vulvas and in vaginas and butts, and even sometimes over penises.
When I first wrote this post, it was after I was on Sex Out Loud Radio telling the universe all about my top sex toy gift ideas — plus my tips for picking out a sex toy for someone else. Each year, I update my recommendations. Below, you'll find guidance and ideas, along with photos of the toys and links to my reviews. Everything you need to get giftin'!
Where should you shop? My favorite sex toy stores are SheVibe, Spectrum Boutique, Early to Bed, Smitten Kitten, Enby, Peepshow Toys, Come As You Are (Canada), Lovehoney (international), The Pleasure Garden (UK), and Passionfruit (AU/NZ)!
Tip #1: Versatility is key

When picking out a vibrator for someone else, the key word you want to keep in mind is versatility. Don't get something that has one speed, or even 3, if you ask me — it's just a little bit too limiting. Also don't get something that has a very very specific purpose or unusual shape, unless you know your recipient wants something that like that.
In terms of versatility, my #1 pick is the BMS Pillow Talk Sassy. I'm obsessed with this vibe because it covers all the bases: it's rechargeable, strong, rumbly, fully submersible in water, and it doesn't cost an arm and a leg! It has a bulbous end for excellent G-spot stimulation, but it performs wonderfully for clitoral stimulation (my choice). The Sassy also has incredible range in terms of vibration, so a person who doesn't know how much power they need yet can find out. Perfect!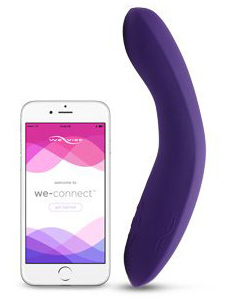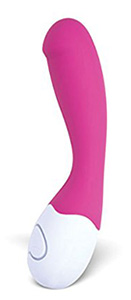 You may also consider the LELO Mona 2, We-Vibe Rave, or OhMiBod Lovelife Cuddle. All these rechargeable toys have an impressive range of vibration intensities and effective shapes for internal or external use. The Mona 2 is an all-around winner, with a shape that fits nicely between the labia. The Rave is ideal for G-spot hunters or those wanting to explore long-distance play, as it has an app that can control it from afar. The rechargeable Cuddle is simpler and smaller, at an appealing price point.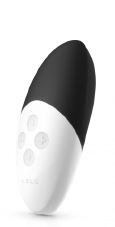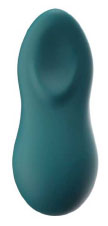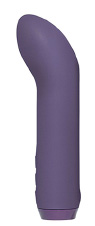 If you're looking for a solid clitoral/external vibe, there are some really good options out there these days. I suggest one with pleasingly rumbly vibrations and many power settings, such as the LELO Siri 2, We-Vibe Touch X, or Je Joue Bullet. Strapped for cash? The BMS Pillow Talk Racy is the most satisfying bullet vibe under $50 that I've found.
Get the LELO Siri 2 at LELO.

Finally, I'd be remiss not to mention one of my most loved toys ever, the Magic Wand Rechargeable. This is a hefty workhorse of a vibrator with a very broad head, large body, and intense vibrations sure to get me off in even the toughest situations. But! Not everyone wants that! It's awesome for those who need to cover a lot of surface area with a lot of oomph, but it's not for beginners or folks who prefer pinpoint stimulation.
---
Tip #2: Use common sense and buy the toy for them, not yourself
You need to be honest with yourself — how much do you actually know about what your recipient likes? For instance, if they don't listen to music while jacking off, don't get them a music-powered vibe no matter how much you want to blast Black Sabbath on it. If they've never had a vibrator, don't get them something that plugs into the wall and sounds like a sander.
Insertable toys are the most complicated in this way. I think people err on the side of too big, perhaps because they use their own dicks as measuring sticks. I once heard a guy complain that the toy he bought for his wife was too big for her, but no joke, the actual manufacturer name of the toy was Big Boss. So, common sense, yo. Read the measurements. Visualize. Be realistic.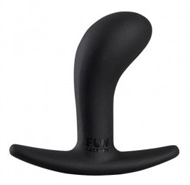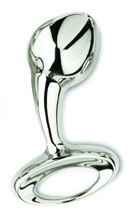 One thing you can do is casually have a conversation in advance where you try to scope out what someone is interested in. I would suggest Thanksgiving dinner as the venue for this. Perhaps you find out that they're interested in not just pumpkin pie, but also anal.
If they've never tried anal play, I would suggest the Fun Factory Bootie, a little silicone plug with a curved tip. It's cute, small, and it has a great base. (It also comes in larger sizes, but again, be realistic.) Another excellent option is the glass Crystal-T Plug, offering the smooth glide of glass. If your recipient is more well-versed in anal play, they'll love the njoy Pure Plug, which is stainless steel. It feels amazing and really has that "wow" factor when you open it because it's so undeniably gorgeous.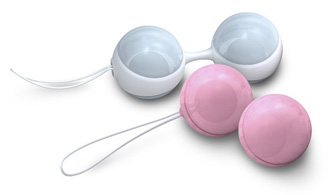 Say your companion mentions being intrigued by kegel exercisers. My favorites — and I've tried quite a few — are the LELO Luna Beads. These are inserted vaginally and can be worn around, to make mundane tasks less excruciating. Oh, yeah, and they tone the PC muscles, too. But mostly the sensation of the inner balls rolling around is just really fun.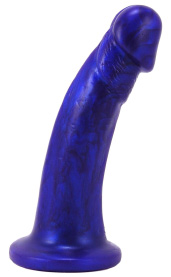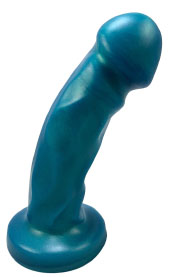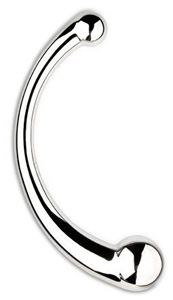 Or maybe during this "casual conversation" they express interest in G-spot spelunking. Now, if they're new to G-spot stimulation, a simple silicone dildo with a good curved or pronounced head will do the trick. I really like the Vixen Creations Woody (same mold as my beloved Mustang), or a dildo made by Uberrime, such as the Splendid. The Splendid comes in many colors and sizes, which is pretty sweet.
But if your recipient has already found their G-spot and wants to up the ante a bit — perhaps even learn to squirt — I absolutely adore the njoy Pure Wand. This stainless steel wonder even comes in a swanky box, so you can literally just toss a bow around it and be done. Which is great because I'm already having flash-forwards to how much peppermint schnapps I'm going to have to drink while I wrap presents just to make it bearable.
Get the njoy Pure Wand at njoy, SheVibe, Spectrum Boutique, Early to Bed, Smitten Kitten, Enby, Peepshow Toys, Come As You Are (Canada), Lovehoney (international), The Pleasure Garden (UK), or Passionfruit (AU/NZ).
---
Tip #3: Educate yourself
There's a lot to know about sex toys, and it can be overwhelming, but it's worth the extra research. For one, the sex toy industry is unregulated, so there are a lot of mystery meat materials out there that you want to avoid. A good rule of thumb is to look for toys made out of the same materials that are used in kitchen products: glass, stainless steel, 100% silicone, hard plastic, and sealed wood. These materials are non-porous and pure, so they can't hold onto bacteria and they won't leach chemicals into the body. You know something is leaching chemicals if it has a terrible smell, usually like a new shower curtain. Of course, I only ever recommend body-safe toys.
If you're considering vibrators, it's also useful to learn the difference between buzzy and rumbly vibrations. The quality of the vibration is just as important as the shape and features of the toy — probably even more so!
When you're researching stuff, don't be afraid to email me or other bloggers to get our advice or help you break a tie. We totally love that shit.
---
Tip #4: Upgrade things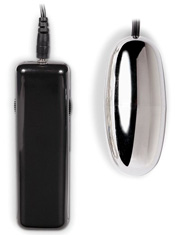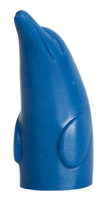 You can give an extra boost to something your partner already owns, or replace a toy they love with something even better. Pleasure Works makes a sleeve called the Diving Dolphin, which fits over any vibrator with a diameter of an inch or so. It fits perfectly over the Silver Bullet, which consequently is an excellent starter vibe, and they give it some extra grip, too, which is awesome. Sleeves can be an inexpensive way to experiment and see what kind of stimulation someone prefers.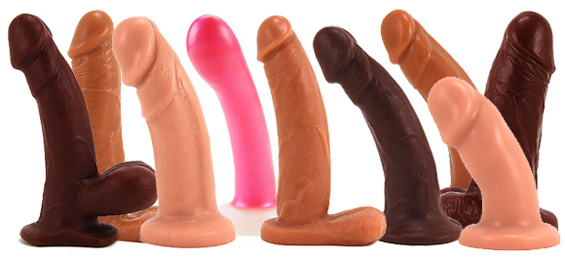 So, if your partner already has a favorite toy that's made out of a questionable material, this is your chance to get one in a better material. That's another thing that I love — when someone emails me wanting a body-safe version of something. It's like a little game for my sex toy encyclopedic brain.
For example, if your partner owns a soft, smelly insertable toy, check out the dildos made by Vixen Creations. They have a dual-density pure silicone called VixSkin that is highly detailed, delightfully squishy, and will last a lifetime. I'm addicted to it, to put it mildly. Favorites include Buck, Mustang, and Maverick.
Additionally, Uberrime pours some of their dildos in dual-density. Browse their options at SheVibe, Spectrum Boutique, or Early to Bed.

Speaking of upgrades… maybe your partner has a cheap masturbation sleeve or only uses their hand to jack off. You should definitely consider getting them a Fleshlight. My boyfriend is super picky about sleeves, but he loves the luscious material used to make Fleshlights… as do I (you can sometimes find me casually fingering one). There are about a million to choose from, from basic orifices to extremely detailed porn star vulvas. There's even a build-your-own option.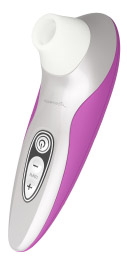 But what if the person you're buying for already has a hefty sex toy collection? I'd suggest a toy that offers a truly unique sensation, and I would know which ones do because I have a very discerning vagina.
For starters, I suggest you check out Fun Factory's Stronic line. These toys do not have traditional motors; they actually contain weights that move back and forth. Yes, like a Shake Weight. Except for your vagina. And a lot more useful. The Stronics are not cheap, but I think they're worth it. And I don't say that a lot about $170 toys.
Want something more analog? Look up Crystal Delights Crystal Twist. It's oddly shaped, yet feels so wonderful.
The clit toy realm has a few interesting options as well. I'm very into the Fun Factory Volta, a one-of-a-kind vibrator with flickering tips that can be used a plethora of ways. There's also the legendary Eroscillator, which features oscillations — a type of subtle movement that feels deeper than vibrations — or the Womanizer, which stimulates using air flow. These are sensations you just can't get with the average vibrator.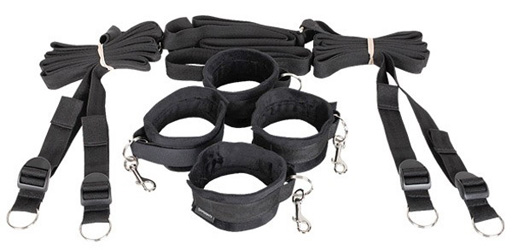 If you want to veer off the traditional sex toy path, there's always the Sportsheets Under the Bed Restraint System. This thing basically turns any bed into a bondage playground, complete with both wrist and ankle cuffs. And when you're done, you can just toss the straps and cuffs under the mattress, effectively hiding them away from your kids… or in my case, my cats.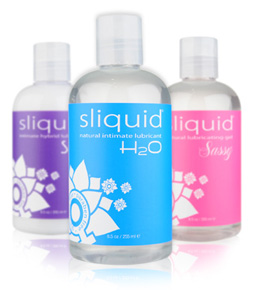 Finally, I must mention lube! It's the best. Everyone should use it. My favorite brand is Sliquid, because all of their lubes are glycerin- and paraben- free. I say get some lube samples and stuff them in a stocking. Plus then you can do a lube flight and find out what both of you like.
Get Sliquid lubes at Sliquid, SheVibe, Spectrum Boutique, Early to Bed, Smitten Kitten, Enby, Peepshow Toys, Come As You Are (Canada), Lovehoney (international), The Pleasure Garden (UK), or Passionfruit (AU/NZ).
---
Tip #5: If all else fails… gift cards

If you can't decide, or if I'm overwhelming you with suggestions, see if your favorite sex shop does gift certificates (hint: SheVibe, Spectrum Boutique, Early to Bed, Enby, and Come As You Are all do). One thing you can do is make a list of potential toys to show your partner — you could even put together a sex toy brochure or menu or something — but leave the final say up to them. This shows that you put some effort and research into it, but ultimately you're giving them the reins. People love having the reins.
So there you have it — hopefully these tips will help you avoid getting the side-eye from your gift recipient. Well, ideally you'll get the opposite of the side-eye… uh, whatever that is. Something good.
Where should you shop? My favorite sex toy stores are SheVibe, Spectrum Boutique, Early to Bed, Smitten Kitten, Enby, Come As You Are (Canada), Lovehoney (international), The Pleasure Garden (UK), and Passionfruit (AU/NZ)!