OhMiBod is commonly known as the sex toy company that makes music- and app-responsive vibrators, but their Lovelife line is a departure, and a valiant effort. It's a line of less expensive rechargeable toys that do not care whether you're blasting Meatloaf.
Usually, for a rechargeable vibrator, you'll spend at least $90, and up to $200 depending on size, functionality, and arrogance of the brand. In the Lovelife line, you can get a rechargeable vibe for as low as $59. Which is not to say that you should — each toy falls in a very different place on the scale of "trash" to "treasure."
There are seven toys in the Lovelife line, all named after the things that OhMiBod co-founders Suki and Brian believe are important to a lasting relationship: Smile, Discover, Cuddle, Adventure, Krush, and Flex. Hold back your vomit. I settled on four out of seven: Adventure (the triple stimulator), Smile (the little clitoral vibe), Discover (the stout slimline vibe), and Cuddle (the small insertable G-spotter).
I face a conundrum in wanting to critique the ALL PINK ALL THE TIME mantra of this line, which is that there are good acceptable passable reasons for it: it's Suki's favorite color, it's the number one seller according to "market research," and OhMiBod didn't have enough money to make the line in more than one color. So, let your eyes adjust to the dusty pink silicone and accept your fate as I have.
Many things in the Lovelife line are proportional: the boxes1, the manuals, the white satin storage bags, and most significantly — the motors. The small toys have surface-level buzz while the larger ones have deeper vibrations. You can hear the difference when you turn them on — the Smile sounds high-pitched and whiny, while the Adventure has a lower, rumblier tone.
But the toys are still identical in several respects. They each charge via USB cord (2.5 hours), feature 6 intensity levels and 7 scalable pulsation patterns (a few patterns are likeable, but have too many gaps — why would I want the vibration to ever stop?), are brandished on the base with the embossed word OhMiBod, and come with a 1 year warranty.
The heart-shaped control pad on each toy has three buttons: plus, minus, and squiggle, which together resemble "a person who's been hurt in the eye," according to my friend who I swear is an adult and can normally formulate sentences. The buttons feel cheap and make a chintzy clacking sound when pressed, and they don't behave the way you'd expect: the squiggle (not the plus) must be held to turn the toy on, and the plus/minus buttons have to be clicked briefly (not held down) to increase/decrease intensity. It took a bit for my brain to adjust appropriately.
One point of contention among reviewers is that the entire line is splashproof only — not waterproof like most rechargeable toys. Again, this was a price point decision,2 and one that in my opinion pays off, because we need more high-quality silicone toys in this price bracket. Obviously, these toys cannot be submerged, but I clean mine under running water (avoiding the charging port) and have had no issues.
The white plastic handles do tend to stain, though. I clean and dry my toys in the kitchen, and a couple of the Lovelife toys have spots on them — maybe from grease? So now the person who was hurt in the eye has a bruise.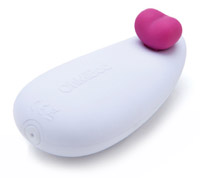 I'm a freak and so the Smile is the one that intrigued me the most at first. I don't know why. It looks like a tiny butt crack. I mean heart.
But it's the worst of the entire batch. The shape is pinpoint and interesting, but it vibrates in a shallow, one-dimensional way, which newbies may not understand but seasoned vets will immediately recognize. The thing is, newbies deserve deeper vibrations, lest they think all sex toys feel like Rich Cronin's girlfriend buzzing like a hornet.
The moment I touch this toy to my clit, I think, "how much longer must I endure this?" The answer is always: "not long." I love you guys, but I can spot a bad orgasm a mile away.
See the Smile in action in the video here.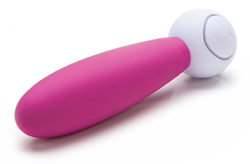 This short, unassuming slimline vibe would be great if it had any power beyond the buzz. It does not. Its motor is similar to the Smile's: weak, buzzy, and sad, although marginally stronger.
Again, I'm not quite dedicated enough to my craft to bring myself to orgasm with this. I could do it, but I would be perturbed the entire way.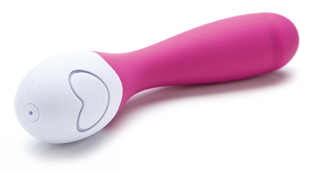 Here's where things get interesting. I really really like the Cuddle. It has the power, adjustability, variety, and shape that folks deserve — at a pretty unbeatable price.
Primarily, its vibrations are deeper and stronger than the smaller Lovelife toys. Cuddle is also a lot stronger than the LELO Gigi 2 ($119). Most disturbingly, it's about 75% as strong as my favorite vibrator the LELO Mona 2 ($139), just more buzzy. For literally half the price. HALF.
And let us not forget the sheer number of vibration intensity settings: 6! That's right, biches, no more 3 "I hope you like all of them" settings. We deserve better, and that is what Cuddle gives us. (So do the other toys in the Lovelife line, but the Cuddle has the motor to back them up.)
The Cuddle is fairly petite but wonderfully curved, which makes it an excellent clitoral vibrator as well as a manageable insertable. Its subtle head makes for effortless insertion, and as I slide it in further it gently hooks up against my G-spot. It's too small to blow my G-spot's mind, but it's ergonomic and hard to mess up.
I'm gonna go out on a limb and call this toy the best thing OhMiBod has ever made. I haven't tried everything, but I can extrapolate based on past experiences. The Cuddle is the simple, effective vibrator the brand — and the world — needed. Good work, team.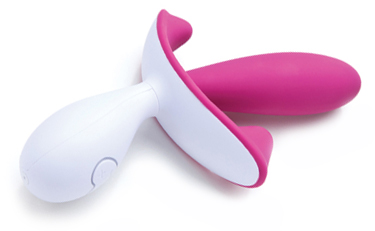 Aptly named, the Adventure is the biggest gamble in the Lovelife line. It has three motors, and it vibrates at the lowest pitch, so it's certainly strong and stimulating. But it's also oddly-shaped and extremely rigid — so it's the most anatomy-specific, with some reviewers hailing it as the next messiah while others decry its incompatibility with their genitals. I'm somewhere in between.
The Adventure fits my anatomy well. The shaft is not G-spotty or particularly noticeable, but it locks into place smoothly. The clitoral prong is pointy, so the stimulation feels sort of forceful, which I like, but others definitely won't. The anal part just barely touches me, but it is pleasant.
This toy stays in place remarkably well, and if I were really determined it could provide a hands-free orgasm, but I like to wrangle it and give it that extra oomph of pressure. I basically settle the clitoral prong into the left side of my clit and hold it there. There is no way to turn off vibration in the insertable part, or adjust the motors separately, but the vibration is strongest in the prongs. As it should be.
And it's fucking strong. And rumbly.
So while I don't tend to care for dual/rabbit vibes in the first place, the Adventure is probably my favorite one to date. The vibrations aren't paltry and I don't have to finagle it to achieve contact with my clit, so I'm happy. At $99, it's priced very well — but it's a hard toy to recommend due to all the different locations of clits in the world. (I've heard it's excellent on the prostate, though.)
---
I'm firmly half and half with the Lovelife line. The smaller toys, with their buzzy-ass motors, are a flop no matter how you price them. But the larger ones represent an intriguing — and mostly successful — foray into less expensive rechargeables. (And I've never seen OhMiBod implement stupid marketing tactics, which helps tremendously.)
Keeping my absurd love for the LELO Mona 2 in mind, you will understand the enormity of the compliment when I say that the Cuddle is like the Mona Lite — a bit less luxurious, a little less strong/rumbly, and not waterproof, but nearly as versatile and astronomically cheaper. I almost, momentarily, can forget that it only comes in pink. OhMiBod, what have you done to me.
Find the Lovelife line at SheVibe, Good Vibes, Babeland, or Peepshow Toys.
A lot has been said about how sturdy and reusable the boxes are… which is true, except the boxes are SO ANNOYING to pull apart. I sat on the floor pondering whether I needed to keep any of them.
"We decided against full waterproof because of overall end consumer price trade off. The costs for the initial molds are much higher and the per product cost increase significantly enough to change the price point — with Lovelife we made this tradeoff so we could keep the price point in the mid range level."