The Leaf Life looks like something you'd pick up along a nature trail. Colored a cheery green and shaped like a fat leaf or a pointy slug, the Life is manufactured by BMS Factory and comes from a line of vibes inspired by nature that I found too intriguing to ignore. And I'm glad I tried one (the right one, perhaps), because… I really like it.
The Life comes in a brown cardboard box that looks all eco-schmancy, but there's nothing that makes this toy more eco-friendly than any other rechargeable vibe. It does come with a sweet storage bag. It does not charge magnetically, but instead one must impale the toy with a jack in the same way as with the Jopen Vanity vibes. You'd think this would make the toy far from waterproof, but no — somehow this thing is totally submersible. I don't know how, but it is.
The vibe itself is not as uniform and sleek as press photos make it look. It does, in fact, have a seam that runs all the way around it (noticeable with the fingertip but not with the clit), and its underside is brandished with a slew of small symbols, such as the PowerBullet logo and the "don't throw me away" trashcan. Leaf acknowledges this fact, as its manual reads,
Unfortunately we are forced to put them on due to international laws, so please do not be mad at us. Look on the bright side through, we made them very smooth and the same color as the rest of your toy so you more than likely will not really notice them anyway.
(Anyone else get the sense this is directed toward cranky reviewers like myself?) But they're right — the symbols are all on the non-business end of the toy, on the underside, so they're easily forgotten. Still, all of this cheapens the overall feel of the design a bit.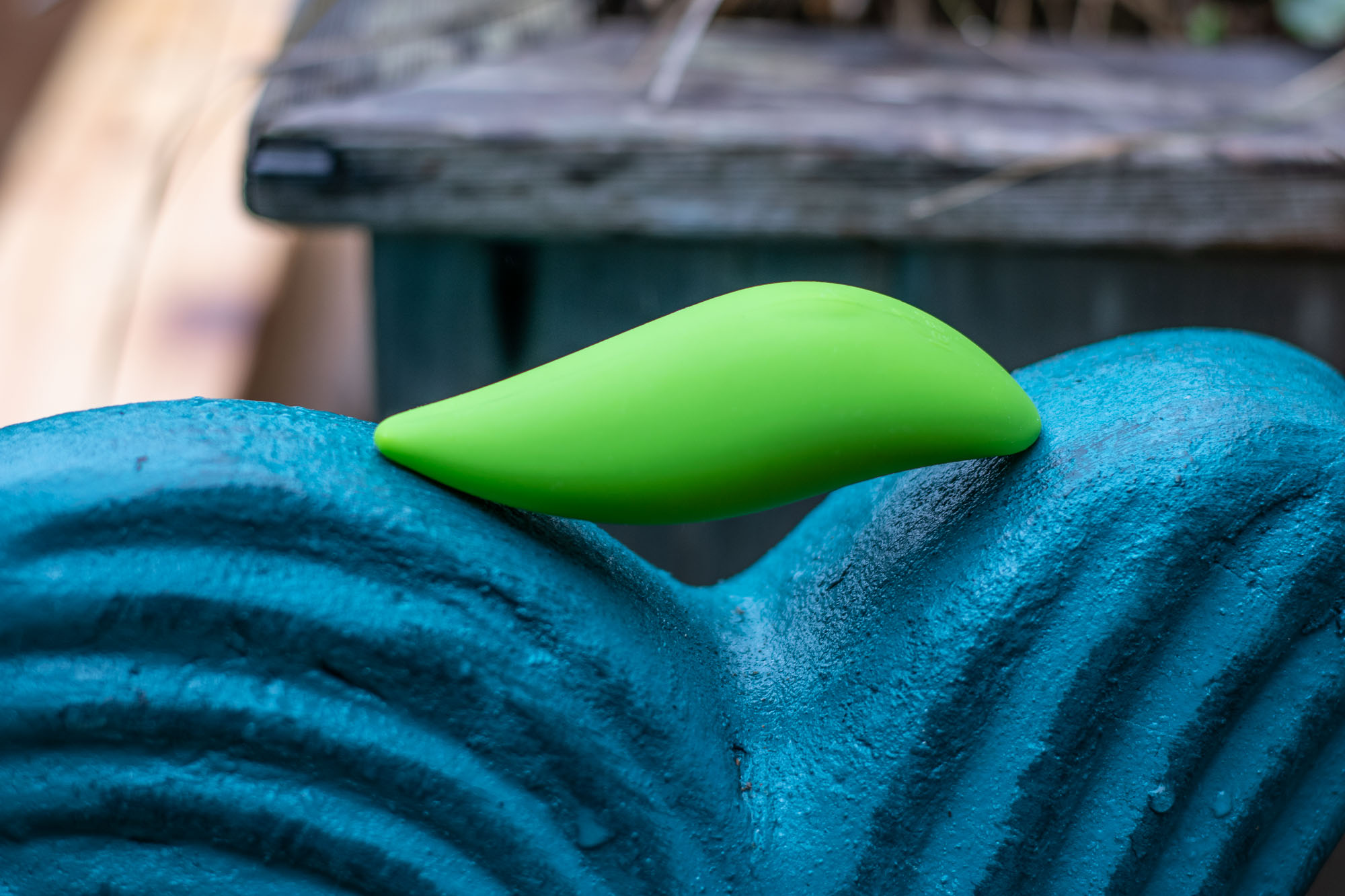 Yes, this toy has a couple failings that it's my duty as a reviewer to impress upon you. It has seams, its controls are confusing at first, and it's not very quiet. The rational part of me understands these facts and wants you to know them too, but the emotional part of me — and my clit — would rather just say, "IT'S GREEN AND PRETTY AND IT FEELS GOOD AND DOES GOOD IN THE WORLD."
So I'm gonna try to explain both sides.
The Life is controlled by a single button that illuminates when pressed. You press it once to turn it on, hold it down to turn it up, and press it quickly to turn it off — which is basically the opposite of what we, toy users, have been conditioned to do. It takes some adjustment, and I still find myself accidentally turning it off when I mean to increase the power, but actually… it's a decent system once you get used to it, and I greatly prefer having a range of settings instead of set ones. Even if there's no way to know which level you're on, and the toy doesn't remember after a reboot.
The Life doesn't have any vibration patterns. Not a deal-breaker for me, but if it is for you, don't plop down the money. Plenty of other vibes have 'em.
I find the Life very ergonomic. I have no trouble holding it or accessing its button in use. It feels natural and unobtrusive. Like… like it was created by nature! Ugh, ignore me.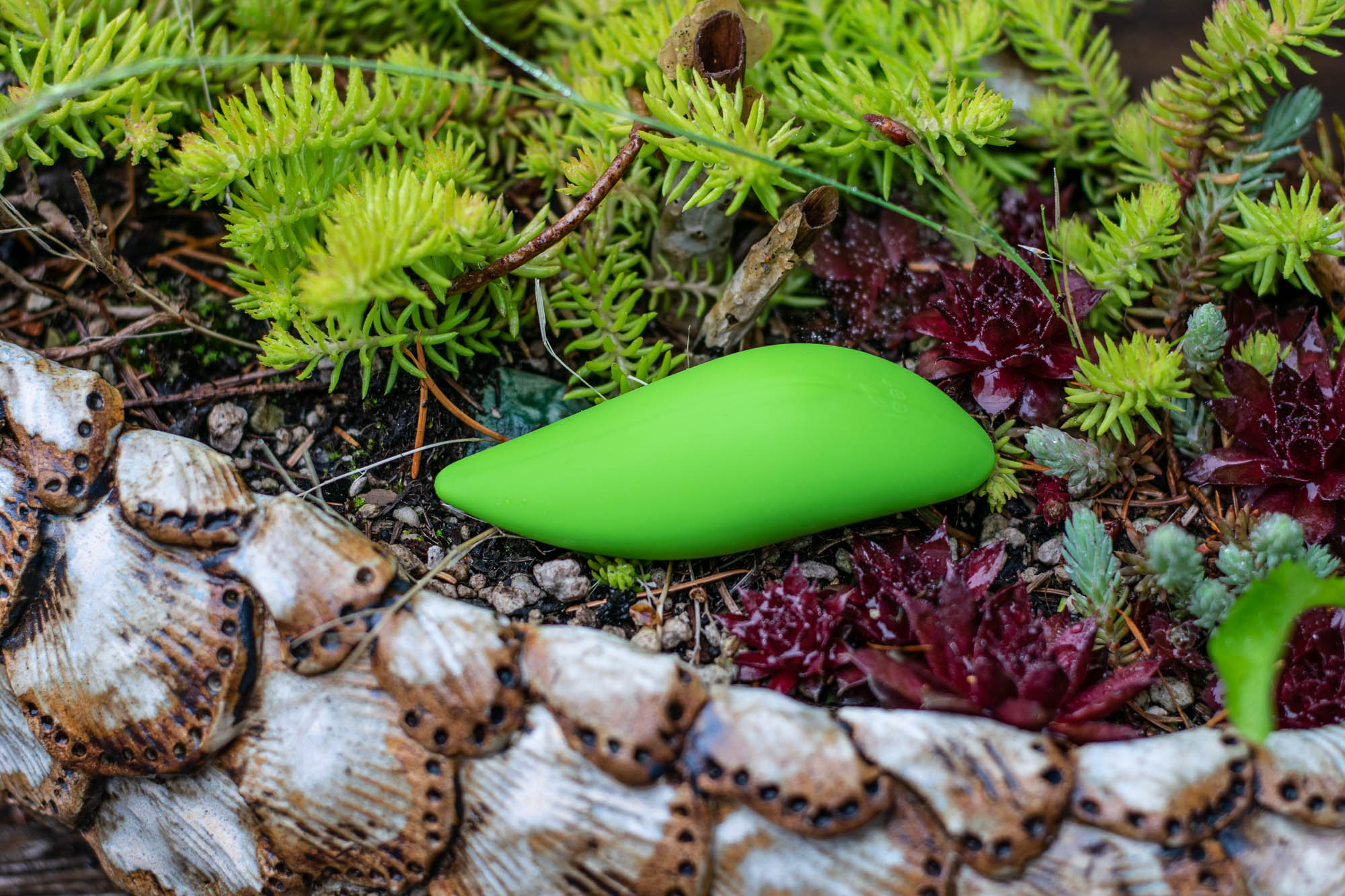 Like every other rechargeable clit toy in the history of ever, the Life is not insanely powerful. It is nowhere near the Wahl, Mystic Wand, or Hitachi. But it's not a weakling either, and it's definitely enough for me. I'd say it's on par with the We-Vibe Touch, one of my favorite rechargeable clit toys, but there's a big difference in how the toys feel.
The Touch is a toy that I press into myself a bit; it has a wider tip, and the vibrations are reverberating and somewhat deep. The Life… it kind-of… writhes at the tip. Do not picture a tongue when I say this, but it flicks a very small amount because the tip is so small and the silicone has some give. Too much pressure dampens the sensation, but I'm fine with a moderate amount of pressure.
This flicking thing, this extremely pinpoint stimulation, really does it for me. Actually, this toy's tip is so tiny that it made me realize how much of a lefty my clit is! That's how hard it is to come by targeted stimulation like this. The Form 3 tried to do it and failed. I can't think of another toy that feels like this one does, and that's saying something.
So I struggle. Because I like the Life a lot — the stimulation is unique and delicious, the color is badass, and it's rechargeable. But you should only buy it if you like super pinpoint stimulation, and only if you are okay with some noise. Which doesn't sound like the ringing endorsement my clit wants me to give, but I gotta keep it real.
The Leaf Life is a good deal, at $70, here. Browse the whole Leaf line at SheVibe.
The Leaf+ line is a bit different: only 3 set speeds, but with 2 patterns… in purple.