If you like pushing around the skin on a wrinkly dog, you will love touching the Tenga Iroha vibrators. They feel spongy, like marshmallows, with enough give on the outer layer that you can push it around like dog skin. They're really addicting to touch, but that criteria would only matter if I were reviewing a set of stress balls.
These are sex toys, and as sex toys, they perform adequately. I'd give them a passing grade, maybe a C+ or B-. But I'd also give them some stern suggestions for improvement and hope that they try harder next time.
The Iroha line is Tenga's first attempt at making vibrators; they've always only made toys for penises. These vibes are unique because the outer layer is silicone, but the inside is polyurethane elastomer, which gives them their plush, mochi-like feel that truly is unlike anything I've felt before. Yuki is the white one that resembles a snowman; Midori is green and pear-shaped; and Sakura is pink, with pointy pincers reminiscent of the Form 2.
These vibrators charge like perfect specimen under a clear plastic cover, via USB or the included wall adapter. This isn't discreet in the least, and would be a nuisance to travel with, but it's drop-dead simple and looks sophisticated as fuck. It also keeps fuzzies and debris away from the toys while they charge.
Which reminds me: the Iroha toys claim to be "lint-free." One time, my cat waltzed across my desk and sat on one, and I can report, there was not much to show for it. I even petted him with Midori (which he loved) and there was approximately a single hair to pick off. So my highly scientific cat tests point to yes, they are "lint-free."
I was feeling positively toward these toys overall, until one night when I was Skyping with a friend and whipped them out to show her. Somehow — and I really don't know how, although I guess it happened when I was pushing the skin around like I do with wrinkly dogs? — the control panel popped off the Sakura, exposing all the innards and wires.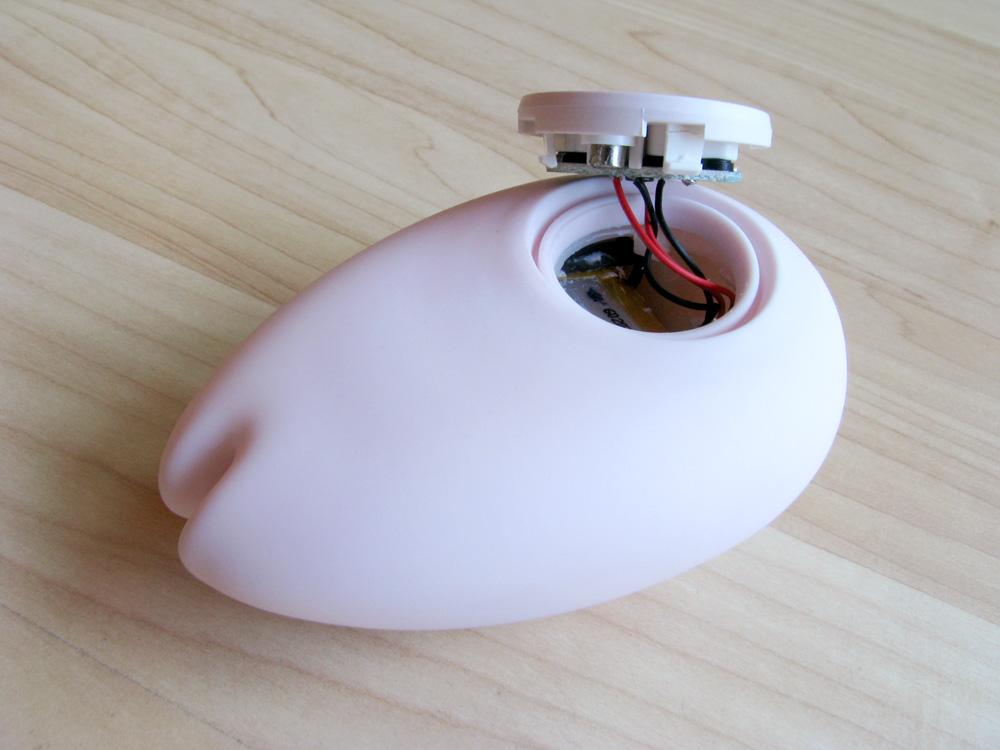 If these toys can be disassembled by a drunk girl fumbling around on Skype, I feel like that's a bad sign. I contacted Tenga and at first they explained that it was a known defect with Sakuras only. But then it happened to my Midori. And Yuki. Finally I was told it was an issue with weak claw joints that connect the control pad to the main body, which have now been strengthened in the entire line.
I sent my Irohas back and received all new ones. I haven't experienced the issue with my new Irohas, although I can still push the skin away from the control pad. These toys do have a year warranty, and I trust that Tenga would replace any faulty units. Still, it gives me pause. Does Tenga know what they're doing? Are these toys ready for prime time?
I'm not entirely convinced, because the Irohas are splashproof only,1 and they have a paltry three vibration strengths — and one pattern. Most rechargeable clit vibes are waterproof and offer more settings. For $99, the Irohas should be more adjustable. [Update, 9/8/16: the Iroha+ line, which consists of Kushi, Tori, and Yoru, is waterproof and each toy has 5 vibration intensities and 2 patterns.]
The vibrations in the Irohas are neither particularly buzzy nor particularly rumbly. Speed setting #1 works for a couple minutes, until I'm like, "okay, next." Speed setting #2 is decent, and the third and final speed is enough to bring me to orgasm no problem, but… do I always want to be going to the last setting to have an orgasm? I often have more than one orgasm per session, needing slightly more power as I go, and these don't provide that flexibility.
The single pattern is a generic pulse. Fuck that shit.
The Irohas do feel unique and cushy in use; the word that keeps coming to mind is "pleasant." I don't use a ton of pressure with my toys, so I can't make a pronouncement on whether they're good for folks who do. It could be a fruitless and frustrating exercise, or, as one reviewer happily reports, it could "prevent a case of Bruised Clit the next morning."
A friend suggested I use an Iroha during sex, as perhaps it wouldn't be as pokey as other things. I guess it wasn't as easily jostled into my vulva, but then, I only engage in sex positions with low risk of that happening. As I made my way up to the third setting, it became apparent: don't send an Iroha to do a Mona's job. A few more strength settings would've brought me to orgasm much more quickly.
Shape-wise and otherwise, I like Yuki most. Somehow, it feels a bit stronger than the other two at its highest vibration strength. The flickering, pinpoint sensation of Sakura is also nice. Midori is my least favorite because it is the most rigid at the tip, although I like how its rotund body stimulates my labia. Overall, Yuki offers the tangible squish of the dual-density materials with the consistency in shape that I need. Just not, always, the strength I need.
I think the ideal person for one of these vibes is someone who really really REALLY wants a body-safe, rechargeable clitoral vibrator that is soft and squishy, but does not need that vibrator to be waterproof or turbo-powered. Otherwise, you're better off with the We-Vibe Touch X or LELO Mona 2, which are stronger, rumblier, and considerably more rigid.
As for me, I still feel favorably toward the Irohas. They feel nice, and I can see myself pulling out the Yuki if I'm in a leisurely mood… but I feel burdened by the missed opportunities. Tenga has something good going here, but they squandered it with the lack of vibration options, non-submersible design, and questionable construction. I hope a second generation is in the cards.
Good news
: vibes in the newer Iroha+ line are waterproof, with
5 vibration intensities and 2 patterns each:
Kushi
,
Tori
, and
Yoru
.
Get the original Iroha vibes at SheVibe, GoodVibes, or Babeland.