It's kind of ridiculous how much I like my LELO Mona 2. Fuck it, love. It just feels weird to say that because the Mona is such a simple toy. It's not a revolutionary shape, and in fact, it's been around for some time and I've all but ignored it. So it is sort of unnatural and worrisome how much I've latched onto it now. But I cannot lie — I adore this vibrator.
When LELO announced the release of their updated Mona 2, Ina 2, and Elise 2, I wasn't particularly excited. Waterproof? Eh, I don't use toys in water very much. More vibration patterns? Eh, I don't usually give a shit about those. 100% more power? …WAIT, WAT? Okay. Ears officially perked. You got me, LELO, you got me. Bag me and tag me.
In the past, LELO's vibrating insertables — Gigi, Soraya, Isla, and Ina — haven't impressed me. I'm much more fond of their clitoral vibes, like Siri and Mia. But since my mind and vagina were recently opened to the possibility of enjoyable internal vibrations, I thought I'd give this new Mona iteration a shot.
Holy shit, best decision I've made in quite some time.
Aesthetically, the Mona 2 differs very little from its predecessor; it has 1 1/4″ more insertable length and 1/4″ less girth, but the shape has not undergone any drastic changes. Compared to my Ina, Mona 2's buttons are more raised and a little stickier to the touch, and the silicone meets the plastic more tightly on the handle, which hopefully will cut down on gunk collection.
The charging port, covered with a silicone plug, looks exactly the same, only this one is magically waterproof. I even let the water flow directly into the charging port, and still, the vibe buzzed on.
Historically, LELO vibes have not been known for their power, but the times may be a-changin'. On its highest speed, Mona is more powerful than every vibrating LELO toy I own (except the large Smart Wand) — Ina, Gigi, Soraya, Isla, Siri, Alia, and Mia — plus the vibrations are pretty deep. Now whether the "100% more power" claim is an exaggeration… I'm inclined to say no, not really. This is a mighty vibe, and a huge step forward for LELO.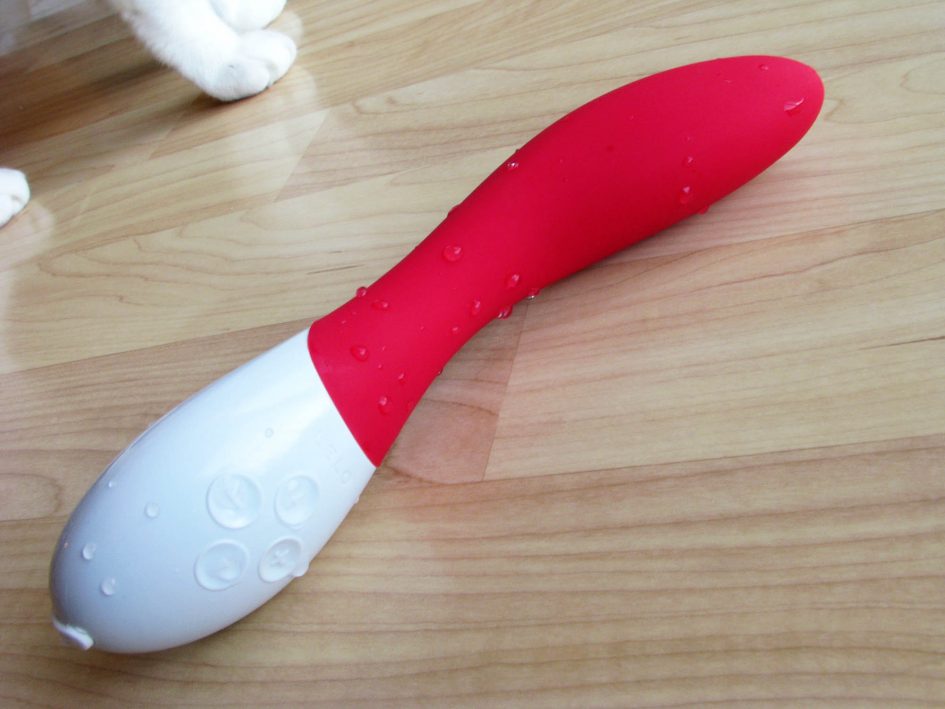 The Mona 2 is, ostensibly, not a clitoral toy. Yet the first four or five times I tried it, it was for a quick clitoral orgasm with my underwear pushed aside. And still, that is my favorite way to use it. The raised portion of the shaft is perfect for lying between my labia; the pointed tip is my clit's best friend; and during sex, Mona's handle helps me reach my clit with very little effort.
My boyfriend and I even had a simultaneous orgasm when I used it during sex, which obviously could've been a fluke, but I think it helped that I was able to start off on a lower setting and slowly make my way up, never getting numb like I sometimes do with the Mystic Wand.
That really is one of the benefits of all LELO toys. You can start with the slightest tickle… and now you can progress to a pretty damn powerful finish. Also, I can use a nice low vibration setting when using Mona internally, so I don't have to resort to a super-strong clitoral vibe in order to feel both at once.
Internally, the Mona 2's shape continues to be fantastic. It reaches my G-spot with no effort whatsoever, pressing up into it with the same ridge that fits so nicely between my labia.
And I actually… prefer it with the vibrations on. What?! What?! I don't know! Perhaps my G-spot is expanding its horizons. Perhaps I've come to a turning point. But this shit is making me question my unequivocal love for dildos. Mona's vibrations are rumbly enough that they never numb my insides, and instead stimulate my G-spot in the most pleasing, pinpoint, sometimes quite intense way. I don't have to thrust or anything — just let my G-spot soak it in. It is strange and unexpectedly lovely.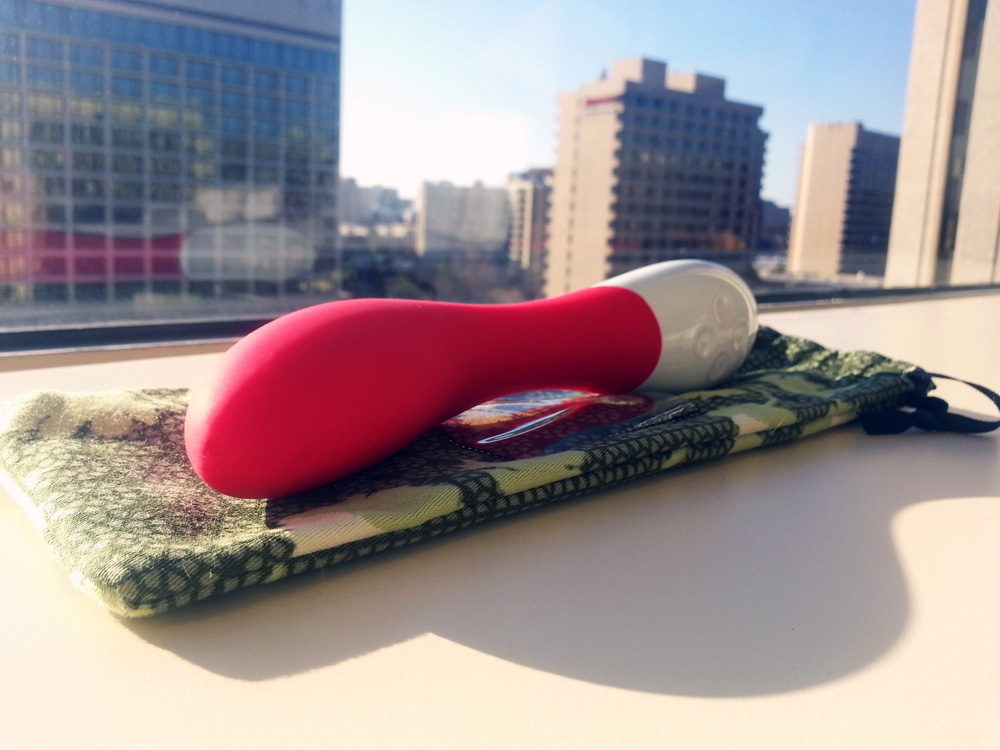 I do believe that I have found the exact toy to recommend to beginning G-spot hunters. Mona 2 is not overly girthy; people can experiment with vibrations on or vibrations off; the vibrations are deep enough that they actually can trigger G-spot stimulation in a unique fashion; and if all else fails, Mona 2 is a fucking great clitoral vibe (unlike Gigi 2).
At $169, you're certainly buying the LELO name with this one. I know that's a hard pill to swallow, but the LELO name encompasses quality. These peeps know what they're doing. The fact that they are coming out with second-generation versions of their toys says something. They nailed it with their improved Mia, and they've nailed it here. Unlike the other LELO vibes I didn't care for, Mona 2 is more than the sum of its specs.
Other than a cringe-inducing price, my only complaint about Mona 2 is that there is little warning when it's about to die1. Because I get legit upset when it does, and I've killed it twice so far. However, I can attest to LELO toys holding their charges for a disturbing amount of time; whenever I get one out of storage, it often still has its charge, and my Mona test reveals an impressive play time of 2.5 hours (unlike the mighty but short-lived 70 minutes of the Touch).
It is so rare that a toy be just as good internally as it is externally. That a toy be so truly versatile, yet not have some ridiculous quirk that ruins all my positive feelings. This may be the first time in history I wish I owned two of the same toy, so that I could double-team myself. That, right there — yes, that is love.
Get the Mona 2 at one of my fave places:
LELO, SheVibe, Spectrum Boutique, Babeland, Good Vibes, CAYA (Canada), Lovehoney (international), The Pleasure Garden (UK), or Passionfruit (AU/NZ).