THE MOST ANTICIPATED SEX TOYS OF THE YEAR… WELL, ON TUMBLR ANYWAY.
Having followed porn star James Deen for years, I think I can call myself an honorary Deenager. I have tagged him relentlessly, featured his ridiculously hot antics time after time in my Jack-off Journals, and even defended his honor when some fool on Nightline called his popularity "deeply disturbing."
So when Doc Johnson announced they'd be making his cock into a dildo, yes, the once-dormant teenybopper in me flailed a bit. I've never wanted a sex toy molded after anyone in particular, but James is ~different~. He is everyone's pretend boyfriend.
The chase began with Doc Johnson's ads and pictures of the molding process. Then ANME rolled around and the first photos of the toys popped up on Twitter. We were promised an August release date, then were distressed to hear it pushed to September. We got ants in our pants. We shivered with antici… pation. We fretted over potentially unsafe materials. And finally, a press release gave us aneurysms.
Always, it was not a matter of if I would review the Deen Peen — it was a matter of when. I even made an exception to my usual snooty sex toy reviewer policy of never reviewing porous things, in the interest of trying two versions of the toy — the PVC James Deen Signature Cock and the James Deen Silicone Cock. [Edit: at one point, they made a UR3 version too.]
And I know I have a lot to live up to. I've been told my word will be considered law and that this review will be the highlight of someone's year, and I do not take this responsibility lightly. These 2,500 words are not fucking around. I refuse to disappoint or steer anyone in the wrong direction. I have done the appropriate testing, I've taken illegible notes, and I understand the gravity of what I am about to say.
Which is that you probably shouldn't buy the James Deen dildos. Any of them. Yes, even if you think James Deen is a golden god.
Trust, though: I prepped for success. I looked up all the Deenagers' favorite scenes, then I acquired the DVDs from SugarInstant and compiled my findings in a folder called "JD fodder." I took the opportunity to just go balls-to-the-wall with the Deen watching. I watched him sweat all over Jesse Jane…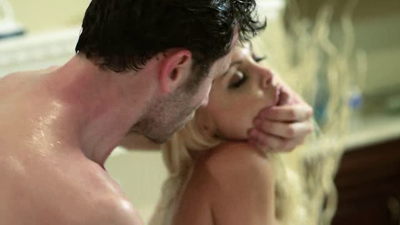 I watched him pet Stoya as she lapped up milk…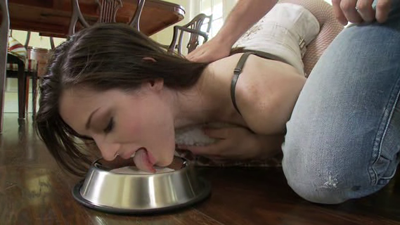 And I watched him fuck the fake eyelashes off Skin Diamond's eyelids.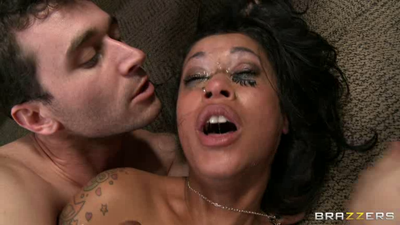 Oh yes, it was hot, all of it was hot, but what was not hot was the extremely unergonomic dildo with its heavy balls and downward-leaning shaft. What was not hot was being unable to fantasize about this being James' dick because I was too distracted by the awkwardness of the dildo. It was all too clear that I was in the midst of using a dildo, not in the midst of having my brains fucked out by James Deen.
I'm sorry, my friends, for crushing your dreams.
Specs and comparison to the real thang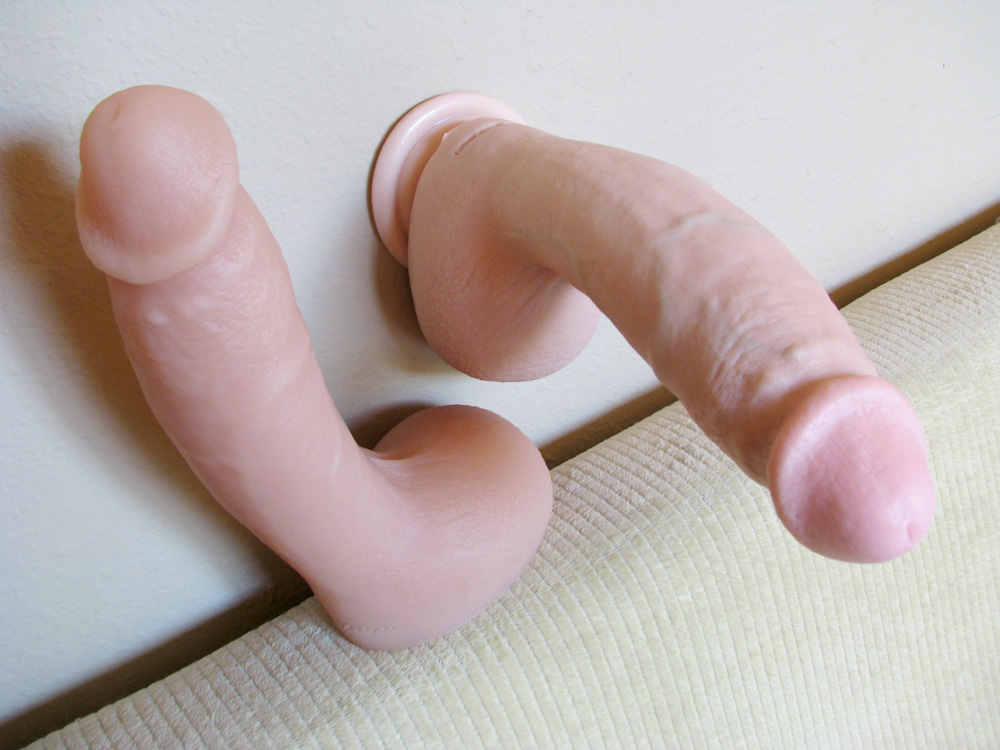 Both dildos are 2″ in diameter, with 8.25-8.9″ total length and 6.25″ insertable length. Each comes with a cheap and absolutely massive (16″ x 8″) black satin storage bag that won't stay closed… and sheds so many black strings on the dildo that it looks like it just slept with the girl from The Ring. The PVC one weighs 1 pound 3.9 ounces; the silicone one weighs 1 pound 3.3 ounces. That weight difference is mostly because the Signature Cock has a suction cup base.
The suction cup works on smooth surfaces just fine (it had some trouble with my textured wall, but I showed it who was boss), although the manual includes an entire section on how to SUPER GLUE THE CUP BACK INTO PLACE if it pops off, so that's reassuring. The manual also recommends using talcum powder to dust the dildo. No. Do not do this. Talcum powder may cause cancer, and it's not worth the risk for a slightly softer dildo.
The Silicone Cock comes with a 3-speed bullet, which is silver, 5″ long, takes 2 AAAs, and IS A WORTHLESS PIECE OF SHIT. Its construction feels even cheaper than your average watch battery bullet. The batteries have to be locked into a plastic sleeve that slides into the bullet… AND STAYS THERE FOREVER. Ugh. I don't want to talk about it anymore.
To make matters worse, Doc Johnson apparently expects me to use their included packet of corn starch to more easily insert and remove the bullet. What? Did they not get the memo that people use lube for that? Now I have corn starch all over my desk, and it looks like I just made a batch of cookies in my vagina.
Ironically, James Deen is not known for his dick. He is known for his love of burritos, adorable misspelled tweets, mesmerizing gaze that turns women into instant submissives, and proliferation of GIFs on Tumblr. In fact, Tumblr is filled with just as many of this kind of GIF: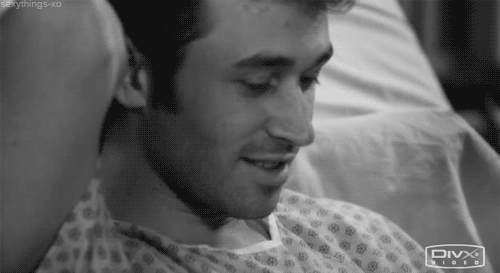 As it is this kind of GIF: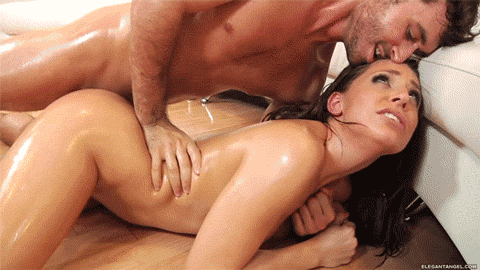 And hell, I think I've noticed the interesting scar on his hip more than I've noticed the shape of his penis. But now, for better or for worse, I am intimately acquainted with his astonishingly girthy cock with its smallish head and impossible length. I even held the PVC dildo up to this picture of James Deen's actual penis, and the similarities were fucking eerie. Like, even the veins matched.
PVC with Sil-a-Gel vs. Silicone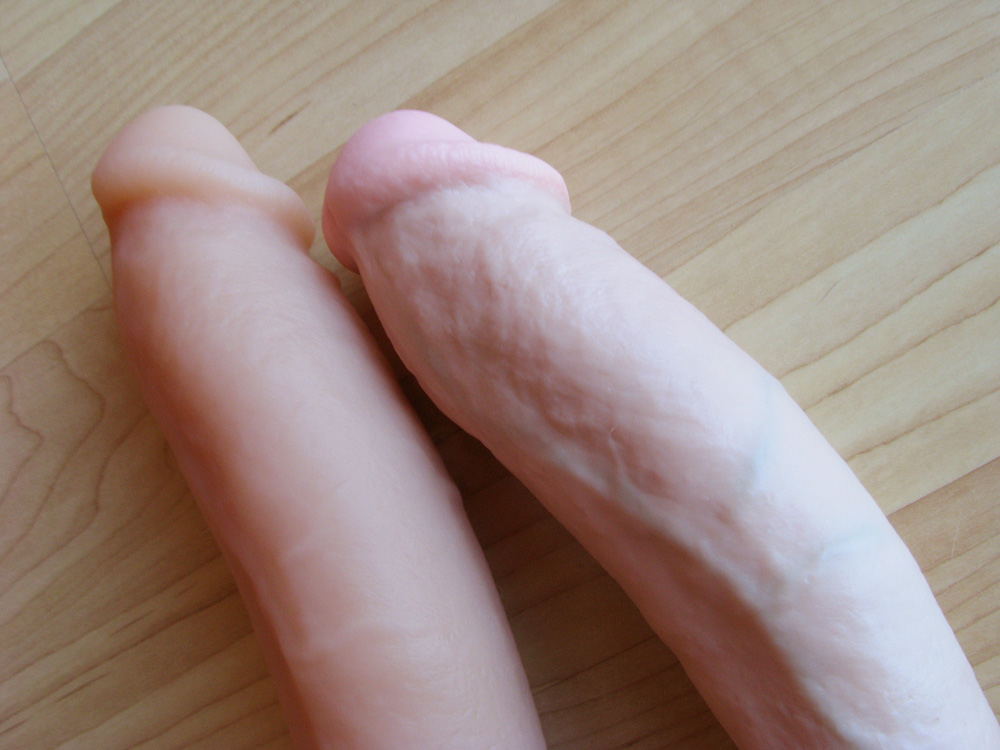 Why are there multiple versions of this dildo? I guess because Doc Johnson insists on holding onto their usual porous PVC monstrosities while also sort of acknowledging that silicone is expected of the world in 2012. They want to have their dildo and… eat it too, clearly.
Yet they seem disinterested in making it clear to consumers just what the Signature Cock is made out of. On the back of the box they call it "our fifth generation Realistic material," and one sentence later it's "non-phthalate, body safe PVC; featuring our antibacterial Sil-a-Gel formula."
I just call it "the porous one."
Sil-a-Gel was a mystery to me (maybe because it's fucking made up), but I found a quote from Doc Johnson's Director of Product Development and Licensing explaining what it is:
Sil-A-Gel is an ingredient that we add to all of our PVC material during the manufacturing stage. It is not a material unto itself. It is anti-bacterial, cadmium and latex free and utilizes ingredients that are on the FDA Safe Ingredient List….that is where the SIL stands for. This was not meant to trick anybody into thinking that this was a silicone product. If you have a product that really smells terrible, we are very sorry. The smell of rubber can be off putting to some people, but it shouldn't be worse than that. At the end of the day these are rubber based products.




YES, SPEAKING OF THAT. Much to my/your chagrin, the PVC cock doesn't smell like burritos. Nor does it smell, as my friend put it hauntingly, like "the earthy, grainy smell of James' pubis." Nobody's pubis smells like a brand new shower curtain — the tell-tale smell of a dildo made of PVC. It's not the worst smell ever, but it's still not what you want in your nostrils or other orifices.
For me, it's been a stark reminder of why I don't review porous toys. Sitting at my desk, I can smell it chilling 9 feet away in the kitchen. The smell has not lessened over time. Maybe I'm old fashioned, but I don't think people should spend $60 on a sex toy that stinks up any room they put it in — 1.25 pounds or not, James Deen or not.
Well, if life-like is what you're looking for, hoooo boy, the PVC cock is where it's at. The pee hole, the circumcision scar, the little bumps on the balls, and the bit of skin that runs from the base of the penis to the balls… it's all a bit much, a little too uncanny valley for me, but it's certainly the most realistic dildo I own.
The silicone version is obviously taken from the same mold, but cast in a material that doesn't allow for as much freakish detail, and is missing the hand-painted veins and glans. In a way, this is good, because it looks less like it was chopped off an actual human being. Also, it has no scent. Because it is silicone. And silicone has standards.
I tested both materials as best I could for hidden deficiencies. I bled on the PVC one1, then left it out for a day before washing, to ensure that it wouldn't stain (it didn't). I also did a flame test on the base of the silicone dildo, and it passed — it is pure silicone, no lies there.
The true test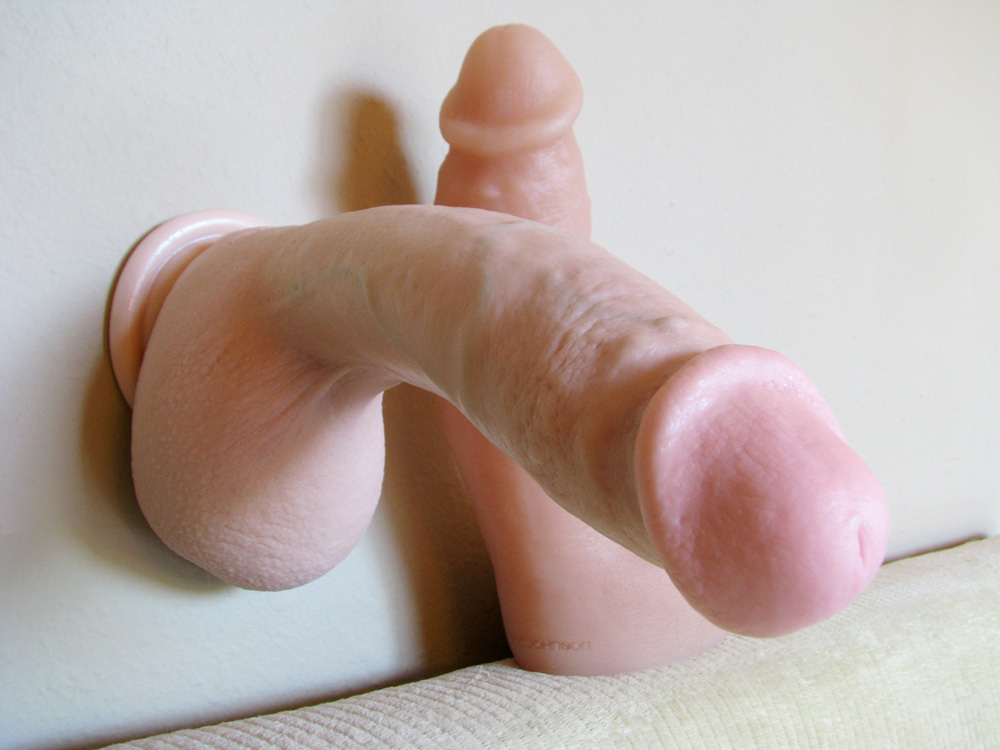 Real talk: I was expecting to be wowed by the sensation of the PVC cock. I was expecting to have a moral dilemma, because I thought the PVC would be really soft and luscious and I'd have to admit that maybe people should buy something porous and smelly.
The PVC cock does have some squish to it, but it's not nearly as much as I anticipated, and it's only a hair squishier than the silicone one. My favorite soft material, 100% silicone dual-density VixSkin, is softer and spongier than both of these dildos. And therefore much more enjoyable.
So believe me, you'll feel those 2 inches of girth. These dildos are huge. I can barely give them handjobs. In fact, that shrine picture up there? The original idea was to set the dildos next to those tall candles to demonstrate their size.
And it's not just girth — the length is also ridiculous. What these dildos have taught me is that I wouldn't want to fuck the actual James Deen, because my cervix cries mercy about 3/4 of the way through the shaft. It is… not pleasant. Also, the bullet only adds a pathetic, sad buzz.
What really annoyed me was the drooping in the shaft, as demonstrated in the hilarious picture above. That angle, coupled with the girth, makes insertion hellish, and thrusting very difficult. Plus, the PVC cock's suction cup is pliable, so it's a horrible thing to try to grip.
Now let's talk about the balls for a second forever. The balls, while realistic and all, are extremely large. I'm talking 3″ in diameter measured at their thickest part, and heavy. Like having a testicle-shaped paperweight attached to your dildo at all times. I fucking hate it, but I wondered if I was being irrational.
So I did what you do: I took a poll. A handful of people loathe balls and a handful love them, while 45% of people said they can "deal with them as long as they aren't a nuisance," which is how I feel — if they are small or lightweight, I'm okay. But if they are the size of a baseball, then yeah, I have a problem.
Point is, 73% of people (those who hate balls and those who hate big balls) would take issue with these dildos. That's a pretty high percentage. And these are sex-positive, dildo-friendly people. Yet they still have their limits, as do I, when it comes to testicles.
ENOUGH ABOUT THE BALLS, THOUGH. How about a condensed list for ease of posting on Tumblr? I know you want it.
It's fatter than a lot of people — even me — can manage, and the material is not soft enough to make that okay.
The balls are huge, heavy, and in the way of life.
The shaft droops downward so insertion and thrusting are a pain. Unless you get someone to use it on you (which I don't suggest, as cervix-poking is almost inevitable), you can't really thrust and make your fantasy happen.
What is the point if you can't live out the fantasy of being fucked by James Deen?
I've put over 100 dildos in my vagina and these are just not up to snuff.
What you really should buy instead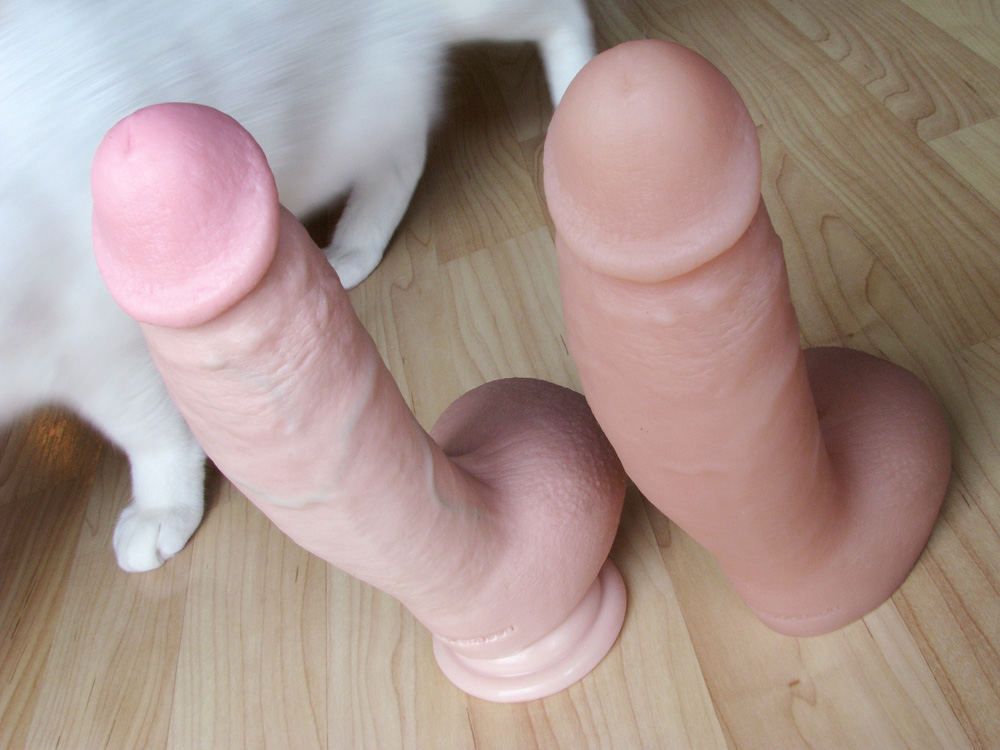 If the experience of using these toys was seamless and wonderful, I'd be able to overlook the fact that they cannot stare into my eyes, rub my clit, eat burritos with me, and murmur sweet nothings against my ear. But the experience was shitty, and the Deen magic is gone.
Here is my Craigslist-like description of the type of person who should buy one of these dildos: must be into mammoth dildos with huge huge balls, have either a lot of arm strength or wish to ride the dildo, must have an unhealthy need to own the precise exact shape of James Deen's cock or else your fantasy just won't be complete.
If that doesn't describe you but you're still feeling wistful and kind of sad, I really am sorry. You must pry yourself away from the vision you once had, the same one I did — when these dildos were first announced and everything was beautiful and nothing hurt. Before the dildos actually hurt.
I know you may not trust my opinion because I'm 26 years old and like, I just got my first smartphone last week, but if there is one thing I know, it's dildos. And I know you don't have to settle for these. I know you've been saving your lunch money in preparation for these toys, brown bagging it for Deen, and that's a lot of unsatisfactory lunches, so I don't want your dildo to be unsatisfactory (and potentially toxic) on top of that. I won't allow that shit.
I just don't think these toys are feasible for a lot of people, and I want you to know that that's okay. There is no shame in needing a size smaller than GIGANTIC. There is no shame in wanting a dildo that doesn't require copious warm-up every time. And there are other, better options — many, in fact. So many that you can get one that is perfectly sized for you.
So here's my spiel. If you want a realistic dildo, get one from Vixen Creations. Any VixSkin dildo will do, because VixSkin is dual-density and amazing. If you're after this kind of girth and length, then boom, there's the Outlaw, Maverick, or Bandit. If not, no problem — Vixen makes dildos of all girths, lengths, with balls and without balls. Some of them even come in TIE DYE. Compared to the James Deen dildos, VixSkin dildos are squishier, more ergonomic, body-safe, and made by wonderful people who don't lie on their packaging.
If the world was very different in many ways, I'd love to do a Pepsi/Coke Bing/Google style challenge in which people could try VixSkin alongside these toys and give their actual, untainted by James Deen's hotness, opinion. But no, it is not socially acceptable to penetrate people with dildos in public, so you will really just have to take my word for it. And if that doesn't work, turn on your favorite James Deen scene and remember why you love the guy — for his personality, not for his penis.
tl;dr: Freakishly realistic, massive, not at all ergonomic, can't eat burritos with you, there are much better dildos for your money.