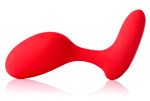 Aneros announced the release of their "first female product," Evi. Despite the problematic nature of that phrase, I still want it. But I'm skeptical about it being a kegel toy and not a butt plug, as it looks like a pretty good butt plug. [Update: I reviewed it here.]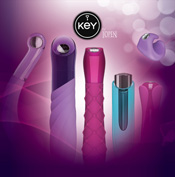 Perhaps most intriguingly, Jopen is coming out with a line of toys called Key. Does this ad make anyone else think of those My Little Ponies with the unlocking saddles? God I loved those things. The toys are made with silicone, "real stainless steel alloy metal," and "glass-like handles." Because who would want to use real glass?! But they have an enticing video which is drawing me in hardcore. That G-spotting one looks epic.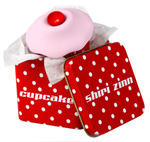 Shiri Zinn's Cupcake is happening, too. It comes in a "retro baking tin." I don't really know what else to say about it except eye roll. [HOW RIGHT I WAS.]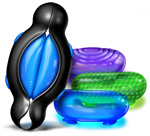 Big Teaze is coming out with this ridic thing called the VerSpanken, which looks like a neon mouth and is supposed to simulate a blowjob. I love that the inserts are called Water Wieners, but it's still giving me bad flashbacks to the Monkey Spanker.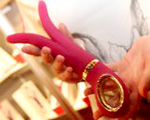 A new toy company with the terrible name Fun Toys is putting out an even more terribly-named toy called the G-Vibe, which looks like the lovechild of the Split Dildo and the LELO Insignia line. Why do I want to try it. Why. Someone stop me.

And check this weirdo out. It's called Afterglow, and it is "the first vibrator in the world that stimulates and enhances blood flow using LiteStim™ technology, inducing a powerfully heightened state of arousal via 'light based energy.'" Um, it better, considering it costs $250-300! [Edit: shocker, it's a waste of money!]
In other news, the Jopen Intensity and Lovehoney Rock Box both won O Awards. Because apparently being completely awkward and not at all ergonomic equals AWARD.

LELO and We-Vibe are still battling over whether LELO's Tiani and Mahana infringe on the design of the We-Vibe. Meanwhile, LELO has updated their toys which were not rip-offs — the Mona 2, Ina 2, and Elise 2 — and We-Vibe is preparing to release the Thrill, an ugly toy with a strange grip thing on top.