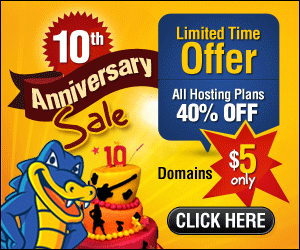 I don't tend to post about sales, usually keeping things isolated on my sales & deals page. But since this is a one-day only thing, and since it is RELEVANT TO YOUR INTERESTS, I thought I'd better put it here, where it will be seen.
A lot of bloggers want to switch to paid hosting, but often complain to me that it is too expensive. Well, today, hosting plans at HostGator (my host) are 40% off. Shared hosting, which is most likely what you'd purchase, is $2.97/month today (rather than $4.95/month). No need to enter a coupon code — the discount will be applied automatically, assuming you are a new HostGator customer.
Before I was with HostGator, I was hosted by a small, independent company run by a dude who would take forever to get back to me, even when I experienced week-long site outages. Other sex bloggers had recommended him as a sex-positive host, but it quickly became clear that he did not have the resources to adequately host my site. That's when I looked into other options for a sex blog. I made sure to ask HostGator about their stance on adult content, and they allow it as long as it is legal (e.g. no bestiality or child porn… obviously).
I've now been with them for two years, and I've been very happy with them. They respond quickly to emails, and I swear I've never experienced a site outage longer than a few minutes. Plus, if you purchase your hosting from my HostGator link, I get a little kickback from it.
This offer expires tonight at 9:59 p.m. PST, so don't delay!