I used to be frightened of realistic dildos. The flesh tones, the veins, the balls — all of it. It grossed me out. And I know this visceral reaction is shared by many, despite how we may feel about actual cocks.
But somewhere, something changed with me. I'm not sure when or what it was. Maybe it was Mr. Man — despite his yucky circular balls, I enjoy his pronounced head. Maybe it was discovering dual density VixSkin, or conquering Randy.
But I know for a fact that my desire for the Vixen Maverick specifically stemmed from seeing it wielded awesomely by Billy Castro. Seeing Maverick in action stole my heart. And/or my vagina.
I fell in love with the dimensions, too. 7″ long, 2″ in diameter. Just long enough, and deliciously thick. Maverick's shaft is slightly curved, but it straightens out when held by the base. The base can also function as a suction cup, and it works astoundingly well. Like some Vixen Creations toys, Maverick comes in a plastic tube.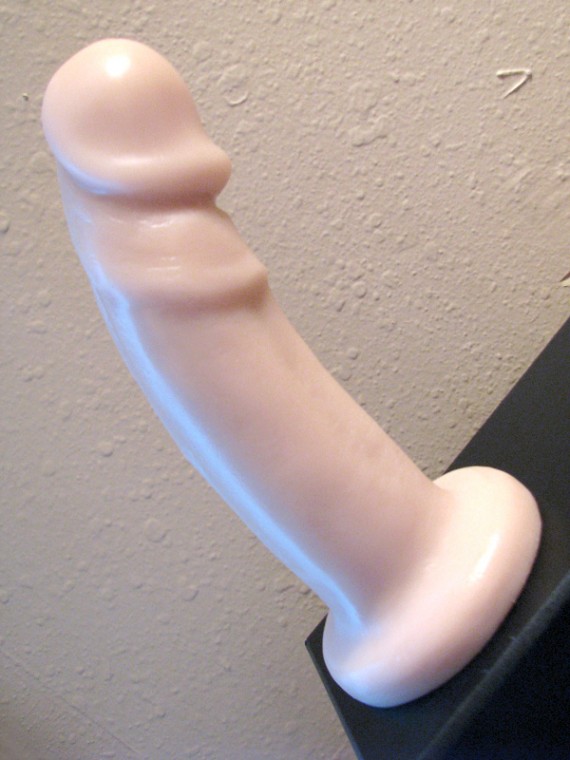 Despite its large size, Maverick is definitely a realistic dildo, all the way down to the pee hole and skin texture. See, Maverick's silicone can't be described as either glossy or matte. It is, instead, just very skin-like. Up close, you can see tiny, random lines (like the ones on backs of your hands) all over the silicone that make it look and feel more like skin. It's spongy to the touch — spongier than an actual hard cock would be — but supported by the hard inner core that is the crux of VixSkin.
The first time I tried the Maverick, I was a bit drunk. Normally this makes me indifferent toward anything I try — but in this case, I could tell I loved Maverick immediately. An omen? Yes, yes it was. All subsequent times were even better, and my love for Maverick has only grown with each use. This dildo is just… man oh man. It's amazing. I almost can't form proper sentences to explain it.
As I suspected, the size of Maverick is exactly my style — long enough to reach my G-spot, fat enough to fill me up. Maverick's hard inner core stretches out my vagina, while its squeezable outer layer gives my muscles something soft and squishy to play with. I can actually feel the light skin-like texture.
And the large head? Oh jesus. That thing goes right for my G-spot. RIGHT FOR IT. Now, this is not the kind of G-spot stimulation that can be achieved with harder materials, but it's still intense. The Maverick's thickness adds to the G-spot intensity. I squirt almost every time I use it. I don't thrust as much as I do with other G-spot toys; the stimulation comes more from the constant pressure of Maverick's huge head against my G-spot.
The problem now is that I'm addicted. I want more. I want everything. I went from being terrified of realistic dildos to lusting after an entire fucking line of them. With Vixen's selection, you can really get any size (and flesh tone) that you desire, from short and stubby to long and thin. Some are fairly smooth, while others have an array of wrinkles and veins, etc. etc.
Can you go wrong? No, no you cannot. These dildos are not cheap — between $70 and $100 depending on size — but the VixSkin is worth it. Not a lot of sex toys are worth that kind of money, but this stuff is. If you know what you want and choose carefully, you will be very satisfied. And even if realistic dildos kinda freak you out, I'm inclined to think a VixSkin dildo would make you a believer. And also a dildo-squeezing addict.
As for me, I'm freakishly happy with Maverick. It could not be more perfect, which is not something I ever imagined myself saying about a realistic dildo. But it's true. Maverick is exactly what a dildo should be. I'm a convert. Fuck yeah.
Get the Maverick at one of my fave shops:
SheVibe, Smitten Kitten, Good Vibes, Pleasure Chest, or Come As You Are (Canada).

Secret tip: the Large Realistic Bent is the same mold, but single-density and cheaper.