February 9th, 2010
Dear diary, today I learned that masturbation while drunk is really fucking annoying. I spent most of the night in a chatroom with my friends Frankie and Carnivalesq, shooting the breeze about Lady Gaga, American Idol, and the mind-blowing pick-up line that Frankie got on a dating website: "I want to lay on top of you and pretend that I am flying." I was drinking peppermint schnapps, but still fantasizing about my new green dildo. So at one point I dropped out of the conversation, turned on PopPorn: The Guide to Making Fuck, and did what can only be described as a sad attempt to get myself off.
I started out with the Eroscillator, but uncharacteristically went up to level 3 almost immediately. Then I introduced the green dildo, but I couldn't even discern if it was hitting my G-spot or not. I quickly became dissatisfied with the level of stimulation of the two toys, so I swapped them out for the NobEssence Seduction and the Wahl. Eventually I came — a long, satisfying orgasm after a long, obnoxious masturbatory journey. Jacking off while drunk: never again.
February 12th, 2010
The day of reckoning. Carnivalesq and I both had our hands on River Rock Women's Prison, and we were poised to watch it simultaneously. We were ready to see mind-blowingly hot prison sex, and acting on par with The Shawshank Redemption. What we got was music video editing, shitty "authentic" prison lighting, and unrealistic prison scenarios (such as painted toenails, nice mattresses, and a cell door opening on its own for one's lover to walk through it and SEDUCE).
Carnivalesq: WARDEN SEX
Epiphora: the american flag is problematic
Carnivalesq: I cannot haz sex with flags
Epiphora: wait a sec
Epiphora: she was wearing a CORSET to WORK?
Carnivalesq: yes
Epiphora: realistic
Carnivalesq: WHERE DID THAT HITACHI COME FROM
Epiphora: BUSINESS IS MEANT
Epiphora: SHE JUST HAS IT IN HER OFFICE DUH
At one point, we were so bored we started discussing who we would cast in a Lost porn spoof. (Evan Stone as Sawyer? I think so.)
At another point, we were traumatized by the worst sex face to ever be committed to tape.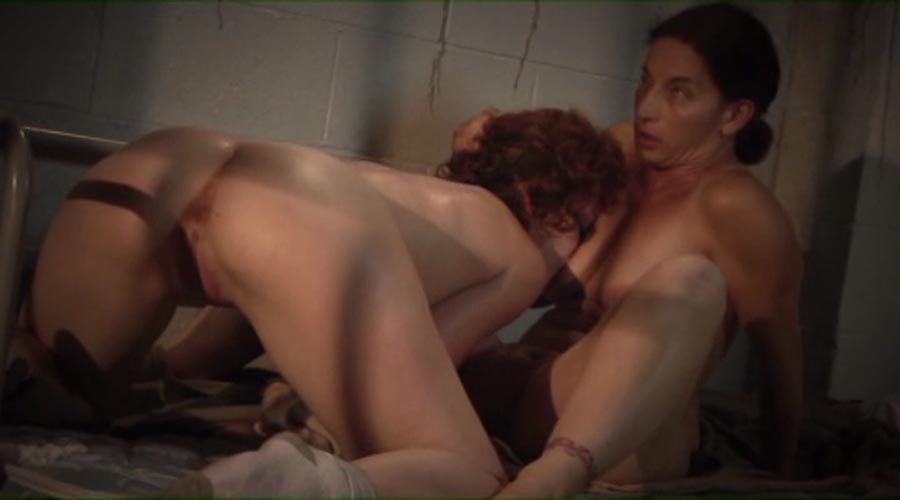 Epiphora: that just scarred me.
Carnivalesq: SHE IS LIKE ZOMBIE DYKE WTFFF
Carnivalesq: OK, I get if you make that face
Carnivalesq: But someone along the way tells you
Carnivalesq: And you keep your ass outta porn
Seriously, ???????????????????????
February 13th, 2010
I watched the first scenes of Billy Castro Does the Mission. Hot tub sex, hell yes. I used my new Jimmyjane Form 2 for the first time, and the oscillating vibration pattern blew my freaking mind. Normally, vibration patterns do very little for me. Not so with this one. This one changed my mind about what vibration patterns can do.
February 22nd, 2010
Sudden, unplanned, synchronized porn watching! This time with the rest of Billy Castro Does the Mission. It's kinda creepy, actually, how much Carnivalesq and I agree on what's hot and what's not hot in porn. Wrestling: hot. Passivity: not hot.
As weird as it sounds, I really enjoy watching synchronized porn while chatting, because I end up typing a lot more, and thus I am able to watch more of the porn before I come. This time, I was able to try several vibrators — the Jimmyjane Little Chroma, Bswish Bcurious, and Form 2 — to compare vibration strength. The Form 2 won, most definitely.
February 24th, 2010
That G-spot orgasm made my eyes water. Jesus.
February 27th, 2010
That clitoral orgasm caused me to dribble again. Jesus.