Content note
: this post contains mentions of James Deen. I no longer support
him or his work
.
January 2nd, 2010
Although I'd just read a terrible piece of "science," I was too tired to go for the G-spot gold, so I picked up the Wahl and watched a bit of Eon McKai's newest, Art School Girls Are Easy. Disappointed by how ho-hum and lacking in dirty talk the porn was, I switched to a scene between Sunny Lane and Annabelle Lee from By Appointment Only 9. Annabelle's pussy-licking style is to die for, seriously.
I never used a dildo or anything else besides the Wahl, yet when I came, I squirted a little, soaking through the towel onto my computer chair. Clearly my body was revolting against that bunk G-spot study; I was just impressed that I'd done it. I hope this is a sign of my G-spot becoming more sensitive.
January 9th, 2010
I woke up from a nap right as the AVN Awards were starting. I watched some tweets fly by, then put Roulette Dirty South in my laptop. I wasn't planning on watching the whole thing, but… it just happened. I guess I get excited when porn isn't three hours long.
This time for my clit, it was all about the Bcurious. For my vagina: the Tantus Alumina Motion, then the Jollies Jollet. Sometimes I keep things simple.
January 13th, 2010
Watched A Taste of Stoya. James Deen using a crop = OMFG.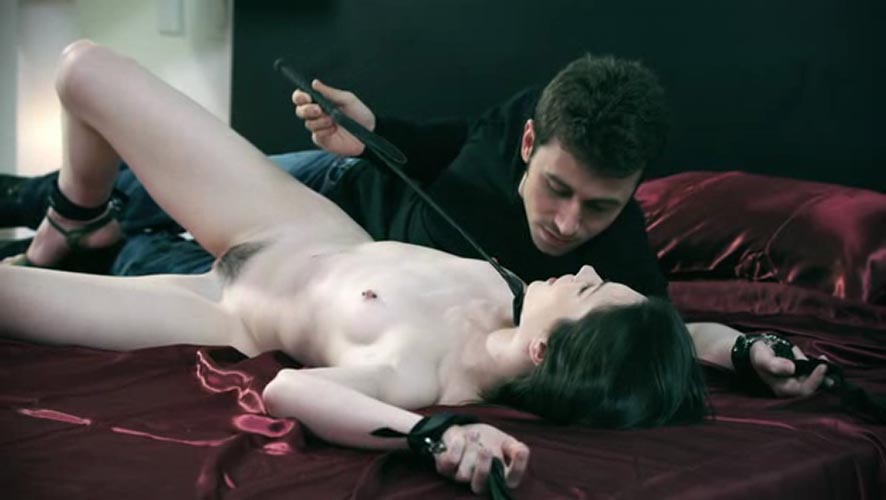 But dude, I'm still torn on Stoya. She's cute as hell, and seems genuine sometimes, but then sometimes seems like she's cute-ing it up for the camera. Also, she orgasms too much. Well, claims to. In her moans.
I had just cleaned my Throw, old-school style in the bathtub, so it smelled fresh and wondrous. I promptly squirted on it. Then I made pizza.
January 20th, 2010
Back to queer porn; this time, Roulette Berlin. Used my Eroscillator and tried to use the Soft Serve, but it kept pulling my NuvaRing out. I had an orgasm before meaning to — you know, the kind where you have to scramble to put stimulation back in place before the pleasure subsides? Yeah, shit, that hasn't happened in a while. Clearly I need to jack off more.
January 23rd, 2010
Proof that I am normal: I watched Bordello in sync with my friend, Carnivalesq. Yes, we counted down on Google Talk and started at the same point in the movie. What do you mean normal people don't chat while watching porn? Actual conversation:
Carnivalesq: I feel immensely stressed now. I can't pause. lolol.
Carnivalesq: sike.
Epiphora: not sure how i feel about this music
Carnivalesq: Yeah, not a fan.
Carnivalesq: This movie is based around the premise that whores and johns are bad detectives. rofl. They do not care about finding clues. And everyone will destroy the evidence.
Epiphora: lol
Epiphora: it distresses me that i don't know what dildo that is
Then, upon the realization that hottie Billy Castro was in the final scene, we simultaneously freaked out:
Epiphora: HELL YEAH!!!!!!!!!
Carnivalesq: OH FUCK YES
Carnivalesq: I AM SO HAPPY!!!!!
Carnivalesq: Fuck, he is delicious.
Epiphora: SQUIRT!
Epiphora: LOL SHE'S A SPRINKLER
Carnivalesq: Jesus, Billy Castro is a babe. I am doomed.
Epiphora: it's over 🙁
Carnivalesq: I WANT MORE. I WANNA WATCH THE BONUS FEATURES
Like I said, we're normal.
January 25th, 2010
Dude. Watching Joanna Angel and James Deen's European Vacation was worth it just for this:
And other stuff. But mostly that.