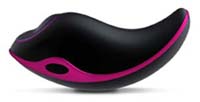 The Bswish Bcurious, which is quite humorously one letter away from being called the "Bicurious," joins a small, tight-knit family of other rechargeable clitoral stimulators: its Bswish predecessor, the Bsoft, and the LELO Lily, Nea and Mia. As of this writing, there is actually an astoundingly small number of clit toys that are rechargeable.1 In that way, the Bcurious doesn't have much competition. Yet I still expected a lot from it. Yes, indeed — I expected it to actually get me off. (Hey, I've learned this is sometimes a lot to ask.)
When I think about the Bcurious, I keep coming back to one adjective: enjoyable. The Bcurious is just enjoyable on many levels. The first of which is aesthetic: it's freaking cute. It's five inches long and 1.5″ wide, with a rotund base where the power button and function button are located (encircled by a blue light that turns on with the toy). The Bcurious is made of black matte plastic with dark pink silicone accents. There's a little port on the side for the charging cord, but it's covered by a permanent silicone plug to keep water out.
The Bcurious comes with a hokey manual that tells me how to insert the charging cord and how to use the buttons, but not how long to charge it for or whether it's actually waterproof. The fine print on the box tells me, though: charge for 2 hours for 2 hours of play time, and waterproof: yes. Also in the box is a plain black (jersey maybe?) drawstring bag. It has a tiny tag with "Bswish" on it, but is otherwise completely discreet.
So let me just say, this is what I call ergonomic! The Bcurious is freakishly, almost creepily lightweight, and never feels cumbersome in the least. It's the perfect shape in every conceivable way, and it really makes sense in my hand. The round base, where the buttons are, is wonderful for curling my thumb around. The buttons are right there when I need them, yet I never hit them accidentally. And best of all, the buttons click satisfyingly. No, wait — best of all is the pointy tip. Oh, pinpoint stimulation, how I love thee!
The Bcurious has three constant vibration settings (low, medium, high) and four patterns. The patterns are escalation, fast pulse, even faster pulse, short-short-short-long pulse. The Bcurious isn't quiet, but it isn't loud — it can't be heard through a closed door. My ears were pleased to find that the vibrations are not high-pitched, although they are buzzy.
I'm not sure how to describe the Bcurious's vibration strength. I don't want to say it's weak, but I hesitate to call it strong. It's fabulous for warm-up, and it can also bring me to orgasm if need be, even on the second vibration strength. I enjoy using it quite a bit, but its vibrations are much much more surface-level buzzy than some other toys.
I can definitively say that the Bcurious is leaps and bounds above the disappointing Nomi Tang Better than Chocolate; not only is it way stronger, but it's also smaller and far easier to hold. The Bcurious's highest vibration level is actually comparable to the first generation LELO Mia's. This shocked me, but it goes to show how important shape is. I don't like the rounded tip of Mia, which I have to swirl around my clit; I love the pointy tip of the Bcurious, which I can press into my clit with glee.
But be warned: the Bcurious doesn't have a physical back-and-forth rumble like. The vibration stays within the confines of the toy. So, when compared to the Xtreme Pack G-spot bullet, I found that the Bcurious's highest speed was comparable to the Xtreme Pack's third speed (out of five). Still, despite their similarly pinpointed tips, they don't feel similar in use at all — the Xtreme bullet jumps around more, while the Bcurious is stationary.
I clean the Bcurious under water, and I even took it in the bathtub once, so I would tentatively confirm that it is indeed waterproof. However, be sure to check underneath the silicone plug for stray water after submersion. If there is water, let it dry out before using it or charging it.
The business of charging the Bcurious is painless. The blue light blinks while charging, then becomes constant when charging is complete. The claim of a 2 hour charge and 2 hours of use holds up perfectly (it seriously charges for 2 hours on the dot). During the 2 hours of use, the vibration strength doesn't weaken. It does, however, abruptly stop when the charge has been depleted, so I suggest charging it before this disheartening moment can happen to you.
I can only think of one thing the Bcurious is missing: a lock button. I'd be wary to travel with it, even though it takes the strategic pressing of two buttons before it will start vibrating.
I need more evidence, but preliminary assumptions lead me to believe that the Bcurious is currently the best rechargeable clitoral stimulator out there. It's cute; it feels right in my hand; the buttons are enjoyable; the vibrations are satisfactory; the tip feels great on my clit… the Bcurious just got things right.
Since this review, many more rechargeable clit vibes have been released. Some of my faves include the Dame Kip, Je Joue Bullet, LELO Siri 2, and We-Vibe Touch X and Tango X.