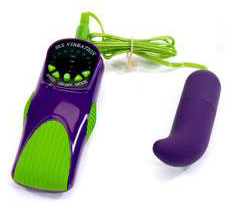 This is one case in which I will permit the use of the word "Xtreme." Why? Because it actually describes this toy! Everything about this vibe is "Xtreme," and mostly, in all the right ways. Since buying this bullet, it has quickly become my most frequently used toy.
To begin with, this thing just looks awesome. I find a lot of bullet and egg vibes to be lackluster in the appearance department (generic whites and creams with flimsy spin dials… silver eggs that just scream "tacky"), but this one certainly isn't. The colors are vibrant, and I love the purple and lime green combination. The battery pack is made of thick plastic, and the battery compartment slides open and closed very easily — and doesn't require some crazy type of screwdriver.
The green cord, which is a decent 2.5 feet long, has an adapter at the end, so the bullet can be easily unplugged from the battery pack. This feature ensures that no unnecessary strain will be put on the cord, and also, makes it very easy to clean just the bullet without worrying about getting water near the battery pack.
Perhaps the best thing about the design of this toy is the "rubber cote" plastic of the bullet. This coating gives the bullet a really wonderful velvety texture. For plastic, it's the closest you can get to silicone.
And the functions — oh, the functions! Let me tell you, this is a treat. Five vibration intensities, ranging from a significant purr to a loud buzz (I usually stick between speeds 2 and 3, only skipping to 4 or 5 when I'm about to come). Then there are five "modes" that I can't even describe — crazy and inventive patterns of escalation, pulsation, and vibration that you won't find in most vibrators.
I've also found the light-up aspect of this vibe to be quite useful. There isn't just one "ON" light, no sir — the lights change with every button you push. With one glance at the arch or column of lights on the battery pack, you'll know exactly which setting the toy is on. Plus, the crazy modes have equally crazy light patterns. Watch out; they're a bit distracting.
Unlike many other bullets, this one allows for shallow penetration. I certainly wouldn't count on it as a G-spot toy, but it can still slip a little deeper than most toys like it. I usually don't use it for penetration; the pointed tip makes for amazing, pinpointed clit stimulation, and that's often all I want.
The biggest problem with this toy is the noise. It's not a very discreet vibrator. But noise is never a huge deal for me, and for this kind of power, I can forgive it. The only other issue I've noticed is that the middle part of the bullet tends to collect gunk, and it's difficult to effectively clean it out. Because I'm not sharing this toy with anyone, I don't mind that.
If you're looking at battery-operated bullets and eggs, do yourself a favor and spend the few extra bucks for the Xtreme Pack G-spot Bullet. As long as you don't mind a little noise, you will not be disappointed by the power and varying vibration settings. And come on, it's purple and lime green!
This toy has been discontinued. Browse other mini and bullet vibes at SheVibe.