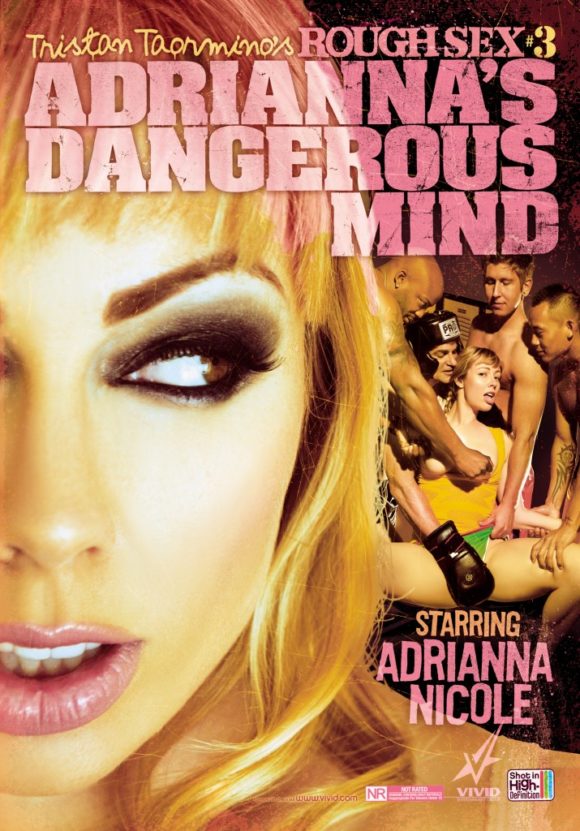 This may be the right time to admit that I don't find Adrianna Nicole's face terribly attractive. However, her body is smokin', her tattoos are fabulous, and I definitely know why she got her own porno: she's a powerhouse. She gives her scenes everything she's got. She does not let up. She never looks bored. And — especially important for this series — she knows what she wants.
Directed by Tristan Taormino, Rough Sex 3: Adrianna's Dangerous Mind comes on the heels of Rough Sex and Rough Sex 2, movies that revolve around female performers' desires. Rough Sex and Rough Sex 2 each had a couple epic (read: up to my very high standards) scenes. Rough Sex 3 has just one epic scene, but it almost counts as two.
The first scene is aptly titled "Mouth," and stars Jiz Lee alongside Adrianna. The scene is inspired by David Bowie's "Life on Mars?" video, which explains the extreme contrast. There's something weird going on with the frame rate, too, making everything look less fluid and more processed.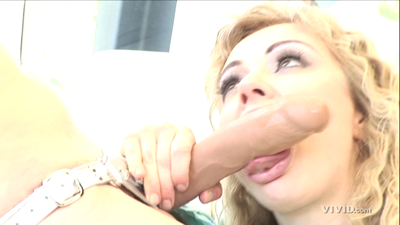 Anyway, Jiz is packing and wearing a fantastic pool blue suit. The Pure Wand and Eleven are used, in all their gleaming glory. But there is a shit ton of mouth fisting, which really ruins the mood for me. This scene has its moments — like anytime Adrianna is blowing Jiz, or when Jiz puts their boot on Adrianna's chest. They're undoubtedly having a good time, but it didn't turn me on.
The second scene, "Cash" with Ramon Nomar, is supposed to be about Ramon paying Adrianna for sex. This scene frustrates me because it could've been great, if not for three things:
An icky set, complete with potted plant and shadows on the wall from lighting. I cannot suspend my disbelief when everything looks like a really stereotypical porn scene.
Ramon's thick accent coupled with the fact that he is much quieter than Adrianna. I can't tell what he's saying 80% of the time, so it's like watching a foreign movie with no subtitles.
Adrianna's theatrics. Yes, he's pounding her into oblivion, but I appreciate a more subtle response than constant, loud moaning.
I do think that if the scene were set up more believably (a realistic upscale hotel room would've been so hot), and if I could hear more Ramon and less Adrianna, I would've loved it. The sex is intense and the connection between them very palpable.
In "Permission," Adrianna is simply a submissive who must do Jada Fire's bidding. There's a lot of potentially hot face smothering, but I can never see Jada's pussy because of it. I loved the moment where Jada was feverishly jiggling the Eleven inside Adrianna, asking her, "you gonna come for me?" and then abruptly stopped and barked, "NOT YET." Otherwise, this scene was not memorable.
And then there's the locker room / shower gangbang. "Gangbang" isn't the right word, but "one chick gets fucked by four guys, one after another" doesn't have the same ring. This scene is based on a hot dream Adrianna once had. It begins with some forgettable sex between Adrianna and Nat Turnher on the locker room bench. Then Keni Styles and Danny Wylde walk in, suppressing giggles and snapping pictures with their phones.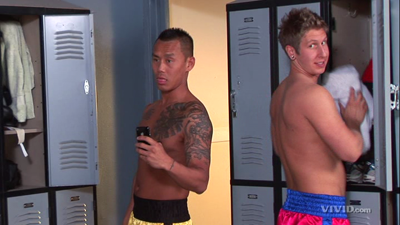 Don't get excited about Keni, though. He fucks Adrianna for 15 goddamn seconds.
Danny, conversely, has his way with Adrianna on the shower floor — and it's absolutely glorious. He seems really into it, like he hasn't fucked in days. There's roughness and dirty talk (YES), but spurts of smiling and fun as well. This is one of the best scenes I've seen Danny in, rivaling even his amazing scene with Sasha Grey in Rough Sex, and his boundary-bending performance in My Own Master. Very, very hot.
After Danny comes on Adrianna and leaves, Adrianna is spent. She's leaning against the shower wall with cum all over her face. The camera pans over and… there's Evan Stone. Taking a shower right next to her. "Tough day at the gym?" he asks. Then he starts wiping the cum off her face with his penis. "Yeah, you got stuff all over you."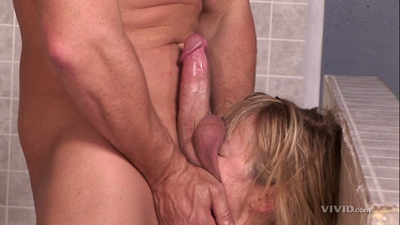 Why not.
My notes read, "someone lead Evan Stone to the fountain of youth." I think that means, "I want Evan Stone to be in porn forever." Because seriously, this dude's a fiend. You may try to reject him (especially based on the screenshot I just subjected you to…), but he will win you over with his prowess. His dirty talk and crazy-ass positions in this scene are phenomenal.
And remember what I said about Adrianna giving everything she's got? Yeah, look into her eyes at the end of this scene. She's a trooper, people.
I cannot write about the final scene, thoughtfully titled "Safe," without first issuing a content note for rape. This is a touchy scene. As Adrianna explains in a voiceover, the set-up is that she's outside, in a low-lit alleyway of sorts, giving a blowjob to her boyfriend (Prince Yahsura). Then, suddenly, there's a third person (Steve Holmes) creeping at them from the shadows. Prince calls the creeper over and, basically, offers Adrianna up to him, then steps away and watches from a distance as Steve rapes Adrianna. The word rape is not used, I don't think, but that is what is being (consensually) depicted.
I was super excited when I heard that this was a rape scene. Tristan Taormino is one of the only directors I trust this much. There is no doubt in my mind that this scene was planned out, shot, edited, and handled with the highest level of care and thoughtfulness. Everything that happens in this scene happens because Adrianna wanted it to happen. And the set design and costuming is excellent.
Everything was in place for this to be a faux-rape scene I could unabashedly enjoy, and yet… I was bored. Steve fucks Adrianna on top of a concrete railing. He isn't overly aggressive. She doesn't fight him; she surrenders. She cries a little, but also ekes out a few "yeah"s. I guess I was hoping for some hardcore verbal degradation from Steve, but then again, I'm a freak.
I appreciated that the scene ended with Adrianna and Prince having sex at home. Sexy, but short-lived.
After all that, in case you are haven't had your fill of Adrianna yet, there are bonus scenes on the disc (including Adrianna with Manuel Ferrara from the Expert Guide to Anal Sex and Adrianna with Mark Davis from Midori's Expert Guide to Sensual Bondage). That's a lot of Adrianna for your buck!
I like that this movie doesn't take itself too seriously. There's stuff included in the movie that would normally only go in a "behind the scenes" section — Jada jacking off with the Hitachi, Adrianna and Evan laughing and sliding across the shower floor, Ramon taking Adrianna for an extra spin in the shower. And, of course, the extensive interviews only add to the appeal of the scenes (although I would've preferred if they did not interrupt my locker room gangbang).
Obviously, if you have a thing for Adrianna Nicole, Rough Sex 3 will make your day. If you're like me — picky as fuck about your performers and easily irked by the details of scenes — you may not be as impressed. That said, Tristan Taormino's porn is, by default, hotter than most porn, so I raise my standards even higher when it comes to her work. The fact that there is one amazing scene on here is pretty damn good, considering most porn I watch contains exactly zero scenes I'd ever watch again.1
And seriously, that locker room scene is fucking fantastic, so I suggest you use the wonders of the internet to watch that hotness ASAP.
Stream Rough Sex 3: Adrianna's Dangerous Mind now!
Stream the rest of the Rough Sex series here.