Content note
: this post contains mentions of James Deen. I no longer support
him or his work
.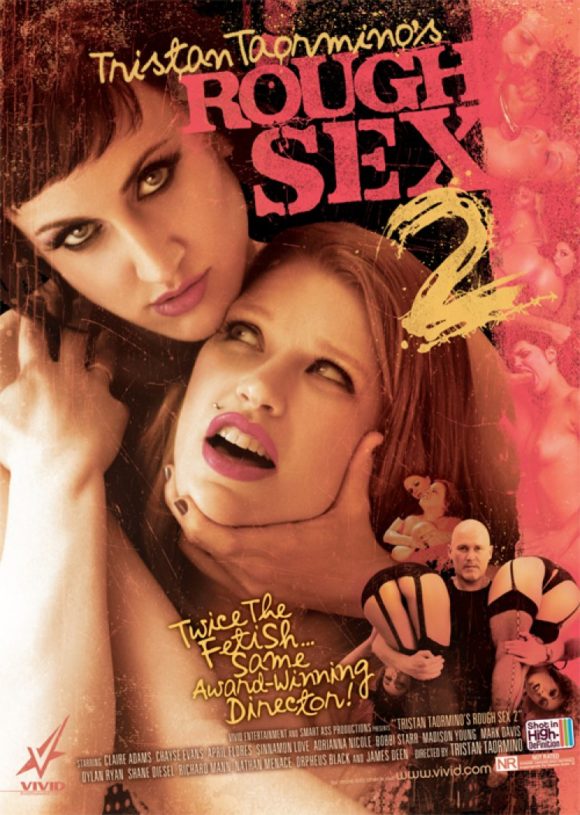 Tristan Taormino has upped the ante. After the greatness that was Rough Sex, she has created a sequel that is longer (3.5 hours, yo), kinkier, and more creative. It still follows the same format: awesome women tell Tristan a specific fantasy of theirs, and Tristan makes it happen. Before the scenes, there are interviews with the performers and/or footage of negotiations.
I saw some complaints that Rough Sex wasn't "actually rough," by which people probably meant it wasn't kinky enough. Rough Sex 2 definitely fills in that gap, and brings the kink in spades. But that is partly the problem, at least for me. I'm more a fan of subtle kink, like the slapping and choking prevalent in Rough Sex. I'm cool with some bondage, but certain kinks do nothing for me. Therefore, when Chayse Evans and Mark Davis are putting clothespins on Adrianna Nicole's tongue, or when Madison Young is licking cake off Dylan Ryan's toes, I'm not really turned on. But I can appreciate well-planned, unique scenes.
First things first: TRISTAN FINALLY SHOT JAMES DEEN, and I came at the mere knowledge of it. James' scene is with Bobbi Starr, who is also amazing. The before-scene interview showcases James' sense of humor, as he explains his philosophy for rough sex: "it's really more about the girl and what she's into . . . if a girl is like, 'I like when I lick dudes' noses,' I'm like, 'I love that, how did you know?'" Best pornstar ever, y/y?
James and Bobbi's scene is the most devoid of kink — slapping and a rough blowjob are about it — which may be why it is my favorite scene. More likely, though, it's because James Deen is fucking amazing, and their chemistry is off the charts. The scene begins with some of the hottest kissing I have ever seen. Anywhere. The lighting is also amazing, and this shot is just superb (I have a thing for pornstars keeping their clothes on… yeah, I'm normal). My only beef is that the mics do not pick up James Deen's sweet nothings, which, unfortunately, is all too common.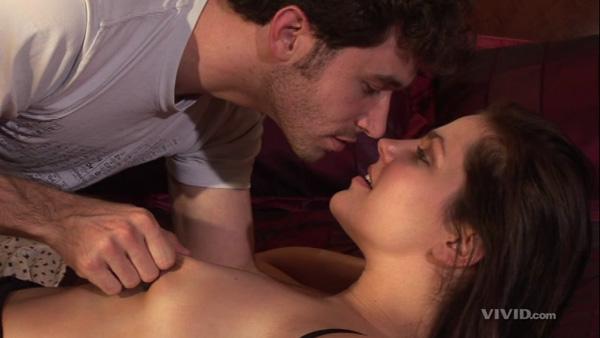 Oh, and the scene doesn't end with the cumshot. After that, the Bobbi has a moment with the Hitachi, while James murmurs the best sentence in the history of porn: "don't make me put it on high."
My second favorite scene is Sinnamon Love's. She has the most intricate fantasy, and it's a good one — she wants a bunch of dudes to be playing poker, with her as the servant to her master, until she spills a drink and has to submit to all the men. But this is not a "free-for-all gangbang," as Tristan explains in the negotiations, and that's what I like about it. The men take their time with Sinnamon, one at a time, while the others jack off in the background or her master punishes her with ice cubes, wax, water, a knife, and some good old-fashioned verbal degradation. Sinnamon uses her safeword, "mercy," at one point, and the offending action stops immediately, with no interruption of the flow of the scene. Also, there is a fucking hilarious moment at which a jacking-off dude in the background gets up off the couch, slaps Sinnamon's ass, and immediately sits back down. Amazing.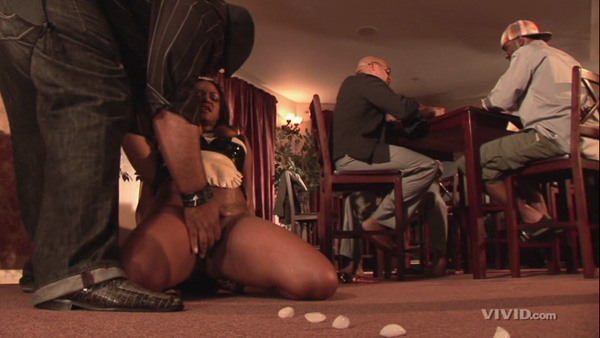 Dylan Ryan and Madison Young's cake/kitchen scene is mostly not my thing, but three things stood out: Madison lapping up milk (hot, for some reason), lube being used openly, and Dylan Ryan's ejaculation of doom. Holy crap, I have never seen anything on par with this. After getting fucked with the Eleven, Dylan proceeds to squirt — in several gushes — for a solid 13 seconds. It is mind-blowing. So jealous.
Claire Adams and April Flores' scene is decent, and I actually liked the over-the-top pink bedroom, but the action felt disjointed. My favorite part was Claire getting filled to the brim with sex toys. Again, so jealous.
I guess I should say something about the threesome scene, but there isn't much to say. There's an extremely distracting wound on Mark Davis' elbow in the beginning that I was fixated on. Other than that, there are a lot of clothespins, spitting into mouths, and Adrianna deepthroating like the champ she is. The general flow of the action is very hurried. I did appreciate that way Mark slurped his own come off Adrianna at the end, as if he hadn't eaten for a week.
The pony play scene disappointed the hell out of me. I will say that I loved Nathan Menace fucking Madison Young with a carrot; this moment is where the pony play clicked for me, where Madison's whinnying became hot and the fantasy was believable. Sadly, the carrot-fucking is short-lived, and the rest of the scene is plagued by Nathan's inability to let go and involve himself fully in the scene. Nathan's face constantly and distractingly reads like he's stuck in a state of constipation / holding his breath / trying really, really hard. Also, HE NEVER MOANS, which is just not acceptable.1 And his hairstyle and earrings belong in Hot Topic — not in a pony play porno scene where he is supposed to look like a trainer. (This scene reminded me of the lion/tamer scene in Hardcore Circus, which is far hotter.)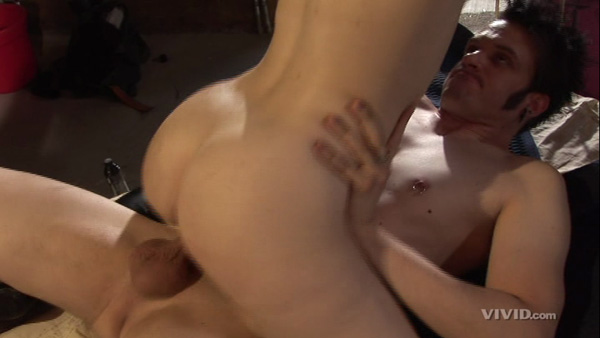 Besides that great disappointment, I was also bothered by the inconsistency of the sound level from shot to shot in many of the scenes. Some angles have a ton of room noise (nooooo), while others do not, making the cuts extremely jarring to my ears. Loud moans make the audio peak and distort. I could also hear the camera being maneuvered around, which reminded me of crappy home movies, and some of the cuts between sex acts are very sudden.
There is certainly no lack of imagination or vision in Rough Sex 2, and the sex is not typical. But most of the scenes were hard for me to connect with. The sound issues and Nathan Menace's distant demeanor are the only complaints that I feel may be universal, since the hotness of the scenes can only be determined by the person watching. I did appreciate the unabashed use of negotiation footage, the interesting camera angles, and the effort that obviously went into making each scene unique (props and scenery).
I think the Rough Sex series is an extremely important one, and I hope Tristan makes many more. This one was not my favorite (although James and Bobbi's scene is badass), but if you are into food play and clothespins, you may find much more to love than I did. I can say, however, that I would really like to see a threesome with two dudes and a chick, in which the dudes fuck. I don't know if Vivid has a "NO GAY MALES" policy, but if they don't, this needs to happen. Immediately.
Stream the best parts of Rough Sex 2 now!
Stream the rest of the Rough Sex series here.