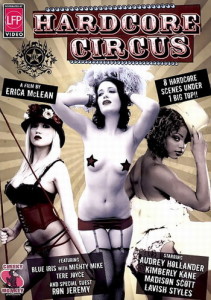 A circus is a hard thing to pull off in a porno, which is why I was half-expecting the scenery of Erica McLean's Hardcore Circus to be a room with a couple balloons in it. In this sense, I grossly underestimated both the set and the costuming of Hardcore Circus. Almost all of the scenes take place in a large circus tent littered with sawdust, a swing, a cage, a trampoline, and other fitting props. And the performers are decked out in some serious carnivalesque outfits: top hats, pinstriped shirts, gaudy jewelry, suspenders, a sequined gymnast/trapeze suit…
In another showing of decadence, Hardcore Circus is 2 hours, 10 minutes long and features an excessive seven scenes (eight if you count the very short bit at the end where Blue Iris and Tere Joyce blow Sergio Roho and Mike until Sergio comes into a jar). While this might sound fantastically delicious, consider that a couple of these scenes are questionable, and a couple of them are just plain boring.
This is Hardcore Circus's downfall: in an effort to concoct something monumental, Erica McLean has created something sadly uneven. This film covers the whole spectrum from "insanely hot" to "yawn-inducingly boring," with a special category for whatever the fuck you'd call a Ron Jeremy scene.
The loose storyline is that pornographer/director Erica McLean slips on a puddle of lube and knocks herself unconscious. The circus happens in her mind. The scenes are not at all connected, but Super 8 footage of circus performers pole dancing, walking on stilts, hula hooping, fire-breathing, etc. is dispersed between scenes, lacing the whole film with an authentic circus atmosphere.
Things begin well, with a scene featuring Madison Scott and Lee Stone as contortionists — and contort they do. Watching this scene, I found myself asking "HOW?" multiple times. Lee has quite the pair of arms.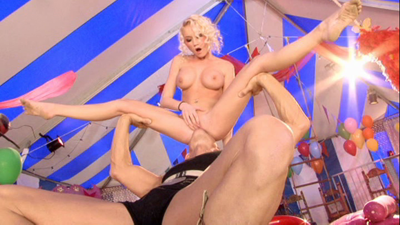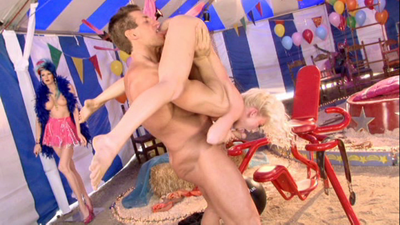 Fake boobs aside, Madison is absolutely ravenous, assailing Lee's monstrous cock with barely a breath, choking on it as if her life depends on it. She ends up in Lee's lap, riding him hard and fast and commanding him to come. A very likable, unique scene made so by insane positions and relentless performances.
Next, Otto Bauer, dressed as a lion tamer and wielding a whip and stool, tames the wildly-ornamented and make-upped Audrey Hollander. Audrey is Otto's submissive lioness, occasionally lashing out at him but mostly submitting to his desires.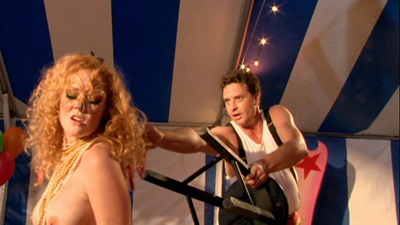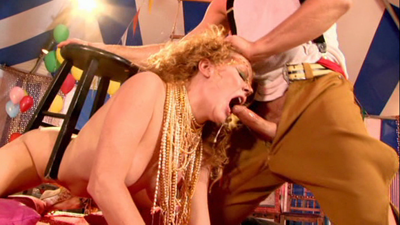 Otto slaps Audrey around a little with a riding crop, sticking it between her teeth as she growls; then he brings out a whip, which he slides in her pussy while he fucks her ass. Audrey meows, coos, purrs, whimpers, hisses and lightly growls rather than moaning, in a way that is not quite human and not quite animal. Not once does she utter a word of English.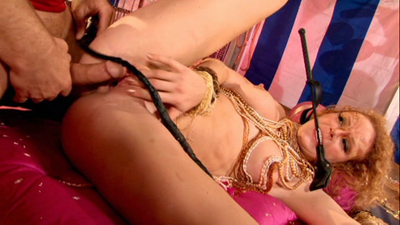 As a finale, Otto moves the whip from Audrey's pussy to her ass… then slides his cock in her ass alongside it. They end up on a swing, with Otto moaning like crazy until he comes on her tongue. Audrey wipes the excess from her cheek like a perfect feline.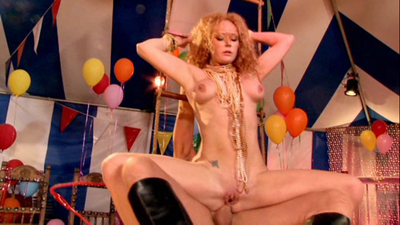 This was easily the hottest scene in Hardcore Circus, as well as one of the most imaginative, well-executed, and orgasm-inducing scenes I've seen in porn in a while. Really, really amazing.
So I guess things had to go downhill after such hotness, but I'm shocked by the sudden lack of imagination in Aiden Starr and Rob Rotten's scene. Coming off such strong circus-themed scenes, it is disheartening to find that Aiden and Rob have no shtick to act out, no characters to be, and so they present nothing interesting or fun.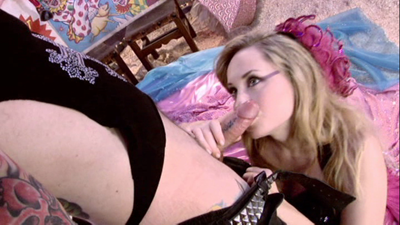 Aiden swallows Rob's tattooed cock with expertise, but the sex is just boring. Aiden needs to add some stuff to her "things to moan during sex" repertoire. Right now it consists of "oh" and "yeah." Rob doesn't moan or say anything either. At no point do they have fun with the fact that they're in a circus porno, which leads me to believe they were given no direction (I've seen Aiden if given direction, and she's fabulous).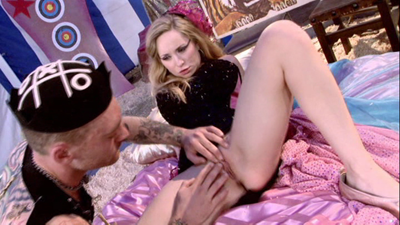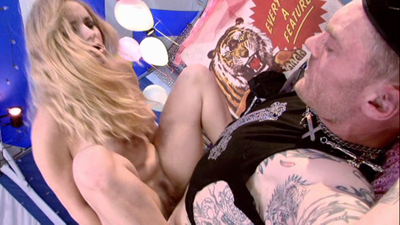 Anyway, moving on… EVAN STONE FUCKING KIMBERLY KANE. As if this scene could ever fail.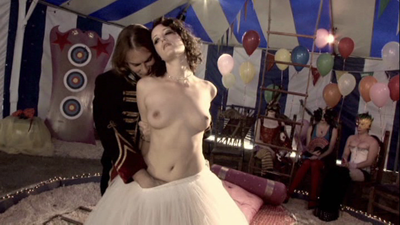 Suddenly, things are desaturated and there are three masked ladies lined up to watch. Evan's hand is down Kimberly's skirt, and I'm insanely turned on already. In yet another demonstration of awesome sword swallowing (ha?), Kimberly downs Evan's cock. And I mean downs it.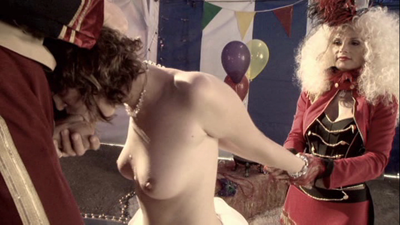 Evan, obviously, is made to be in a circus-themed porn film, so all he has to do is look like Evan Stone. There is some hinting at how big his cock is, so I wonder if this scene was meant to be based on Kimberly surviving his unnaturally-large cock, but they could have played that up a lot more if so. Kimberly does call him a freak a couple times, and when Evan starts fucking her ass, he whispers to her that she's a slut.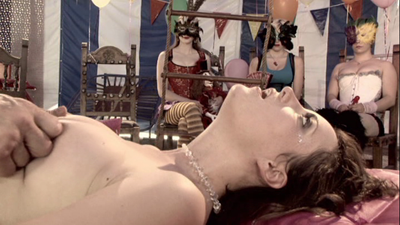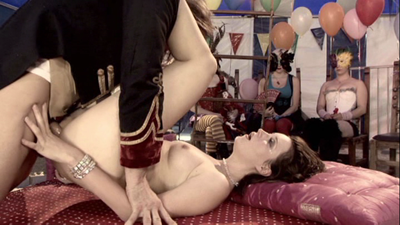 Although they do not play on the circus theme as much as I would like, Evan and Kimberly put on a great show. The trio of ladies watching the action is a very sexy touch that made me wish the other scenes had audiences.
Next up is a scene between Lavish Styles and Tommy Gunn. Their matching pinstripe outfits and top hats look awesome, although Tommy looks more like a sleazy circus dude with his suspenders and… face. They give each other blowjobs, then fuck on a purple trampoline.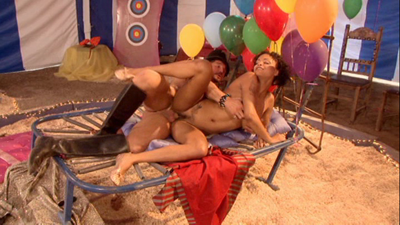 This scene falls somewhere a bit above Aiden and Rob's scene, but it suffers from the same issue of having no shtick. This would have been the perfect opportunity to utilize Tommy's sleazeball looks, and I would have really enjoyed a carnie seduction scene (never thought I'd say that), but this scene is instead rather plain. Not boring, just plain.
But things are about to get boring. Suddenly, for no conceivable reason, we leave the big top and are transported to a dry outdoor area, where Kendra Banx and Starri Knight engage in some devastatingly boring lesbian action. Huh? I wanted to scream at Erica McLean, "this isn't Barely Legal!" Seriously, this is a lame excuse for a girl-girl scene, and made me angry that it is the only one in Hardcore Circus. There could have been a kinky, hot girl-girl scene under the big top, but instead I get this waste of time.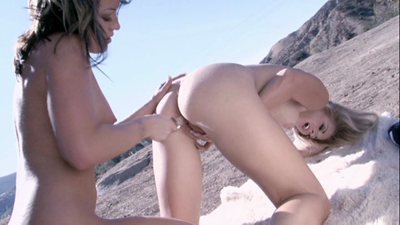 And things don't get better. For the final real scene, Ron Jeremy, looking thoroughly himself in ringmaster garb, explains that he needs some of his tension released, then picks "audience member" Lilly Lovely to help him out.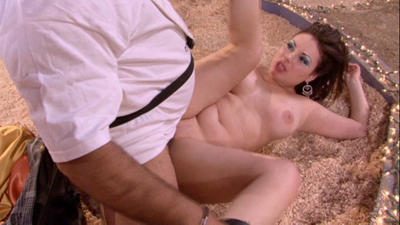 Though I can't imagine any scene starring Ron Jeremy not feeling awkward, this pairing feels especially so. Lilly doesn't have many films under her belt, and who could get excited about fucking Ron Jeremy? She just seems apprehensive. And I know I'm not alone when I say that I really don't care to see Ron Jeremy fucking anyone. Ever. But maybe he's supposed to be the freak of the film, or the carnie… I don't know…
By now there hasn't been a kickass scene since Evan Stone and Kimberly Kane, and I'm wondering what happened to the spectacular circus porno I was watching at the beginning. Sure, the awesome costumes and scenery continued, but the imagination fizzled. The direction apparently became "just fuck."
The final tally is this: three awesome scenes, one decent scene, and three boring/Ron Jeremy scenes. The awesome scenes are thoroughly awesome and worth seeing — especially Audrey Hollander and Otto Bauer's life-changing lion taming scene. But the other portion of the action in Hardcore Circus just isn't as exciting as the lavish costuming and scenery tempt you into believing.
Stream Hardcore Circus here.