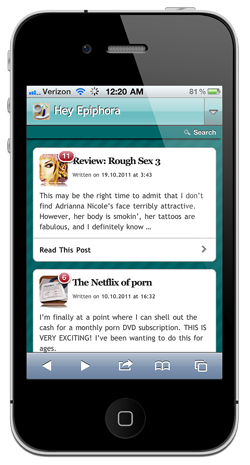 I know what happens, peeps. You're standing in line for a concert, or waiting for decades at DMV, and you're fiddling with your phone thinking, damn, I really wish I could consume some snarky sex toy reviews in an easy-to-read format right now.
Your dreams have become a reality! Whenever you load my site on a smartphone now, you'll be greeted with this sleek, stripped-down version of my blog that hopefully will make reading on a mobile device much less obnoxious. It's not entirely SFW or anything, but did you really expect it to be?
Navigating the mobile theme is very easy. If you touch the little arrow icon in the upper right corner, it'll take you to a list of pages — about, toybox, buy toys, etc., as well as my Twitter, Tumblr, RSS feed, and a button to email me. In this menu, there are also sections for tags and categories, so you can easily find those (might I suggest the tag "not for the faint of vagina"?).
The main page has a search bar as well, for the times when you're in dire need of my 15 rules for writing a sex toy review that doesn't royally suck.
At the bottom of individual posts, you can read comments and submit your own. You'll also find icons for sharing the post via email, Twitter, Facebook, and bookmarking.

And if you scroll all the way to the very bottom, you'll find a slider to turn the mobile theme off. This is useful if you need to access something in my sidebar, like my blogroll or my list of upcoming reviews. You can quickly switch back in the footer.

I think that's about all you need to know! Let me know if you encounter any problems. Now, when you get bored of destroying zombies, you'll know what to do.