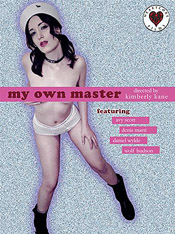 There is something about Kimberly Kane's brain that I really like. My Own Master, her latest directorial movie, reminds me exactly why. Static on the TV in the background? Sailor hats? Music that I actually like? What is this? Surely it cannot be a porno.
A little creativity goes a long way in porn. Remember Kimberly's Live In My Secrets, with a Jesus painting, a gumball gag, a dude in a horse sling, and fake blood? Yeah, that was awesome. And so is My Own Master.
My Own Master (which is shot by Eon McKai) begins with an awesome song by Deathelectric, and Kimberly smoking and making sexyfaces at the camera while wearing a sailor hat, denim jacket, a collar that reads MASTER, and boy undies. Normally I find this kind of warm-up tease thing tacky, but Kimberly makes it absolutely smokin' (sorry, couldn't resist). There's another Kimberly-only interlude before the last scene, and I also cannot complain about it. She's just sexy as hell.
For the first scene, Kimberly's in a room with a TV playing static in the background, and there is she joined by Danny Wylde and Wolf Hudson. They begin doting on her, but it's not long before she drops to her knees and attacks their cocks. Saliva flies everywhere, and there's a ton of choking and stroking. Then the heavens open up and this happens: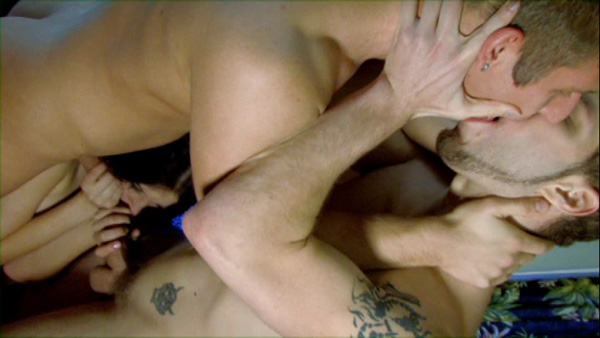 Yeah. YEAH. I know. Danny and Wolf caressing and kissing each other as Kimberly blows them? Multiple times throughout the scene? Truly orgasm-inducing. Now that I've seen this, I can't imagine life without having seen it. Now, every porno I watch is going to seem incomplete, with me screaming at my computer, "WHERE IS THE DUDE-ON-DUDE KISSING?"
I was dismayed to find that this is only a blowjob scene, with no sex between anyone, but I'll take what I can get. As is, it's one of the hottest blowjob scenes ever committed to tape.
The second scene is a sort-of dom/sub scene between Kimberly and Avy Scott. It begins in black and white, with jolly music in the background and Avy (inadequately) cleaning Kimberly's kitchen. Kimberly verbally degrades Avy, telling her, "you make me so mad sometimes… I just want to put you on Craigslist and sell you." But then she remembers why she keeps Avy around. Fondling Avy's ass, Kimberly asks, "do you mind if I paw at your assets while you scrub my floor, slave?"
And that's just the beginning of the awesome. The black and white turns to color — a really lovely color palette, actually — and the dirty talk continues to be golden. While tonguing Avy's ass: "I can't have a dirty fucking slave in my house. What will it look like to the neighbors?" The dom/sub theme is really only expressed verbally, while the action is more of a slow burn, but it's hot from start to finish. They even engage in scissoring that doesn't seem contrived! I didn't know that was possible.
The last scene is described by the DVD box as a "moody real-life sex experience," and that's pretty spot-on. Denis Marti and Kimberly fuck on a bed with a grandmothery bedspread. The lighting is shadowy — the kind that a homemade sex tape might have — and can be quite grainy at times, but for some reason I don't mind. Aesthetically, the scene feels a little dirty, a little rough around the edges, but the action is actually more on the intimate side. They kiss; he goes down on her; they have sex face-to-face and she cries out against his mouth. She has actual orgasms. Later, very briefly, she puts the tip of her finger in his ass. The scene ends after he comes on her vulva, then slides his cock back inside her.
The only extra on this disc is a 9-minute long behind the scenes segment. It features Kimberly talking — about her crush on Avy Scott, about possibly shooting in the rain (I so wish that had happened), about cookies. Then there's some footage of Wolf and Danny goofing around. Sadly, there is no commentary on the porno like there was with Live In My Secrets.
The one technical qualm I have with My Own Master is that the picture sometimes seems out of focus. But the action is sexy and enticing from beginning to end; there are no boring bits at all. With My Own Master, Kimberly Kane has yet again crafted a porno that is intelligent, atmospheric, and extremely hot — not to mention boundary-breaking.
Of course, I still wish that the first scene had hot three-way sex. But I asked Danny Wylde on Twitter about his sexual orientation and the probability of seeing him with other dudes in the future. He replied:
More straight than not. Maybe bent. There may or may not be more upcoming homoeroticism. Stay tuned 🙂
Oh I will, Danny. I will.