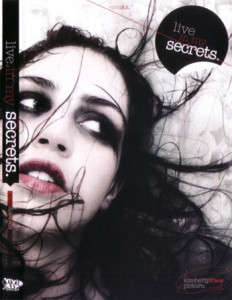 I hesitated in requesting Live In My Secrets. The trailer, which features relentless screams from the infamous "God Warrior" ("she's not a Christiaaaan!"), makes the film seem very dark. The press release and the back of the DVD call it "an extreme hardcore fetish feature from the most primal reaches of Kimberly Kane's psyche." I'm not a very kinky person, and normally would not consider a fetish film. But I adore Kimberly Kane, and I was intrigued, perhaps turned on, by the images of Sasha and Kimberly's scene. It features blood, and Sasha was on her period and not wearing a tampon.
So I held my breath and requested it, hoping I would not hate and/or fear it and be unable to write an adequate review of it. After watching it, however, I have to wonder: am I ten times kinkier than I thought, or was the marketing of this film kinda lying? I'm probably kinkier than I thought, but I also think that this is not "an extreme hardcore fetish feature." A hardcore fetish feature, maybe. But extreme? That's a word I reserve only for 7-11 slurpees and complimenting my bros on their skateboarding tricks.
The first scene features Kimberly Kane (donning a black wig reminiscent of Bettie Page) and Mick Blue in an old, small bedroom with mint green wallpaper, a rumpled bed, a wooden chair, and trinkets lining the walls. All of the lighting in this scene is natural, coming in from the windows, and it looks incredible. It feels almost like watching a real couple go at it in their (Jesus-clad) bedroom.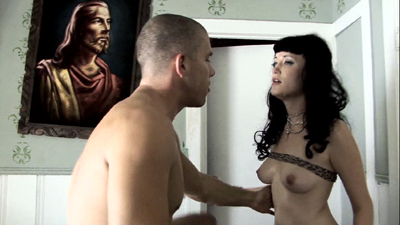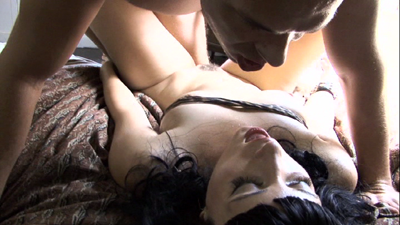 In the commentary, Kimberly explains that she wanted Live In My Secrets to be a female-dominated film, and she achieves this with varying degrees of domination in each scene. This scene depends on the transference of dominance between Kimberly and Mick, which I found incredibly hot (see: him fucking her face against the door; her wrapping her studded belt around his head while he licks her pussy). The domination doesn't consume the scene, though, and most of the time the focus is on straight-up amazing fucking. Mick and Kimberly switch positions often and seem fixated on each other the entire time. For me, this scene was the best of the whole film.
Cut to some sepia Super 8 footage of Claire Adams gently opening Bobbi Starr's pussy with a fork and knife.
The second scene is a D/s scene with Claire Adams as the dominant and Bobbi Starr as the submissive (in Kimberly's opinion, the best dom and best sub in the business). I've barely ever, if at all, seen any porn featuring BDSM, so I'm not the best judge of this scene. However, despite my general disinterest in D/s scenes, I found this one to be both visually stunning and intellectually stimulating. Claire Adams has a quiet, graceful style to her dominance, and Bobbi very delicately balances submission and emotion. Throughout the entire scene, Bobbi rarely lifts a hand to Claire, and certainly never defies her. She keeps her palms face up, whimpering, in full submission.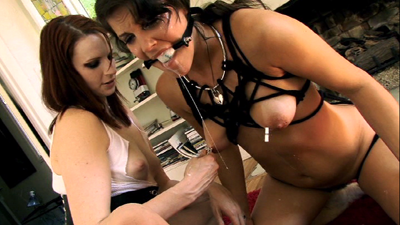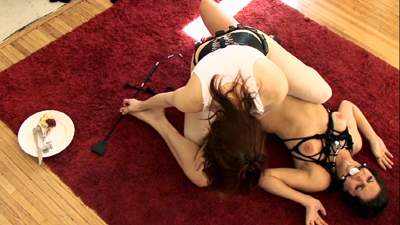 The scene takes place in Eon McKai's house, on a red shag rug with light pouring in through the windows. In the beginning, Bobbi is bound with rope and wearing a jawbreaker ball gag. Claire clamps the skin of her boobs with clothespins, flogs her feet, tickles the sole of her foot. After removing the ball gag, Claire rubs the wet jawbreaker over Bobbi's face and licks the white residue off. Then Claire takes the Pure Wand to Bobbi's ass, eventually gaping it and causing a beautiful popping sound as she teases it. As a finale, Claire fucks Bobbi with a black strap-on while standing up. There is an absolutely beautiful shot of their legs, Bobbi's juices slowly streaming down the backs of her upper thighs.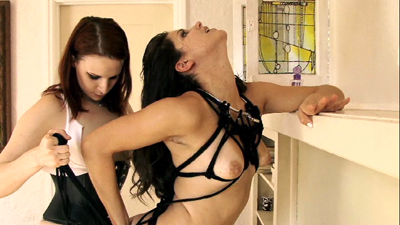 Watching this scene, I felt like I was witnessing something very special. The interaction between these two women is truly enthralling, and every shot is beautiful.
Cut to super 8 footage of Mandy Morbid gallivanting in the city in a dress with no underwear, then April Flores naked and covered in lizards. Yes, lizards.
Scene three features Tyler Knight and Aiden Starr in a horse stable. In the beginning of the scene, Tyler is strung up in a horse sling. Aiden blows him, then they fuck. There is nothing especially compelling about their fucking, but when Tyler plays with Aiden's pussy and ass, things heat up. He sticks his thumb in her vagina, then bends her over his knee and tongues her ass.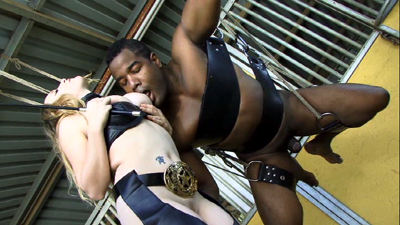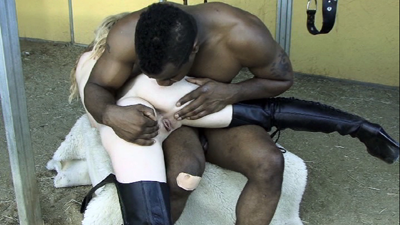 I was disappointed by the lack of kink in the scene. Aiden doesn't use her crop on Tyler and barely dominates him at all. The horse and/or stable boy fantasy doesn't hold up; the best Aiden does is call Tyler a "beast" at one point. He doesn't even whinny! As a kinky fantasy, the scene fails. However, it's an above average scene with some interesting elements (scenery, outfits, horse sling) in it. I wanted more (hey, a female orgasm would be nice once and a while…), but alas. I will keep coming back to the shots of Tyler playing with Aiden's pussy and ass.
The grand finale is a scene between Kimberly Kane and Sasha Grey. They are on a stark white bed in a blindingly white room, their bodies smeared with various amounts of fake blood (most of it is NC-17 blood, according to the Behind the Scenes, while some is strawberry syrup).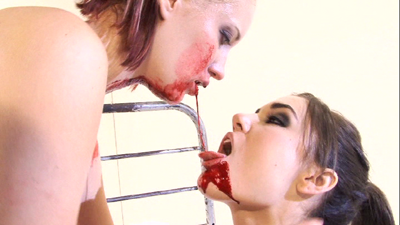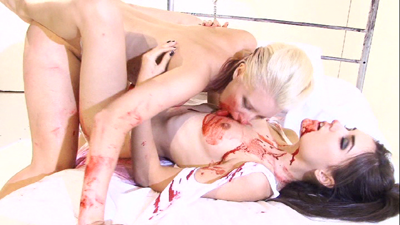 As much as I'm in love with both these women, I had higher hopes for this scene. Other than moans, there is very little dirty talk exchanged, and much time is devoted to foreplay and foot fetishism. There is an overabundance, in my opinion, of sucking, slurping, and saliva. In the commentary, Kimberly mentions that the strawberry syrup was near their vaginas, which explains why they shy away from much pussy play in this scene (sugar is not good for vaginas). I must be really dirty, because I was dying to see Sasha's period blood, and to see Kimberly lap it up. Of course, that never happened, and things stayed relatively tame. There is something to be said, however, about how both women lose themselves in each other, with no toys except for the blood. Kimberly calls this scene a display of "honest sexuality."
The audio commentary, which spans the entire film, is done only by Kimberly herself. Other than Kimberly's sexy voice, I'm a sucker for commentary, so I found all of it fascinating. She explains her concept for the film (four of her fantasies) and her hopes for it. She reveals her distaste for bad lighting, her penchant for pubic hair, and her fear that the fake blood wouldn't wash off. As frivolous as commentary on a porn film might sound, this commentary is incredibly insightful and, for me, turned the film into a more human creation. It allowed me to appreciate intricacies I did not originally notice.
Descriptions of this film may be misleading, but that doesn't keep Live In My Secrets from being a beautifully shot, fresh collection of unique scenes that surprised, excited, and mildly shocked me. The scenes are very different from each other, but held together by a thread of slightly off-kilter kinkiness, absolutely gorgeous lighting, and performers who put everything they have into having interesting sex. The mixture of Super 8 and HD gives Live In My Secrets texture and personality. Kimberly is definitely onto something, and she has stated that she wants to "go darker" than Live In My Secrets. And to that I say yes, please.
Stream Live In My Secrets here.