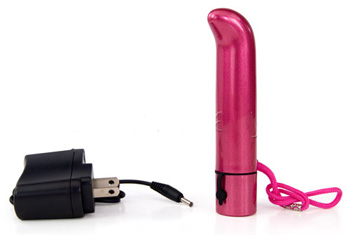 I am ever on the lookout for any toy that resembles the love of my life, the Xtreme Pack G-spot Bullet. There aren't a lot out there, which is why I latched onto the Goddess Platinum Massager. It has a very similar shape and size — smallish, with a G-spotting tip. It's also made by California Exotic. However, it does not have a battery pack, because it's rechargeable.
I'll admit, I was enticed by the rechargeable aspect of this one. I get a little tired of locking batteries into my battery packs and jiggling them out after use. Imagine my dismay when I actually read the box for the Goddess Platinum Rechargeable Massager: "Charge for 8 hours for up to 2 hours of use." 8 hours? Seriously? Okay, guess I'll go to sleep then…
Luckily, it comes pre-charged.
With this vibe, steady vibration levels have been scrapped in favor of vibration patterns. The levels are cycled through by pressing the soft button on the end; sounds easy, but the button is frustratingly difficult to compress while keeping a firm grasp on the shaft. And, of course, there is the issue of having to click through the levels to turn the vibrations off. (As a side note, there is no way to lock the vibe, so it is basically a bomb waiting to go off wherever you travel with it.)
The vibration patterns are as follows: 1. Steady vibration. 2. Pulsation. 3. Fast pulsation, then low steady vibration, then high steady vibration. 4. Pulsation that increases in speed. 5. Steady vibration that decreases/increases in intensity. 6. Pulsation, then a pause. 7. Pulsation, then high steady vibration. Some of these are fairly interesting and inventive.
My issue was this: I pressed the tip against my clit just as I do with the Xtreme Pack Bullet, and yet it felt less stimulating. It felt like the vibrations were hiding inside the shaft, not traveling outward. The vibrations were diffuse rather than concentrated. Even the pointy tip could not save this one. The vibrations were stronger than your average "discreet" vibe, but they could not compare to the Xtreme Pack. Out of the Xtreme Pack's five vibration intensities, the Goddess Platinum Massager's vibration intensity is comparable to, at best, the second one. At best.
As a G-spot toy, it fares slightly better. It did hit my G-spot, but it was too short for me to really get to work. The end of the toy quickly became slathered with lube and my juices. Plus, I couldn't insert it past the creepy protruding plastic bit through which the wrist strap is threaded.
Yes, wrist strap. Maybe someone can enlighten me as to how dangling a vibe from your wrist would improve the masturbation experience. Devastatingly, the strap is clamped together in the middle by a piece of metal, and each loop is too small to fit over my hand (and I have small hands). The strap causes extra annoyance during cleaning. It can easily just be cut off, but that still leaves the protruding plastic piece.
I suppose the Goddess Platinum Massager could work for a quickie, but I would rather recommend something like the LELO Mia, which can be locked. The only thing this vibe can really boast about is its rechargeability, but even in that arena, it is surpassed by a wealth of other toys that charge in, uh, less than 8 hours. Some people could be satisfied by the vibration intensity of this toy, but I am not.