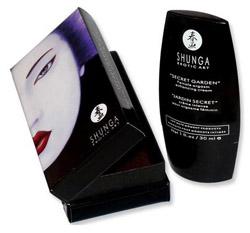 Allow me a little embarrassment; I've never reviewed an arousal cream before. So I don't really know how to compare Shunga Secret Garden cream to other products of its kind. The sensations of an arousal cream are so much different than the buzz of plastic or silicone. But I have to start somewhere, and this is certainly a good start, as I've kind-of become addicted to this arousal cream.
The cream comes in a compact little box with a geisha on it (uhhhh). Inside, there are two paper products: a booklet with the history of Shunga and advertisements for other Shunga products, and a slip of paper explaining in four languages that "every woman is unique, so it's only natural that sensitivity levels are as well!" The slip explains that some women will feel the effects of the cream instantaneously, while others may require multiple applications. It also gives instructions for what to do if the sensation becomes too intense, which is nice.
The ingredients are listed on the side of the box, but not on the bottle. They are as follows: water, Glycerin, Propylene glycol, L-Arginine, L-Ornithine, H.E.C., Turnera aphrodisiaca extract, Methyl paraben, Propyl paraben, Mentha piperita, Tocopherol. Unfortunately, this list includes several repeat offenders in the world of lubes; glycerin can act as a sugar and promote yeast infections, L-Arginine is an amino acid that may cause herpes outbreaks in those with genital herpes (to Shunga's credit, they do include a warning about this on the box), and parabens are potentially carcinogenic and glycerin may inflame yeast infections. Propylene glycol isn't so fabulous, either, as it is used in cosmetics to pull other chemicals into the skin.
I know, that kinda ruined the mood. But at least this isn't a lube, and is only applied little by little?
The four-inch long bottle of cream (1 oz), which labels Secret Garden "orgasm enhancing," is strangely designed — the bottle stands up on its cap. This is a bit troublesome at times, but I have found that even leaving the bottle open and sitting horizontally, the cream does not drip out. It only comes out through a small hole, so the bottle must be squeezed to retrieve the cream. A little cream goes a long way, so the 1 ounceness of the bottle is not an issue at all. While up close the contents of this bottle can be discerned by reading the text on it, it just looks like a black non-descript bottle from afar.
Despite being called a cream, the stuff looks and feels exactly like lube. It's clear and a bit thin, but not especially runny. It smells strongly of mint and tastes like an unpleasant mouthwash. It doesn't seem to numb my mouth, although I haven't tried consuming vast quantities of it.
Usually, a good drop on my finger is enough, and I always feel the effect on my clit immediately. The sensation is definitely a cooling one, and it feels great. It's not too intense, but can be intensified by applying more cream. The only arousal cream I can compare it to is Cleopatra's Secret, and the only way I can think to describe the difference is that Cleopatra's Secret creates a straight-up, pretty intense tingling sensation, whereas Secret Garden's sensation feels more complex, more cool (rather than tingly), and is less intense. I definitely prefer Secret Garden — plus, it's not bright pink like my container of Cleopatra's Secret.
It doesn't last for an especially long time, I've noticed — 30 minutes at best if I do not disturb it, and less if I use a toy on my clit. Nonetheless, the cream works very well as a preface to masturbation or sex. The tingling makes me more aware of my clit, which turns me on. I've also used the cream during sex while my boyfriend wore a cock ring, and it seemed to intensify the stimulation from the cock ring. The cream does come off on whatever touches it, though. Reapplication is common for me.
Did it enhance my orgasms? Well, no. It usually wore off before I made it to orgasm, and when I did apply it prior to orgasm, I didn't notice any difference. But I still love the cooling sensation it generates. Shunga Secret Garden is definitely my gateway drug into the world of arousal creams.