Sheets of rain were coming down outside. It was about 7:30 p.m., completely dark, and I assumed it was too late for mail delivery. But the doorbell rang, the cats scattered, and standing outside my door was a man holding a package and an electronic signature device.
It only made sense that heightened drama surround the LELO Bo. It's the world's first rechargeable cock ring, after all, and — gasp — it's made of hygienic materials (plastic and TPE1). The generous people at LELO sent it to me after I admitted to being wary of its clit-hitting abilities. They dared me to try it for myself; how could I resist that offer?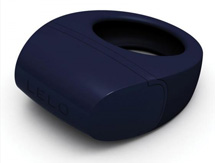 Although the package was dotted with wetness, everything inside was perfectly dry. Since receiving Bo I have had the pleasure of playing with a couple other glorious LELO toys, but Bo was my first. So I was extremely impressed to see the shiny cardboard box, and inside that, the black textured box holding the cock ring and its wall socket. Everything about LELO's packaging just oozes sophistication. LELO understands that not every package has to have a slinky blonde chick faking an orgasm on it. In fact, none should.
As a testament to LELO's sexy packaging and Bo's cuteness, I made this dramatic video of me unwrapping Bo:
As you can see in the video, Bo comes with a plastic storage case. I freaking love this little case, mostly because it's nearly as tiny as Bo itself. It's slightly translucent, but I doubt even a snoop would glance twice at it, as it doesn't look like anything exciting (from the outside). The charger plugs straight into the case, which then plugs into the top section of the cock ring to charge it. It glows red while charging, and changes to white when it's done (after about two hours).
Bo comes in two pieces: a plastic upper section, and a TPE ring with a plastic track on it. The plastic upper section slides into the track, and this is how Bo turns on. Thus, there is no way to accidentally turn Bo off during sex. My boyfriend prefers to put the ring together before putting it on his cock, as putting the ring together requires a bit of wrangling. He uses it around just his cock, not his balls, and it is a perfectly snug fit.
I'm hard to please when it comes to cock rings — and clitoral stimulation, for that matter. I've tried cock rings that use watch batteries and those that use bullets. Bo's vibration intensity falls somewhere between them. It's easily felt, just not as powerful as I require to orgasm. However, I am happy to report that Bo does indeed align with my clit. Although the top of the ring is made of plastic, it doesn't cause me any discomfort, and it doesn't feel bulky. The vibration may not get me off, but it adds a pleasant extra element to sex. Because Bo is fairly quiet and doesn't have a cord, it's much easier to get lost in the sex and stop worrying about the cock ring. That is what I most love about Bo.
My boyfriend has suffered through several tacky TPR cock rings, and he much prefers Bo as well. Bo's TPE is firmer, which allows the ring to stay in place better. It also doesn't flop around like the bullet-run cock rings do, so the vibrations don't overwhelm him. "Is it safe to say this is your favorite cock ring?" I asked him. He did not hesitate to answer "yes."
So while Bo will not give me that elusive during-sex orgasm, I remain extremely impressed by its qualities. So many cock rings are loud, made of cheap materials, and just look stupid. When it comes to sheer sophistication, no cock ring even touches Bo. Date idea: lock Bo in its case, stick it in your purse/bag, and become an instant renaissance man, woman, or genderqueer. Seriously, I can just imagine Bo's case next to an open condom wrapper on your dresser. Sexiest, classiest thing ever.
Bo has been replaced by Tor 2, which is waterproof, more powerful, and made of 100% silicone. Get Tor 2 at Babeland, SheVibe, LELO, Pleasure Chest, Come As You Are (Canada), or Lovehoney (international).