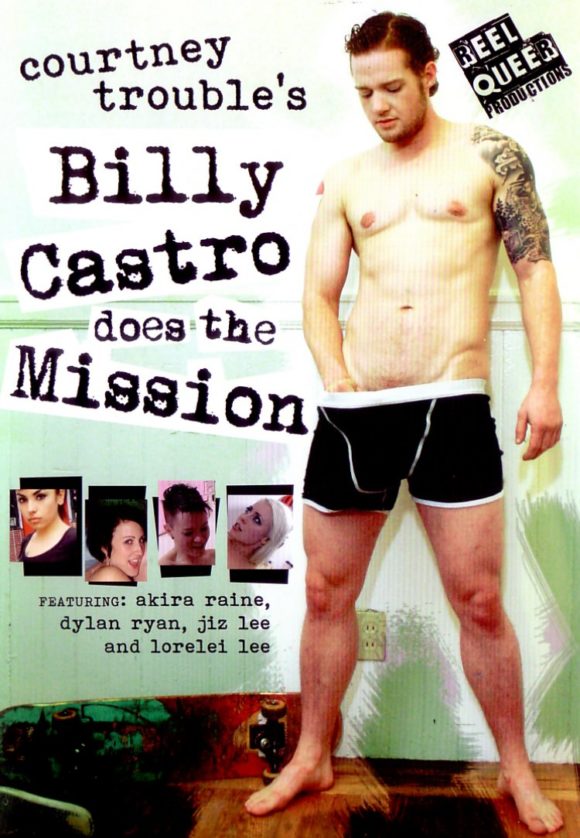 So Billy Castro, hottie extraordinaire of Bordello and Speakeasy, now has his own film. It's called Billy Castro Does the Mission, for obvious reasons. In it, he wanders around the Mission having sex with any person he can get his hands on. Four, in all.
After a jack-off session on a weightlifting bench, Billy wanders out onto the street, where he finds Dylan Ryan stealing his bike. Obvious answer to this? Follow her and have frantic, slightly angry sex with her in a hot tub. I don't care if this makes sense — it's awesome. Billy's attitude — something along the lines of "you stole my bike; I will cut you. Wait, you are incredibly hot… I will cut you with my dick" — works very well. There is slapping, splashing, squirting, and definite chemistry in this scene, and how can you beat hot tub sex?
Well, maybe by fucking Jiz Lee on a hardwood floor. Billy goes to Jiz's apartment, where they play Wii. Obvious follow-up to a round of Mario Kart? Wrestling, dry humping, choking, and black gloves. The chemistry between these two is unbeatable. Picture this: puddle of ejaculate on hardwood floor; Jiz writhing and wriggling in it. Um, yeah. And a finale of Jiz raining down ejaculate on Billy's face. Basically, this movie could've been called Billy Castro Does the Jiz and consisted of four scenes of Billy and Jiz doin' it, and I would've been way happy.
But that is not to be. There are two more scenes, neither of which live up to the first two. In the third scene, Billy happens upon Akira Raine putting a mattress in a U-Haul, so they close up the U-Haul and fuck inside. And it's really boring, because Akira does the exact same thing she did in her scene with Puck — she lays there and moans. Granted, if I were being mauled by Billy Castro I'd probably just lay there and bask in it too, but that is why I am not a pornstar. In every other scene in this film, the performers talk to each other. In this scene, not at all. It's just not fun or arousing.
In the final scene, Billy returns home to his "girlfriend," Lorelei Lee. The scene begins fabulously, with Lorelei dominating Billy and smothering him with her vulva (one of my favorite porno positions of all time!). But it isn't long before Lorelei's monotonous moaning creeps into the picture. At one point, I realized her moaning sounds like neighing. After that, I was finished. And by then, I was sick of seeing fingering anyway.
So, I'm half and half on Billy Castro Does the Mission. Two scenes are amazing, and squirting is abundant, thanks to Billy's handiwork. But the other two are boring, and I wouldn't want to watch them again. Also, I have a little request for Billy: tone down the mangrunts and start talking! You have one of the sexiest voices I've ever heard; I want — no, need — to hear that voice talking dirty during scenes. Plz and thx.
Watch Billy Castro Does the Mission now!
Watch more of Courtney's work at PinkLabel.tv.