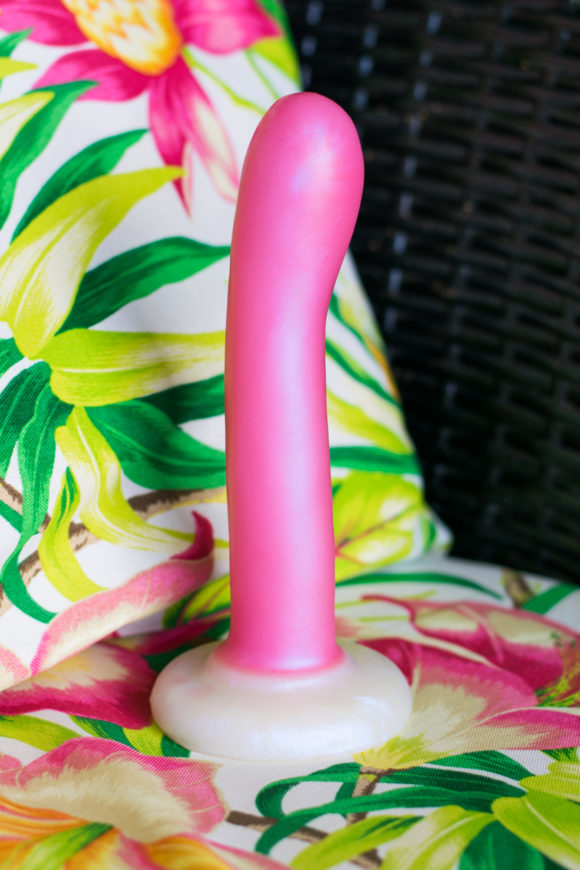 The Vixen Creations Raquel doesn't look like much, especially in pictures. It's a simple pink dildo with a bulging head, a streamlined shaft, and a chunky base.
But in life, the Raquel is entrancing. The pink and white are iridescent, and the silicone… oh, let me tell you about the silicone. The moment I wrapped my fingers around it for the first time, I was hooked. Could not stop squeezing. I could sit around squeezing it all day, smiling like a creepster at the sheer tactile pleasure of it.
You see, Raquel is made of VixSkin, a premium formulation of silicone specific to Vixen Creations. As with any silicone, VixSkin is completely non-porous, phthalate-free, and can be sterilized. But while most silicone tends to feel soft but fairly rigid, VixSkin is incredibly soft and squishy on the outside, with a solid inner core. It's also floppy to the max — hence the thick suction cup base. There's no way it would stand up securely without it.
Although VixSkin is just a different formulation of pure silicone, trying Raquel for the first time was like experiencing a new sex toy material. This was especially delightful for me, since I rarely get to try new materials. I knew Raquel would feel soft, but my vagina still did not expect something so luscious. Especially moving from a regular silicone dildo to Raquel, I noticed just how different it feels. The solid core is noticeable, but the squishy outer skin makes for a very plush, yielding sensation.
Raquel is a G-spot dildo, but a unique one — it's not rigid, and it has no harsh curves or awkward edges. I was skeptical about whether it not it could stimulate my G-spot, but my skepticism was laid to rest quickly. It hones in on my G-spot beautifully. I have to thrust with it to really stimulate my G-spot, but the stimulation is so refreshingly soft. It doesn't feel, as most G-spot dildos do, like a curvy thing jabbing at my G-spot (cough — Pure Wand — cough). And I like curvy things jabbing my G-spot, but this is a nice change.
There are a few downsides to uber-squishy VixSkin. One is that the dildo is so floppy that it's quite difficult to insert Raquel with one hand. The other downside is simply that the G-spotting tip is not stimulating unless the dildo is moving. With rigid G-spot toys, I'm able to achieve nice G-spot sensations just by clenching around them while they're stationary. The Raquel is too soft, so clenching is fruitless.
But I still like the Raquel. It brings something new to the table, and sometimes soft G-spot stimulation sounds perfect. If you have cursed other G-spot toys in the past for being too weirdly shaped or too rigid, then Raquel should be your G-spot's saving grace. In my case, the Raquel is more like my G-spot's mistress… good for a little somethin' somethin' different and sensual on the side.
Get the Raquel at Spectrum Boutique or Come As You Are (Canada).