Most sex toys, even the ones I end up loving, require multiple testing sessions before I get a handle on my feelings for them. But once in a while, a toy comes along that is perfect immediately — from the first dip into my vagina. That's because the Crystal Delights Star Delight has everything: beauty, bumps (um, the good kind), and a G-spotting head to die for.
I kind of knew that I'd love this dildo. The shape of the Star Delight is a classic design. My first ever glass dildo, the atrociously and carelessly named Gold Ribbed Love Wand from now-dying brand Phallix, had similar bumps. Like the smart human I am, I tried it in the bath first, then proceeded to complain that it was uncomfortable. That was also the review in which I infamously listed "doesn't vibrate" as a con.
Despite being a moron, I loved the Gold Ribbed Love Wand once I played with it, you know, outside of water. Other glass dildos came and went, but the bumpy texture of the hard and frictionless glass remained a favorite.
Glass sex toy manufacturers have done some strange things in attempts to make their toys appealing, like embedding ugly flowers into the handles and promising 24-karat gold fuming. But if I'm gonna fork over the cash for a glass dildo, I'd rather my money go toward a Swarovski crystal that shines for miles rather than some elusive gold fumed shit that you can't even see with the naked eye.
And at $100, the Star Delight is no more expensive than other glass toys of lesser beauty.
This dildo is what celebs should be getting in swanky gift bags, not the scam artist that shall not be named. This dildo makes me uncharacteristically blurt out words like exquisite and divine. But my less articulate feelings are even more meaningful: this dildo just feels fuckin' great.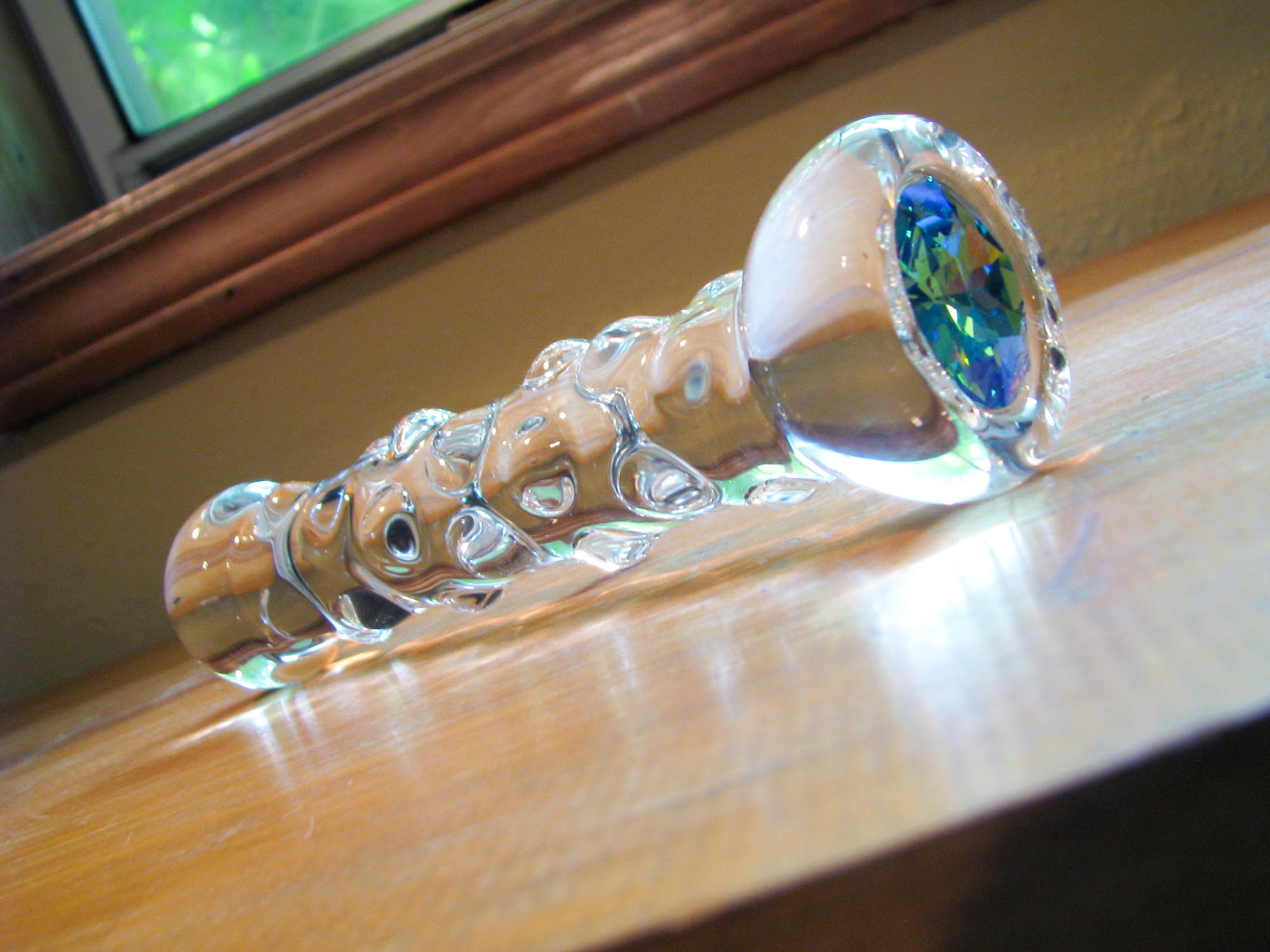 No conditions need to be met before I use the Star Delight. I don't have to warm up my G-spot before I can enjoy it. It requires no finagling or fancy wrist work. Usually I start off by clenching around the dildo, then I start twirling it around, and eventually I end up doing shallow but intense thrusts, feeling the head push against my G-spot while the bumps stimulate my vaginal walls, unable to stave off an orgasm for much longer. The insertable length of 5.5″ is just right, and the girth is both manageable and noticeable (1.4″ in diameter around the head, about 1.2″ around the bumps).
When I say perfect, that is what I mean. If I could give the vagina-holders of the world just one glass dildo, this would be the one. Some might be alarmed by the texture at first glance, but, as a very wise person once said, "believe in your vaginas, people, THEY CAN DO ANYTHING."
Crystal Delights is now officially the manufacturer of my three favorite glass dildos, the Star Delight, Crystal Twist, and Ash Girl. Badasses? Obviously. Plus, my Star Delight has a glacier blue aqua Swarovski crystal in it, which is not one of the crystal colors usually listed, but Shellie takes special requests, so don't hesitate to ask for the color of your dreams.
Crystal Delights is certainly not the first company to create a bumpy glass dildo like this one. But they're the company you want to give your money to.
Get the Star Delight at Crystal Delights or SheVibe.
Get 15% off at Crystal Delights with code EPIPHORA.