I have a lot of glass dildos, but I find it disturbingly easy to eschew most of them. When I moved, I re-arranged my life so that my desk only contains the most pertinent of sex toys. One drawer is reserved for glass toys, and guess what's inside? Three Crystal Delights dildos. Nothing else.
Crystal Delights is best known for their bejeweled and tail-adorned butt plugs, but to me, they are makers of the greatest most high-quality glass dildos known to man. The Star Delight is a staple in my toybox (used often as a reprieve, or finisher, when other toys fail), and the Crystal Twist is a fabulously weird G-spotting dildo that ranks up there with the best of them.
Therefore, I was not surprised when I loved the Ash Girl.
It's a modest size, at 6.7″ long, 5.8″ insertable, and 1.4″ in diameter at its widest. It's delightfully textured, with a slight G-spotting curve and pronounced head. The cherry on top is a unique Light Vitrail Swarovski crystal (a gorgeous conglomeration of pink and yellow) in the base, which serves as an excellent handle.
The Ash Girl comes with a fancy storage bag embroidered with Asian-style dragons and phoenixes, rather than Crystal Delights' usual black. Just don't leave the storage bag out on your desk; any nearby cat will find it to be a highly acceptable bed.
The texture on the Ash Girl consists of peculiar-looking raised swirls and curly-Qs, like you might doodle in your notebook in 7th grade. I wasn't sure how this would feel, and I'm not sure how to describe it. The site's description calls this dildo "delicately textured," but I don't agree. It's definitely intense — on the verge of abrasive. But I'm weird, and I like that shit.
The Ash Girl is like a glass version of the silicone Jellyfish, about which you may recall me writing:
Usually I have to choose between G-spotting and texture. Texture can be so overwhelming that G-spot stimulation gets drowned out, and vice versa. Not so with the Jellyfish. The Jellyfish has both — and both are overwhelming. In a good way… usually.

Many will find this texture far too abrasive. Like, probably 90% of people with vaginas. I find it abrasive most of the time. But once I get really turned on, when my vagina opens up and I drizzle the lube everywhere, the Jellyfish is amazing. I clench around it and the G-spot stimulation from that is SO GOOD that I come too fast.
The good thing about the Ash Girl is that it isn't very big. So while the texture is crazy, I don't have to prepare my vagina in advance for the dildo's arrival. I can get all of the delicious texture without added girth. And most importantly, there's a bulbous G-spotting head in the deal, too. SCORE.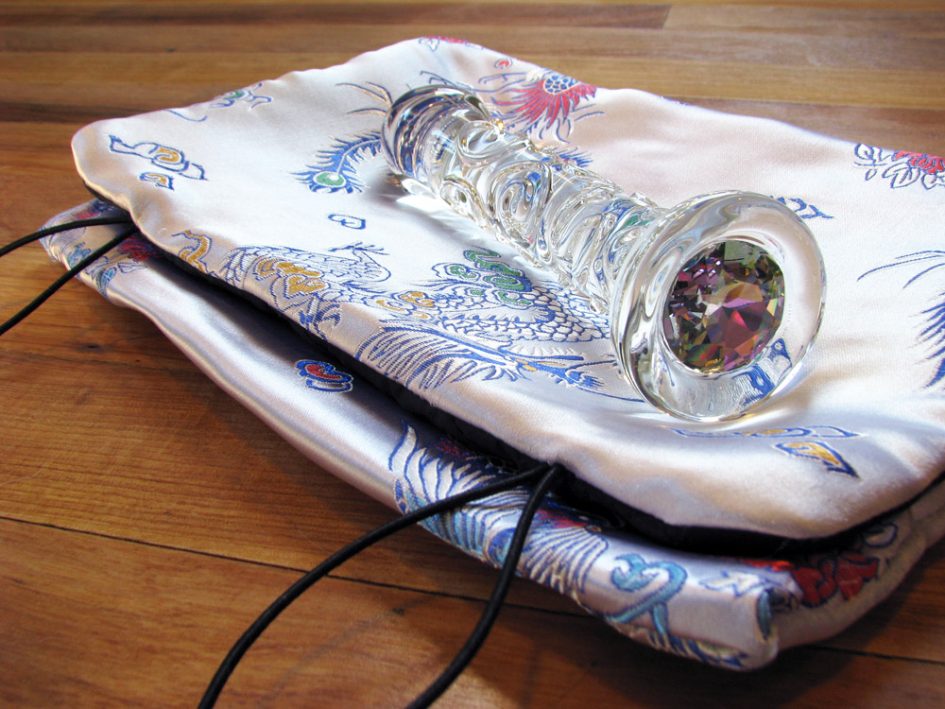 The bumpy Star Delight feels gentle in comparison to the Ash Girl. Its rounded bumps are less jarring, and the lack of a curve cuts back somewhat on the G-spot stimulation. The Star Delight, with its straight shaft, is better for spinning. The Ash Girl is better for thrusting, or nudging the head up against my G-spot while I clench around the shaft and relish in the raised swirls.
The Ash Girl is touted as being "harnessable," but I'm not about to try it. I'm enough of an oaf without having to worry about jabbing my partner with unyielding glass, and I wouldn't want another person to be in charge of how much this toy moves inside of me. I asked my partner about the "harnessable" claim. The response? "I feel concerned."
Also, this is one of the most difficult toys to clean that I've ever owned. Just when I think I've toothbrushed off every bit of dried-up vag gunk, the toy dries and more gunk magically appears. What I'm saying is, I wouldn't feel comfortable sharing this dildo with anyone I wasn't fluid-bonded with.
The Ash Girl will never be the most widely enjoyed toy in Crystal Delight's catalog based solely on how intense its texture is. It's a very particular toy. At $145, it's also more spendy than most dildos from Crystal Delights. Before purchasing, ask yourself if you like your vaginal walls to feel vaguely like they're being scraped. I do, hence why I love it.
The Ash Girl is not currently available on Crystal Delights' site, but
you can email
[email protected]
to special order it.