GOBBLE GOBBLE, peeps. I'm here to tell you where you can get the best Black Friday and Cyber Monday deals on sex toys I have meticulously tested and can highly recommend. Best part: you can stay in your pajamas!
If you've been waiting to buy something I raved about, now is probably the time. Discounts like these don't happen on such a grand scale at any other time of the year. Some toys will sell out, too, so if there's something you want, don't delay.
So far I have deals from GoodVibes, Lovehoney, LELO, SheVibe, Tantus, Early to Bed, Fleshlight, Babeland, NobEssence, Sliquid, and JT's Stockroom, plus porn-tastic sales from Crash Pad Series and Courtney Trouble, a web hosting deal from HostGator, business cards from Moo, and the usual from Amazon. I even have some special coupons you won't find anywhere but here.
I will be continually updating this post as more sales pop up, so use that refresh button!
My favorite deals (toy name links to my review):
GoodVibes
BEST FOR: orders over $100 and LELO products.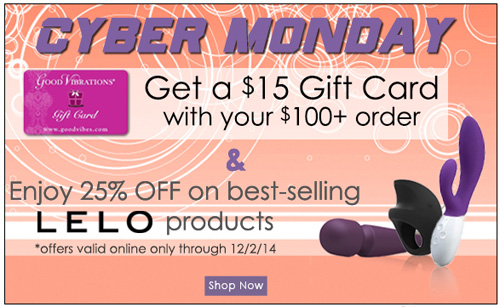 Cyber Monday at GoodVibes means getting a $15 gift card with any order over $100, and LELO products continue to be on sale at 25% off! My LELO picks are Mona 2 and Siri.
I also suggest you get something from my favorites page, like anything from Vixen (I love Mustang and Buck), an Eroscillator Top 2 Deluxe,, njoy Pure Wand, Fun Factory Stronic Eins, Comet II Wand, NobEssence Romp, Vibratex Mystic Wand, We-Vibe Tango, We-Vibe Touch, Liberator Throw, and/or Joque.
Lovehoney
BEST FOR: international purchases over $80 or £50, especially of njoy products, Fun Factory Stronics, We-Vibe toys (I love Touch and Tango), and Vixen Creations toys.

My favorite worldwide sex toy shop, Lovehoney, will be giving a steep 25% off as long as you spend over a certain amount of money, among their other sales and special offers. Lovehoney has sites for UK, US, and Australia. I suggest checking out my landing page for my favorites and going from there.
This sale runs from Friday, November 28th to Monday, December 1st.
LELO
BEST FOR: international purchases of LELO products, especially the Luna Beads.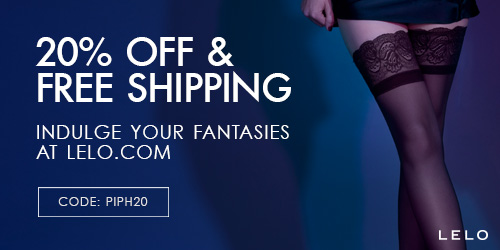 Get 20% off everything, free shipping (EVEN ON INTERNATIONAL ORDERS!), and free lube with orders over $100 at LELO. Use code PIPH20. This code will take effect Thursday, November 27th and end on Monday, December 1st.
Do you have a clitoris? You need the Mona 2 (here's why, and here's another reason why). I also love the Luna Beads (review here), Mia (review here), and Siri (review here).
SheVibe
BEST FOR: those placing an order over $125, especially for the LELO Mona 2 and more unique lines such as NobEssence wooden toys, Eroscillator, and more obscure/fancy Liberator stuff, etc.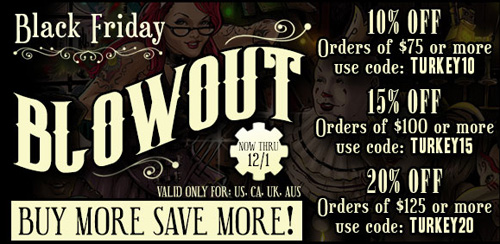 It's an escalating sale at SheVibe: the more you buy, the more you save! Get 10% off orders over $75 with code TURKEY10, 15% off orders over $100 with code TURKEY15, and 20% off orders over $125 with code TURKEY20. Check out my favorites for what you should get!
Coupon codes are only valid for countries they ship directly to: US, CA, UK, AUS. This sale runs Friday, November 28th through Monday, December 1st at 11:59 pm EST.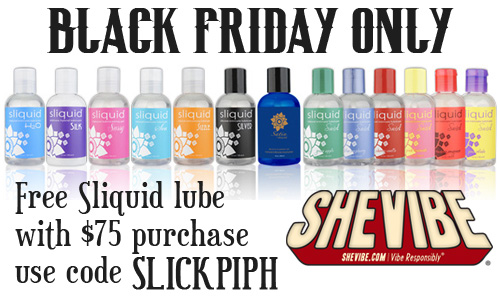 Black Friday ONLY, you can get a free bottle of Sliquid lube (my favorite!) with purchase of $75 or more (after other discounts, which are compatible). Use code SLICKPIPH for this one, which ends at 11:59 pm EST on Black Friday. Use the code and SheVibe will add a bottle of Sliquid of their choice when they make your package. No need to add to cart!
Tantus
BEST FOR: those wanting specific Tantus toys, really cheap silicone toys, or toys for harness play, BDSM, prostate play.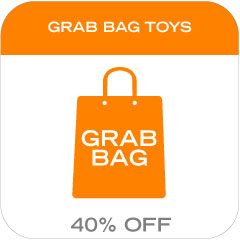 Cyber Monday at Tantus means 40% off already deeply-discounted Grab Bag sex toys! The Ryder ($11!) and Echo ($20!) are the best. Take advantage — this is a RIDICULOUS deal.

Tantus always has epic sales, and their sale this year isn't any different! They have various bundles of toys with deep discounts, and individual toys are also discounted.
Plus, you can use code EPIPHORA to get an additional 15% off already amazing sale prices. As always, free US shipping with orders over $100, and free international shipping with orders over $200.
Note: The full price will show on the product page as well as on each item in the cart until all items necessary for the bundle are present in the cart. After a few moments, the cart refreshes on its own to reflect the discounted price of each item.
Tantus also has specific products discounted. With the additional 15% off from the EPIPHORA code, you can get these:
This sale runs from Friday, November 28th through Monday, December 1st at 11:59 pm PST.
In addition, there will be 24 hour flash sales each day on a specific product. Watch this space and my Twitter account for info.
Early to Bed
BEST FOR: purchases of less expensive items and rare items from my favorites list, such as cute butt plugs, Vixen Creations single-density dildos, and porn DVDs.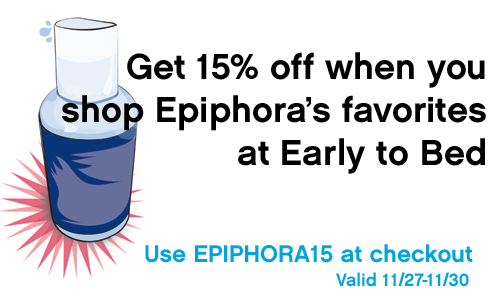 I am madly in love with Early to Bed, especially because they worked with me on a special deal just for my readers this year. Buy at least one product from my favorites page and get 15% off your total order with coupon code EPIPHORA15.
Early to Bed is especially great for non-dual-density dildos from Vixen that I love: Woody, Leo, Randy, and Large Real Bent (Claire). Here, you can also get the best deal on the Hitachi, Cuddle, and Bootie.
Although this may not be the steepest discount you can get, Early to Bed is one of the greatest little indie sex shops around, so you should support them!
This coupon is valid Thursday, November 27th through Sunday, November 30th.
Fleshlight
BEST FOR: anyone wanting a Fleshlight, especially if you're interested in Sex in a Can or the Shower Mount
Fleshlight is having a sweet sale Wednesday, November 26th through Tuesday, December 2nd. Here are the deets: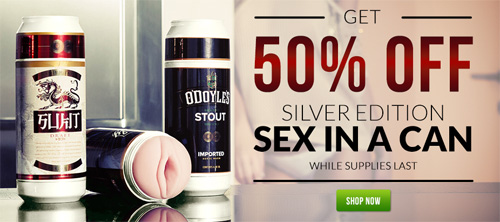 50% off Sex in a Can/Jack's Soda products! These Fleshlights are great because they are smaller and more compact than traditional ones. Plus, the Jack's Soda Fleslights come in the most adorable cans ever made.
Had your eye on something else? How about this: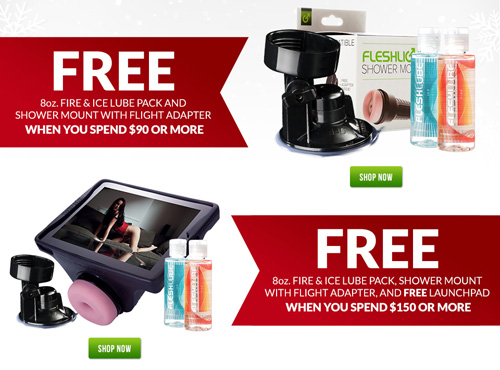 Or were you wanting a Fleshlight Girl specifically? Well, boom: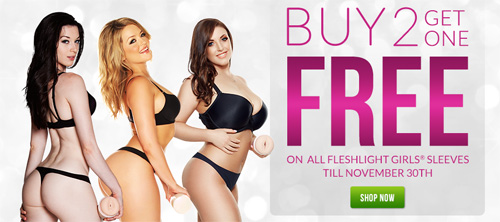 Buy 2 Fleshlight Girls and get one free!
NobEssence
BEST FOR: gorgeous wooden toys straight from the source.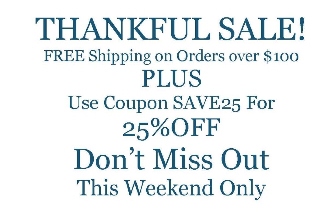 25% off with code SAVE25 and free shipping over $100 through this weekend only! You can't go wrong with NobEssence, but I really like the awesome Romp (my review) and Seduction (my review).
Babeland
BEST FOR: late shoppers on Cyber Monday.


15% off everything at Babeland for Cyber Monday! Use code CYBERSAVE.
My fave vibes are the We-Vibe Tango, We-Vibe Touch, LELO Mia 2, LELO Mona 2,  Babeland Silver Bullet, Blueberry Buzz, Picobong Ako, Picobong Moka, Hitachi Magic Wand, and Vibratex Mystic Wand. When it comes to dildos, you can't go wrong with the njoy Pure Wand, Fun Factory Stronic Eins, and/or pretty much anything from Vixen Creations. For your butt, get a njoy Pure Plug because they are perfection. Top things off with a Joque harness.
Sliquid
BEST FOR: people who just want some lube, goddamnit, without having to buy other junk!

15% off all orders at Sliquid, from Friday through Monday. Sliquid is my favorite lube ever. The best part about this sale is that you can get an additional 10% off with code EPIPHORA, so bottles of my faves H2O and Sassy are just $10!
JT's Stockroom
BEST FOR: inexpensive glass toys and bondage gear.

Save up to 75% off in this sale from JT's Stockroom, which runs now through Monday, December 1st. Glass dildos and plugs are muy cheap, and other much less tame stuff is on sale, too, such as paddles, gags, cuffs, collars, sounding equipment, anal hooks, and more!
Crash Pad Series and Courtney Trouble
BEST FOR: porn mongers!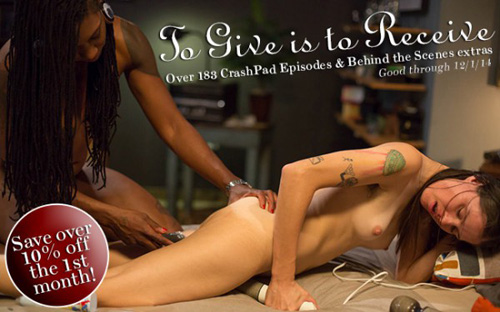 Spanning Black Friday through Cyber Monday, Pink & White Productions will offer 10% off the first month of a level 2 membership to its queer porn site CrashPadSeries.com. Based on Shine Louise Houston's dyke sex cult classic The Crash Pad, CrashPadSeries.com is a one-of-a-kind membership site, and a virtual hotbed of queer sexuality.

It's an autumn sale at Courtney Trouble's store! Get $30 off the Double Trouble glass dildo toy PLUS a free DVD! The code FUCKFRIDAY will also get you 30% off any full length film in the online store (includes DVDs and downloads). You should buy Trans Grrrls. This sale runs through Sunday night.
HostGator
BEST FOR: budding bloggers needing a kick in the pants to start that blog.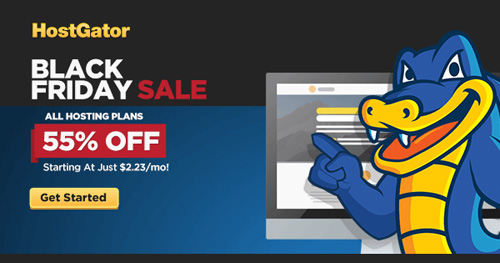 My awesome host, HostGator, is offering 55% off all new hosting plans from Friday, November 28th at 12 pm CST through Monday, December 1st, at 11:59 pm CST. They will also be running ten one-hour sales at a whopping 75% off. I'll try to announce those on my Twitter account.
Moo Cards
BEST FOR: the best quality business cards in the land.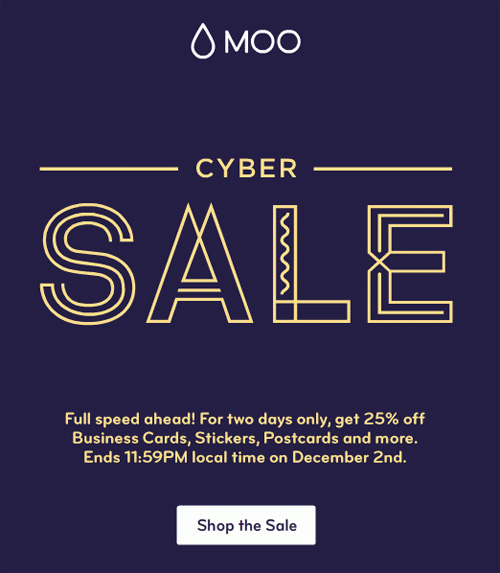 I always wait until Cyber Monday to order more business cards at Moo Cards. They did not disappoint this year, with 25% off business cards, stickers, postcards, and more. Super high quality cards that will impress your business associates (haha)!
This sale ends at 11:59 pm on Tuesday, December 2nd.
Amazon
BEST FOR: your non-sex toy purchases, because you love me.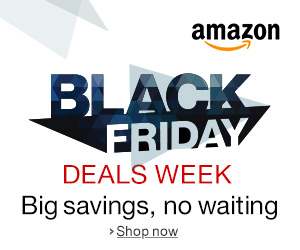 If you're shopping for non-sex-toys at Amazon this weekend, might I gently nudge you into using my affiliate link to do so?