I don't know if you've heard: I love my LELO Mona 2. So much that I yell things like "THE MONA IS WHAT GOD WANTS TO BE WHEN HE GROWS UP" when I'm drunk. So much that I have nightmares about LELO changing it. So much that I rush to comfort it when it falls off my nightstand.
"Obsessed" may be a word that describes how I feel about that vibrator. The Mona is the only sex toy I take on trips. I force shops to add it to their inventory. I subtly push people toward it in my job on the floor of a sex toy boutique (my current record is within 20 minutes of opening). One time I had it immortalized on my fingernail; another time I named a stray cat after it.
Yes, there's the Eroscillator, Touch, Hitachi, Mystic Wand, and Wahl, and I love all of those too, but none of them offer the versatility that the Mona does. None of them have the tapered tip shape that slides between my labia so perfectly, the range of vibration intensities that suit my clit's any mood, the charge that… sometimes lasts long enough…
Okay. The word "Mona" is mentioned 261 times in my Twitter archive, and I'm trying to get #DumpHimBuyAMona to catch on, but the fact of my Mona dying in the middle of a jack-off session is definitely A Thing I Tweet About. A Lot. Although my Mona has a run time of 2.5 hours, I forget to charge it in between sessions and then this happens:
Well, peeps, all of that white whining is a thing of the past. Thanks to friends in high places, I now have not one, not two, but THREE Monas. One in each color. I literally own an entire set of one sex toy. 10-year-old My Little Pony collector me is losing her shit right now.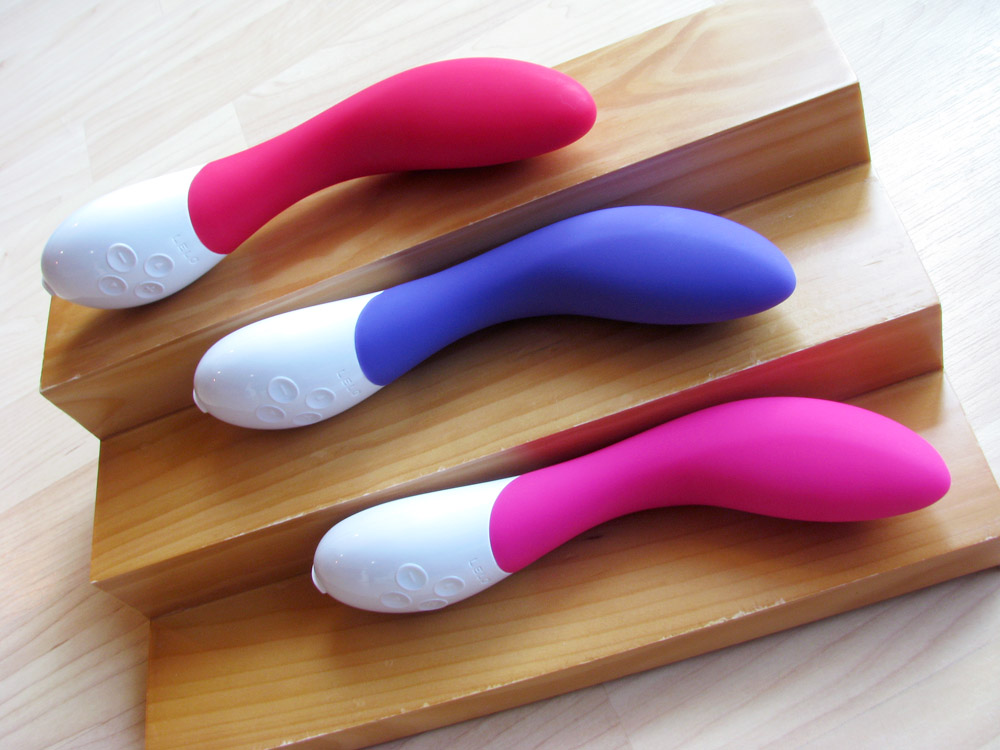 And finally, the dream I penned in my review became a reality: I have double-teamed with one Mona in my vag and one against my clit. I'm pretty sure angels sang.
Lest you deem me a lone lunatic, others also feel quite strongly about their Monas and many have reviewed it VERY favorably. People who are not me have made shrines to it and crafted mini Monas out of fondant. When I hang out with other sex bloggers, we have Mona parties and bring Mona to orgies. (">What color Mona 2 do you want to use?" is now my line.)
I know a few people who don't love the Mona, but I still find it in my heart to be friends with them.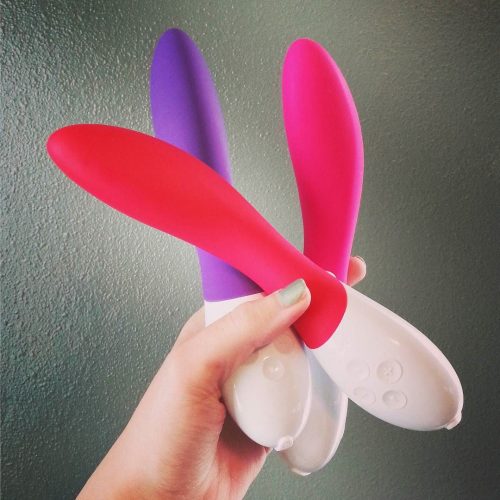 I'm trying to remember if I own any other "back-up" toys. I have 2+ of the Duet, Ola, Gigi, Mia, Hitachi, Touch, and Tango, because they were each updated. I have two Wahls because people kept telling me their Wahls were loud and I needed to investigate.1 But I believe this is the first time I have owned several of the same toy with the explicit purpose of having back-ups in my times of need. And it is so, so awesome.
The only way this new system can fail is if I use two Monas simultaneously and deplete both of their charges. Then, oh horror of horrors, I will only have one fully-charged Mona to use. Thank goodness they charge quickly.
Get the Mona 2 at one of my fave places:
LELO, SheVibe, Early to Bed, Babeland, Spectrum Boutique,
Come As You Are (Canada), or Lovehoney (international).