They've figured us out, guys. THEY KNOW. People… actually… use… vibrators.
The newest model on the shelves is the Tri-Phoria, created by the condom company Trojan after a study the company conducted in 2008 in partnership with the Center for Sexual Health Promotion at Indiana University revealed that over half of American women had used vibrators, and of that group, nearly 80 percent had shared them with their partners. James Daniels, vice president for marketing at Trojan, said: "The idea really came from consumers. They kept telling us vibrators, vibrators. And we just laughed. And then we realized they were serious."
How could I resist trying the device born of such a revelation?
And while I was at it, I thought, why not try the other two attempts at "real" vibrators made by Durex and LifeStyles? All these companies make disposable crap that takes terrible batteries (these ones are easily sniffed out by locating the refrain "20 minutes of quivering pleasure" on the packaging), but I'm not selfless enough to try those.
So I'll be tackling the non-disposable offerings, just in case you are ever wandering the drugstore aisles in a small town, desperate for something that vibrates — and doesn't die when you need it most.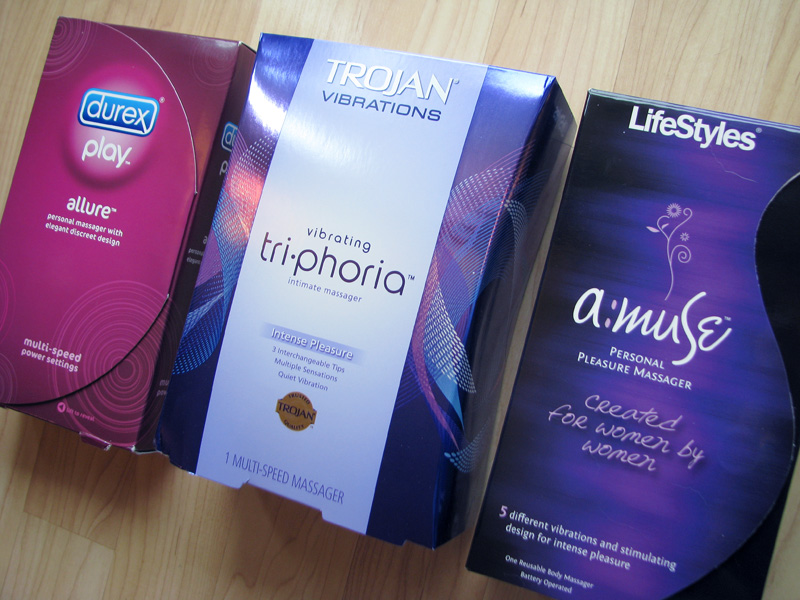 I corralled the Trojan Tri-Phoria, LifeStyles A:Muse, and Durex Allure, and once I was able to tear through the packaging, tested all three.
They all come in fairly inoffensive packaging. Durex and LifeStyles' boxes have flip open covers and peek windows to show you exactly what the enclosed toys look like, but Trojan doesn't. I'd say LifeStyles' box looks the least like something you'd find under florescent lighting. It also proclaims the toy is "created for women by women." This will become ironic later.
All toys come with batteries included, saving you a trip to the battery aisle. Get some ice cream instead.
I'm sure their study also told them that 80% of women flock to the color purple like mindless zombies?
Trojan Tri-Phoria
The Trojan Tri-Phoria has the most hype. And you know what that means — terribly-acted late night commercial! If you watch nothing else of this commercial, at LEAST skip to 0:45. You'll be glad you did.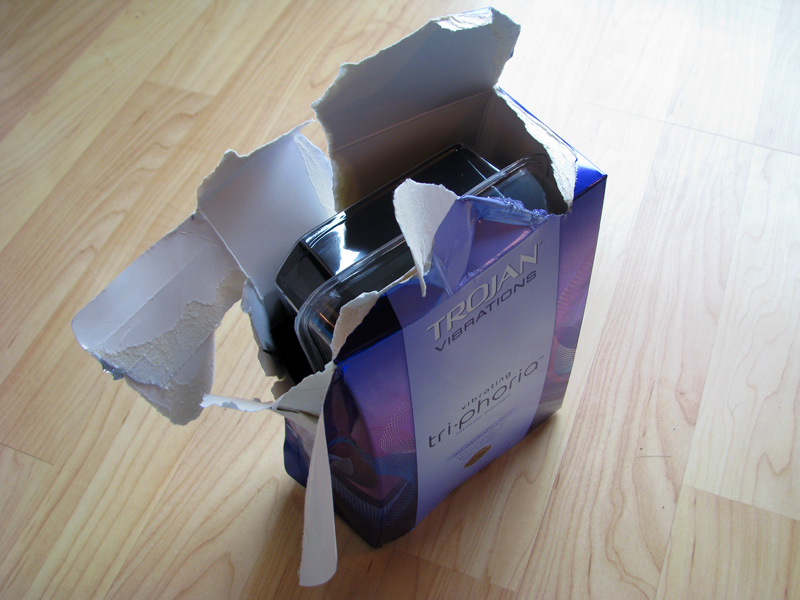 The Tri-Phoria's box did not want me to open it in this lifetime, AS YOU CAN SEE. And its instructions are hands-down the worst of the three. They unfold in a stupid manner, the text looks like a flood warning or something (seriously, every section is prefaced with a PRECAUTION about something, like that this vibrator will not protect against STIs or pregnancy), and the language is clinical. This vibe comes with a black satin bag with purple lining.
The design of this toy is weird. The base is wide and rounded, so it can't stand up on its own, and I do not find it ergonomic to hold. It takes a mere one AA, so I have no idea why the base is so chunky.
The Tri-Phoria comes with three interchangeable tips — two made of silicone, one made of hard plastic — that screw easily onto the end of the toy. The marketing explains that "the three tips imitate your favorite sensations — firm pressure, tongue-like flickering and gentle focused stimulation," which I feel is ACTUALLY ALMOST TRUE (minus the tongue thing and the disconcerting lack of an Oxford comma). The bumpy plastic tip is for folks who like pocket rocket style tips, while one silicone tip is for general pinpoint stimulation and the other is flatter and milder. The bumpy tip is too harsh for me; I like the flat one the most.
The Tri-Phoria has five vibration strengths and several patterns. I was flabbergasted to feel the strength this thing put out, and a bit embarrassed at how much I liked it. It's… almost deep, at least compared to the others. Unfortunately, it's also loud, but all three of these vibes are.
The only real problem is that the buttons are hard to press and you have to cycle all the way down through the settings to turn the thing off. Who the fuck decided that was a good idea?
At $47, the Tri-Phoria is the most expensive vibe in this round-up.
LifeStyles A:Muse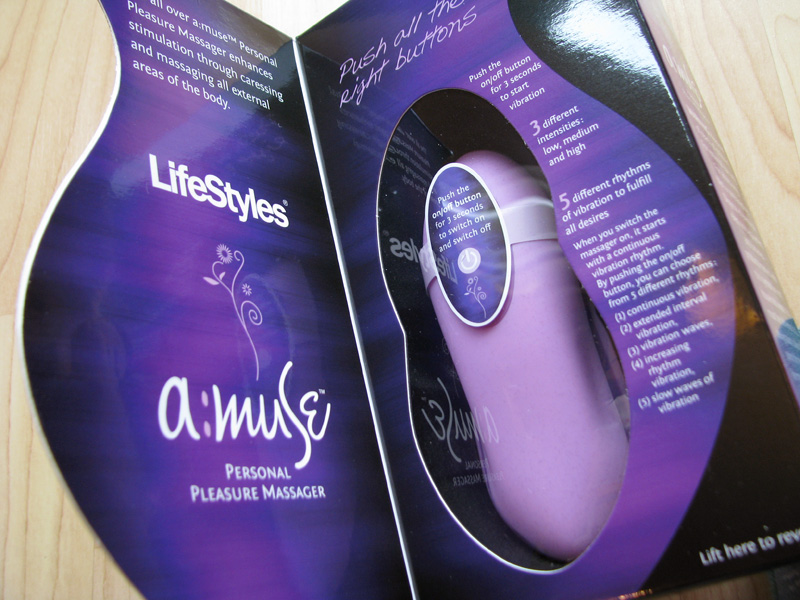 Did they just really like the fact that the word "muse" is embedded in the word "amuse"? Why not just name the vibrator "Muse"? "A:Muse" is incorrect anyway, as there is nothing funny about a badly-designed vibrator. (Okay, that's a lie.)
For $36 you get a purple satin storage bag, 2 AAAs, and a toy covered in black fuzz from the packaging. The toy is made with velvet cote plastic and is IMPOSSIBLE TO OPEN. I have to pry it open with some random object on my desk… or hand it to my boyfriend, who can open it in .5 seconds. Story of my life.
Turns out, you're supposed to use the smaller end of this amorphous blob. That's where the vibrations are concentrated, although the word concentrated makes it seem like they are perceptible, which they barely are. You can hear them more than you can feel them. There are a lot of patterns and that's cool I guess, but this is easily the weakest vibrator of the bunch. And holding it is not ergonomic in the least — the edges dig into my skin.
Congrats, A:Muse, for having the stupidest name, the most idiotic battery compartment, the weakest vibrations, and the most misguided street cred ("created by women" — are you sure? Were they women who have had lobotomies?).
Durex Allure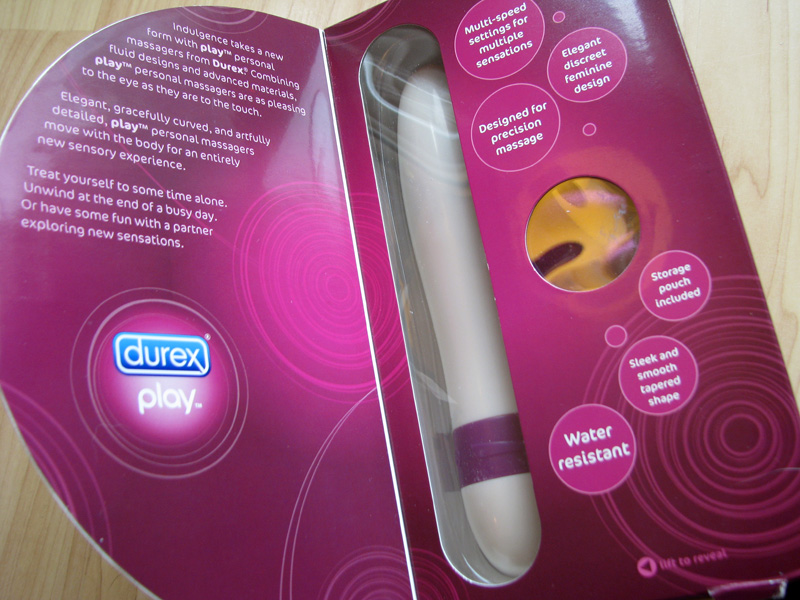 This is not Durex's first vibrator, but it is their first non-disposable one. In fact, as a young chap I tried their (now discontinued) finger vibrator. I wrote, "The vibrator's lifespan was 35 minutes. With the very low bar set at 20 minutes, I guess this was an accomplishment."
Perhaps it's unfair to have an insertable vibe in this round-up, but since Durex doesn't make a clit vibe, it'll have to do. The Allure is $31, comes with a purple satin bag and one AA, and looks fucking ancient. Its design is described as "elegant discreet feminine." No. It looks like it's from 1985. That cream color is not cool anymore, guys.
The vibrations are obnoxious-sounding and buzzy, but they're not too terribly weak. I could get off on it, but — as is often the case when I start a sentence that way — I don't want to.
Internally, it's a joke. This shape just does nothing for me. When I asked my boyfriend which of the three vibrators he thought I liked best, though, he chose this one. Why? Because I used to use my Turbo Glider a lot. Apparently his perception of my tastes is also stuck in 1985.
In conclusion…
The Allure and A:Muse are worthless. Yes, they are cheaper than the Tri-Phoria, but you don't want either of them. I guess the Allure could do in a pinch, but I wouldn't recommend it.
Despite the Tri-Phoria's obnoxious packaging, shitty controls, and awkward manual, it was easily the most pleasurable toy. The amount of stimulation it provides on a single AA is admirable, and the vibrations are the most deep. Even the attachments aren't stupid! This is a toy I will actually keep and use, which is not something I expected to come out of this experiment. I'd almost even suggest it for non-desperate times, if you can get it on sale.
Otherwise, next time you're in a pharmacy in the middle of Buttfuck, Arkansas and you see these toys in their natural environment, remember that the Trojan Tri-Phoria is the only one worth buying. (Unless, of course, you're staying with your in-laws and worried about someone walking in on you, because turning that toy off is a bitch.)
Fistbump to Trojan, though, for their commercial depicting a guy letting out a super hearty "SWEEEEET" when his fiance acquires a vibrator. Bro, your excitement is commendable.