Content note
: this post contains mentions of James Deen. I no longer support
him or his work
.
November 17th, 2009
I watched a threesome scene in The King of Coochie 4, with Sasha Grey, Sunny Lane, and Tom Byron. Sasha and Sunny were great, but wow, Tom is a creeper and a half. Things that I am entirely certain need to be outlawed in porn (all of which were present in this scene): fake eyelashes, shitty pleather couches, dudes with goatees, dudes with pot bellies, dudes who grunt like cavemen, and this face: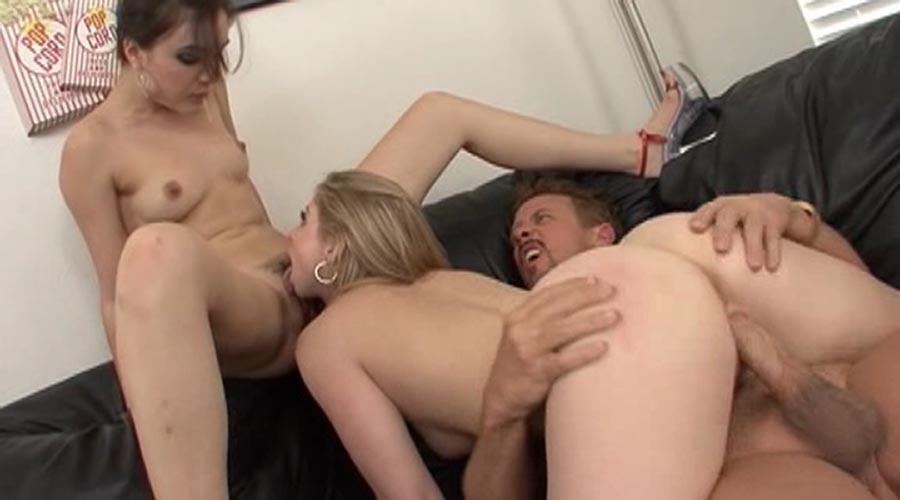 My orgasm came out of nowhere, before I could even click up to level 3 on the Eroscillator. I think I get off on creepy guys being turned on by two hot chicks kissing. Sadly, that sentence was not a joke.
November 18th, 2009
This was a showdown. Epiphora versus Randy, part two. I had tried Randy once before — my vagina screamed in pain and would not allow it to stay in. I was a little wary to try again.
As I slowly made my way through too many toys of increasing girth (Goddess, Mr. Man, Seduction, Candy Stick), I watched Kristina Rose is Slutwoman. Mainly a threesome scene between Ms. Slutwoman, James Deen, and Mick Blue. It was one of the better DPs I've seen, since neither of the guys are toolboxes. Eventually I could no longer prolong the inevitable, so I reached for Randy and not so delicately pushed it into myself.
Ow, ow, ow. But I wasn't going to give up this time. I was going to conquer the pain; I was going to model through it. And eventually, Randy's hugeness felt delicious.
With the Eroscillator on my clit, I brought myself to what I thought was going to be a normal clitoral orgasm. It wasn't. My vagina pushed Randy out as I came, and then proceeded to squirt all over the floor. I don't know what happened, but it was awesome.
November 22nd, 2009
So what if I watched The Sex Files: A Dark XXX Parody having never seen The X Files? Evan Stone is in it (and sporting his new preppy short hair), and so is my love, Kimberly Kane. Kimberly's scene at the very end (bet you can't guess who she screws!) was a little too romantic, so I moved on to Bitchcraft 2.
My scene of choice featured Sinn Sage, Sasha Grey, and Sandra Romain. I'd never heard of Sandra Romain until recently, and she's not especially attractive to me, but she's a freaking expert at dirty talk. And her slightly broken English — "make her fucking asshole to be wet" — is both amusing and endearing.
Made my way up to Randy again. Squirted again. Was hooked.
November 27th, 2009
I watched a little porno called Peep Show 4. All that matters is that a chick was licking James Deen's butthole. Why doesn't this happen way more often? Why isn't there a movie dedicated to this? Unsurprisingly, I came very quickly.
November 28th, 2009
Where to begin with this jack-off session. It began with a shitty porno by the name of Deep Impact, which I was only interested in watching because it features up-and-coming Thai and British pornstar Keni Styles. I wanted far more actual talking than there was, although the phrase "wank that cock" was pretty amazing.
The thing is, I ended up having three orgasms in one sitting, which is definitely a record for me. I don't know why I felt compelled to keep going each time, but I did — first with the Eroscillator on my clit, then the Fairy Mini Mini, all the while with Randy inside me. By the end of it I was sweating profusely, no longer paying attention to the porn (?!), and my left hand was permanently bent downward in a dildo-holding position. I needed some serious nourishment after that.