June 6th, 2010
Here's a little secret for you: I've been jacking off to words lately. I know, blasphemy. I usually hate erotica. I generally don't fantasize. I prefer graphic depictions of genitals going into other genitals. But this particular fiction — a slash pairing which is morally objectionable on more than one level — is hot to the max. This one little smut scene involved squirting. Mmm.
I've also been spending several jack-off sessions comparing the Vixen Johnny with the Maverick. Finally, I think I've figured out the difference. Unfortunately the only word I can think to describe it is that Johnny is meaty. WTF, brain? Are you trying to write disgusting erotica?
Also, dual orgasms are the story of my life now. I found my NuvaRing on the floor afterward. Oops.
June 8th, 2010
Needing to do more "research" on the sensations of the Pure Wand, I jacked off for over an hour in a drunken daze. Those words are important: drunken daze. Reading the same several paragraphs over and over more times than I want to admit, I fucked myself endlessly with the Pure Wand whilst holding the Eroscillator on my clit. I squirted whenever I felt like it (a lot), brought myself to a clitoral orgasm, and only stopped to pick up the Wahl and carry on.
Eventually the body of the Wahl got so hot that I was afraid it was going to die on me. Yet still I continued, chasing another clitoral orgasm. It took forever, but I busied myself with squirting episodes. I don't think I've ever squirted so much in a single session.
The next morning, I found a huge puddle on my desk chair, still wet. Apparently the Throw, which I had haphazardly bunched under me the whole time, wasn't covering it completely. I also found my NuvaRing nonchalantly sitting on my desk, like a present from my drunken self, despite having absolutely no recollection of fishing it out of my vagina and setting it there the night before. Classy.1
June 14th, 2010
Sasha Grey is opposed only to "shit, animals, and children." I know you were wondering. I watched her scene with Belladonna in Fetish Fanatic 4. The scene was hot as hell, but let me use this space to gripe about one thing. I absolutely do not understand the appeal of choking on gross dildos in porn. This makes no sense to me! At all! In fact, it infuriates me when it has to come in and bombard my eyes during an otherwise extremely hot scene. Case in point: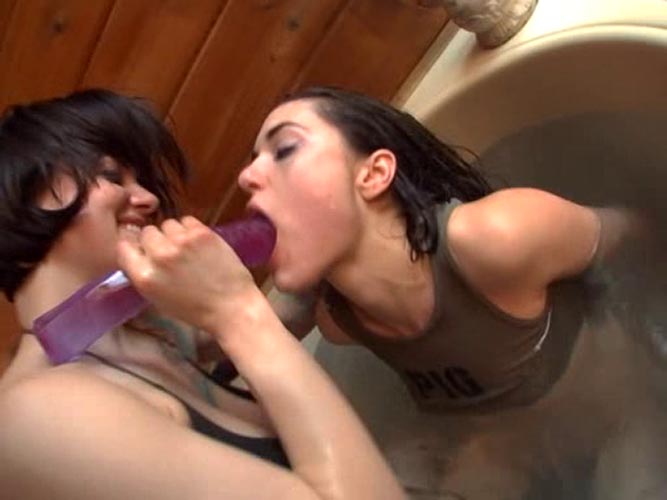 Like, really? Disgusting purple jelly dong of doom? That's all you could find to stick down Sasha Grey's amazing throat? I'd be into throat-fucking with a dildo that is actually sexy, like Maverick, but this is just… the point at which I skip forward in the porn.
June 15th, 2010
This is the day I received the Je Joue SaSi — you know, oral sex simulator wondertoy of the decade? So forgoing my usual masturbation schedule, I jacked off mid-day, while my friends Elodie and Outspoken Clitic chatted it up in a Meebo room on my secondary monitor. I kept getting distracted by reading the conversation. I'm a creep like that.
As I jacked off, I watched a dork receive a blowjob in Delinquents…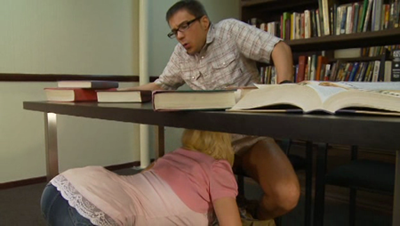 …but nothing could tear my brain away from the sheer anger I was feeling toward the SaSi. When I finally achieved orgasm, AN HOUR LATER, it was weak and short-lived. I stuffed SaSi in a corner and marched over to my boyfriend. "I'm so pissed," I said.
There was another masturbation session after this in which I again rolled my eyes at SaSi's sensations, but it's too boring to write about.
June 23rd, 2010
The day of reckoning. I had the Njoy Eleven in my possession. I was terrified to use it. I kinda stared at it for a while. Then I watched My Own Master, warmed up with the Luxotiq Isis, and hesitantly inserted the small end of the Eleven in my vagina. It went in… easily. But to my shock, I was not immediately in love. As a sort of joke to myself, I decided to try to insert the large end (which is 2″ in diameter, FYI). Fully expecting sharp pain and failure, the large end… also… slid into me… pretty easily. Yeah, let's just say I've started a blog post entitled "My vagina is a black hole."
That's all I have to say on the subject of the Eleven. For now. I must do more "testing."