June 16, 2016
Gold-star multi-tasking today: I alternate between jacking off and watching just-released Big Brother cast interviews. (I have to form judgments on the contestants for a fantasy league I participate in, because I have quality taste in both television and extracurricular activities.)
I'm flipping between the LELO Siri 2, LELO Lily 2, and We-Vibe Touch in order to answer an email about how they compare… and you know, blasphemous as it is to say, the Lily 2 is a pretty solid toy. It has a much more robust motor than days of old, so it's even a bit more powerful than the Touch — more vibration in my fingers, though.
June 22, 2016
8 a.m. I'm awake, unfortunately, lying in bed, having spent the past several days plagued by a brutal stomach bug, too wiped to eat, masturbate, or think about either of those things. I only have the energy to trudge to my office, swipe the Tantus Rumble off my desk, and bury myself back under the covers. It's hard to focus. My brain is sabotaging me with petty thoughts.
I wish the vibrator wasn't touching my thigh.
Why is the fan making that weird noise?
I should take more Pepto Bismol.
I stuff a pillow over my face and pretend someone is holding it over me, commanding me to come for them. That helps.
June 30, 2016
The sickness from hell is finally over and I can get back to my regularly scheduled masturbation, complete with PORN! This time, Nina Hartley Unscripted, the scene with Nina, Penelope Stone, and Gigi Allens.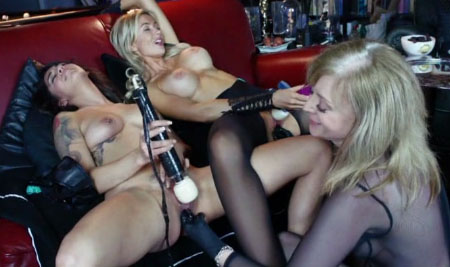 Nina Hartley is a national treasure. She fingers both people at once, purring, "you guys feel like velvet." Penelope squirts and Nina intones, "right on." I want to hire Nina Hartley to narrate my masturbation sessions.
July 13, 2016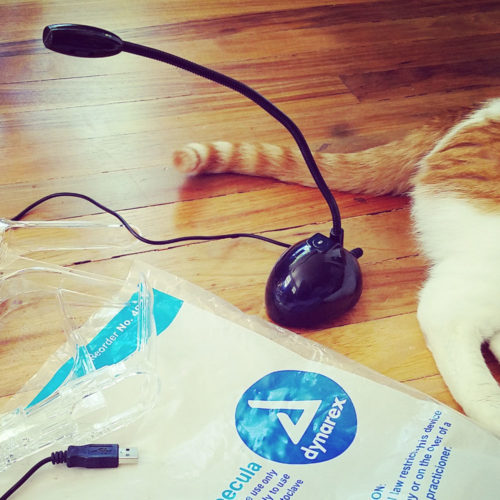 The future is here. Today I use a USB mic to dictate notes during masturbation… and Google Docs keeps up surprisingly well! I'm not sure if this actually saves me any time, but it keeps vag juice off my keyboard and makes me feel like a sportscaster, so I'm down.
I'm testing the Doxy Wand and Doxy Die Cast. On my fourth (?), most difficult to achieve orgasm, I moan in an unnatural manner that sends spit the wrong way down my throat and causes me to cough mid-orgasm. I don't recommend this. Learn to breathe and moan correctly. It's good for you.
July 20, 2016
Also, don't cough while a dildo is sitting unattended in your vagina. I watch the toy SHOOT OUT OF ME and onto the floor. For a brief moment, because I'm a monster, I consider just shoving it back into my body, but then I remember the woman with the ball of cat hair in her vagina and think better of it.
October 6, 2016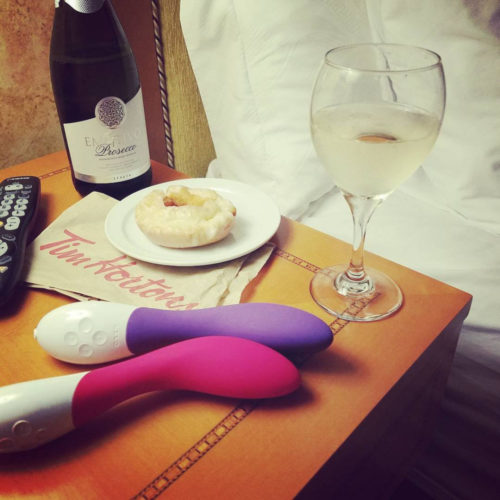 I am all alone in Vancouver, Canada. I drove here to see Tegan & Sara, but that was last night. Tonight, on my walk back to the hotel, I grab a donut at Tim Horton's and a bottle of prosecco at a fancy wine shop. Then, I set my Monas on the nightstand and spread myself out like a starfish on the huge, soft bed.
There's nothing notable about this masturbation session — or, perhaps, that's what makes it notable. I'm not testing anything; I didn't bring any other toys. I'm masturbating purely for the pleasure of it. For myself only. For once.
October 20, 2016
Today I lug out my space heater for the first time this season and point it at myself while masturbating. It feels so luxurious. Masturbation IMPROVED.
I watch a new scene from Crash Pad, Chelsea Poe and Eden Alexander. For a sec I am distracted by the adorable typewriter in the background…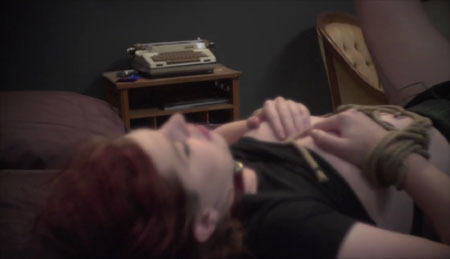 …but then I remember how sexy Chelsea Poe is and how much I want her on top of me. At one point, Eden says "you're my best girl" and I immediately think "Cora" because I'm a fucking nerd still stuck in 1997.
January 25, 2017
How many ailments can I pack into one Jack-off Journal? Many, apparently. Every time I come today, my throat is all gurgly and I have to clear it mid-moan, mid-orgasm. I would like to publicly state that this is a scourge on my orgasms.
January 27, 2017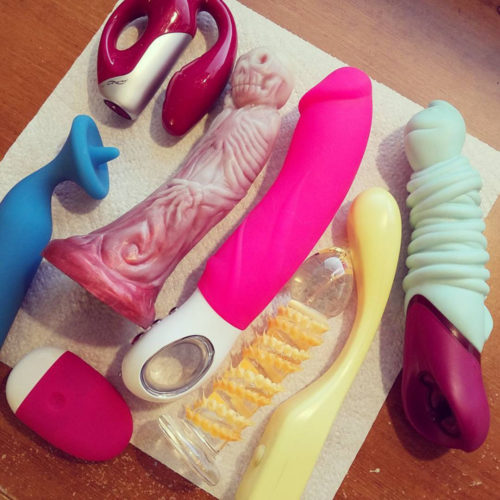 Sure to be a jack-off sesh for the history books, I set out an assortment of strange sex toys from the past to try anew, curious to see if my opinions have changed.
I dig into the archives for my porn, finding Red Hotz (yeah, with a z!) starring Justine Joli and Sarah Blake. The scene is both very purple and very male gaze-y. Both performers keep holding eye contact with the camera in a totally unnatural way… and shit bro, it's pretty hot. I have a thing for being treated like a creeper.
I make many observations about my masturbatory tools:
Next up is Skin, starring the fabulous Skin Diamond in an intense double penetration scene. Am I the only one amused by watching dudes maneuver themselves during DPs? Only one guy can go wild with ramming, while the other has to just sit there with his dick inside someone, waiting his turn. Or, in this case, being squished.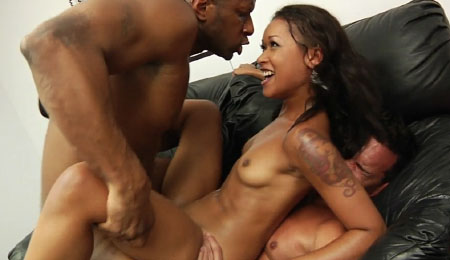 Also, CHECK OUT THIS DUDE'S TATTOO.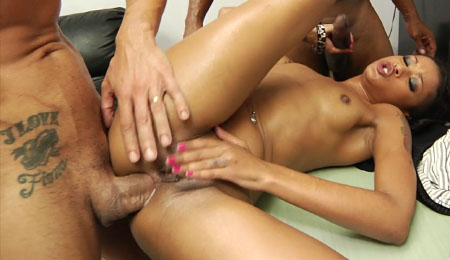 I have no doubt he loves Fiona, but maybe he should not have put that sentiment right next to his cock?!
Afterward, I hop on Periscope to debrief about my session, and in particular am delighted by the reactions to Benjamin Bond, a toy which really gets stranger the more you examine it ("he will be leading the charge when sex toys become conscious," one viewer mused).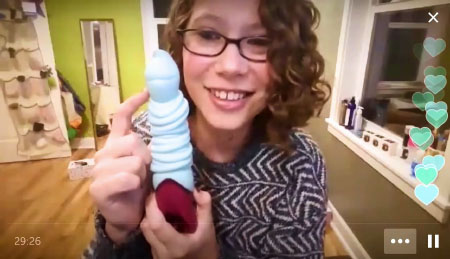 We collectively re-name the toy "bondage marshmallow worm," so if you ever want to interview him for a documentary, put that title under his name please.
February 15, 2017
OH MY GOD, I AM WATCHING A GUY FUCK HIS OWN ASSHOLE WITH HIS OWN DICK.
And I am. Really. Really into it.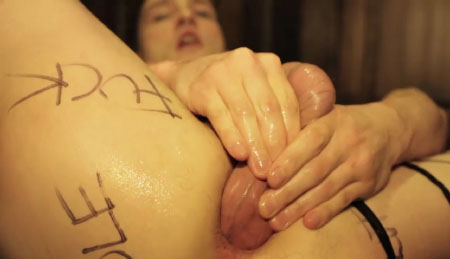 Bless this video. Bless queer porn. Bless radical, boundary-pushing people. I don't know why seeing this act is making me misty-eyed, but it is. It's just so beautifully subversive.
March 13, 2017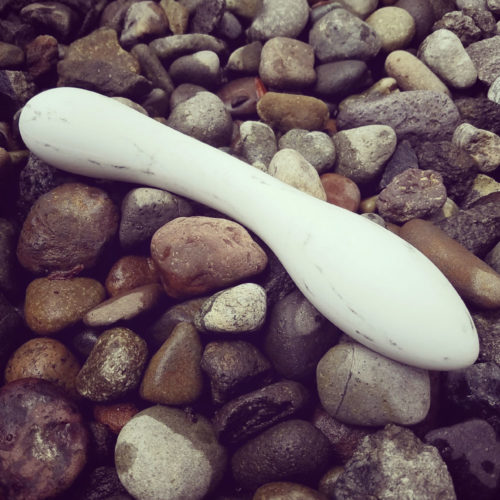 Band practice tonight and the house is full of dudes. I have to lock the cats in my office with me so they don't sneak outside during porch breaks.
I'm using the Dalia, a porcelain dildo, which I want to love because it's gorgeous but can't because it's too small. I wish I could send this dildo back in time to me of 2009. She would've appreciated it more.
I've stumbled upon an extraordinary porn scene, though. In a movie called Spit, Katie St. Ives and Tommy Pistol are ravaging each other. She chokes him (ugh, yes, more ladies choking dudes in porn 2017) and then this feat happens: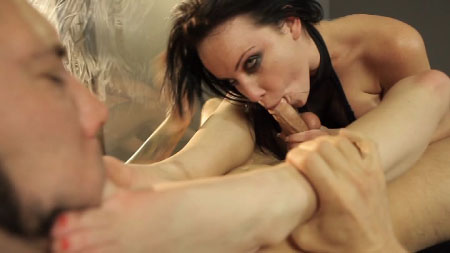 The direction for this scene probably did not say "twist yourself into a pretzel and eat your co-star alive," yet they did. They went there — and it's transcendent. I hope both were paid handsomely for this performance.
April 14, 2017
I'm watching The Waltz from Lucie Blush and everyone is gorgeous and the lighting reminds me of furtive high school making out and Mickey Mod is wearing a hoodie and glasses and he's kissing someone with his hands around the back of their neck and I can't handle it and I need his tongue in my mouth like now.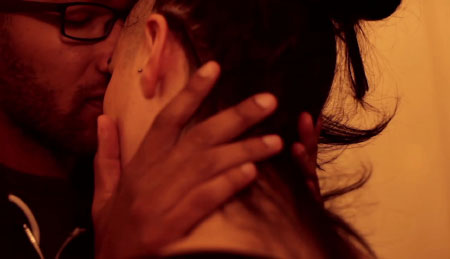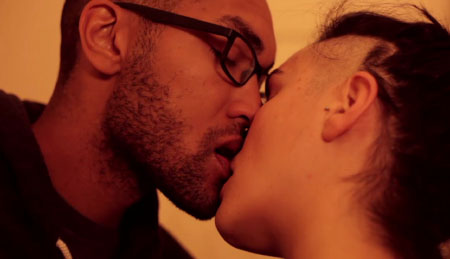 But then, 5 minutes pass and I realize: the music is not dissipating. I cannot hear the performers at all. Fuck. That's why this film is called The Waltz.
Sexual frustration is coursing through my veins, and it's compounded by my dildo of choice: the new Tantus Vamp Super Soft. It's just too soft. I clench it and feel vaguely like my G-spot might be in the same room as me. It is… insufficient, just like this porn is becoming.
Sneaky Boris interrupts my session twice: once by dislodging the power cord from the back of my computer, once by flipping the switch on the power strip. This cat!
I want moans. So badly. I keep watching, hoping they will materialize. Clearly this porn is for me alone and it is outrageous that I am not being personally catered to! I switch to the Fuze Ultra, which is at least firmer than the Vamp. I orgasm in protest. The orchestra flourishes.