April Fool's Day has whizzed past us, and sadly for you, I have now wrestled back control of this blog and social media accounts from my sneaky band of felines. I took a short time off to do my taxes, get a manicure, book my flight to Woodhull (!!!), and change a thousand affiliate links. Now it's back to human-powered rants and boring mid-masturbation tweets. Ho-hum.
This was my 8th year doing an April Fool's Day joke on my blog, and still, it is one of my favorite things to do each year. It's a great time for me to LET LOOSE and do something weird that appeals to me. A brief history of my jokes:
This year, I tasked myself with answering the question, if my cats took over my website, what would they do to it? One thing was clear: the cursor needed to be a red laser pointer dot.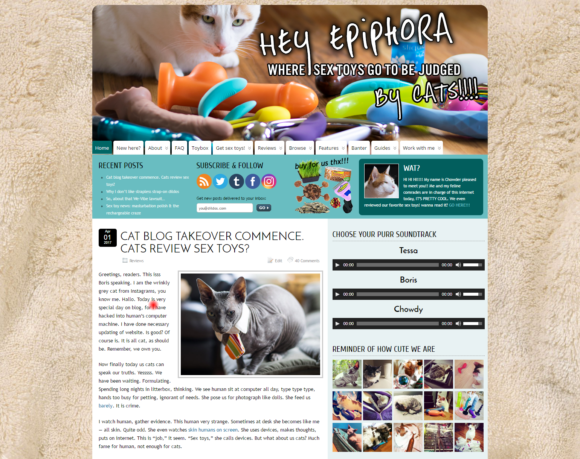 My cats would write something, for sure: a review of their favorite "sex toys." Boris would be the mastermind and lover of all warm objects. Chowder would deem the plastic packaging the most valuable part of my sex toys. Tessa would refuse to choose one toy, deeming all of them equally profane. Then, the site design needed to change, and I needed to get into the feline mindset. From finding the perfect fleece background image (it was harder than you'd think…) to tweeting in my cats' unique voices, I spared no detail.
I quickly realized why I would never want my cats to be too internet famous. For example, I thought shooting a sex toys + cat photo for my header would be easy as pie, since Chowder likes to involve himself in my photography sessions anyway. But of course, his idea of "involvement" was more like this: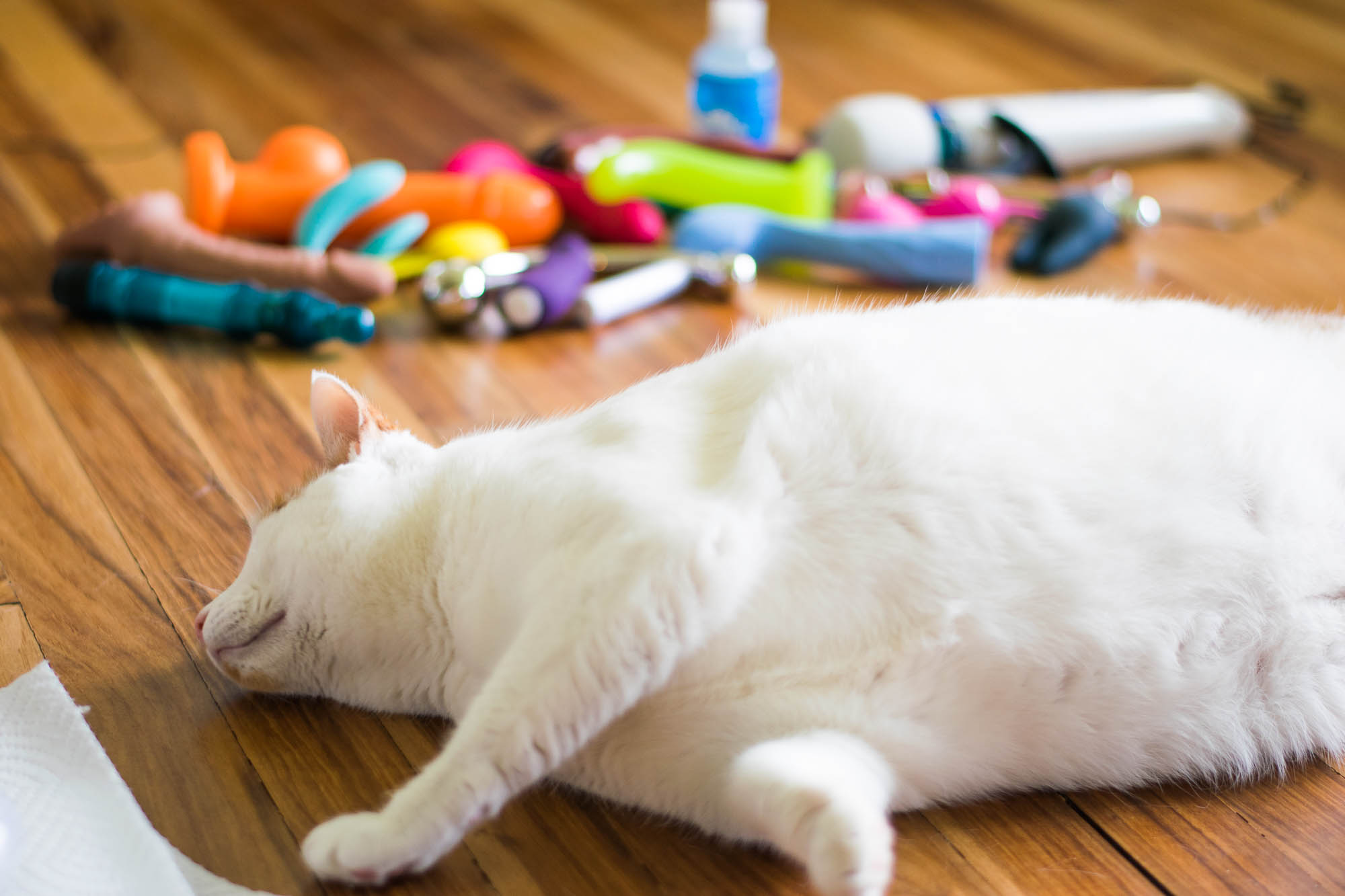 You can't orchestrate a cat. You just can't. I had to give him a twisty tie to get him in the right spot to snap an adequate photo.
Under the header, I added a banner linking to products my cats love, which was a cinch to populate because apparently my cats are needy mofos. The freeze-dried minnows are their absolute favorite treat, and the Furminator and cat litter dash button are essential to my survival as a cat owner. I was even able to find Tessa's favorite toy by googling its hilariously memorable name, "Daddy Pompom." (If that doesn't sound like some sort of wild sex thing, I don't know what does.)
In the sidebar, I wanted to embed each of my cats' purrs for everyone to enjoy while perusing the site. Boris' was most difficult to capture, since he rarely gets out of bed and my boyfriend's recording equipment is downstairs. I had to lure him with a fleece blanket. And yes, Chowder's is less of a purr and more of a heavy breathing, because he's a freak.
Tessa
Boris
Chowdy
Also in the sidebar, the cats shared some links, such as Advanced Cat Yodeling and Scientists Confirm That Cats a) Are Pretty Smart, b) Don't Really Care What You Want. The blogroll, named "Cats we would not hiss at," included Holiday & Mickey, Bug Naked, Cat ebooks, Moshow's cats, Tama, and many more.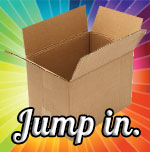 Perhaps the most enjoyable part for me was designing all the sidebar ads. I cracked myself the fuck up creating this ad for a cardboard box, especially when I added the emboss effect and the hover text "Four walls. One lid. No rules."
Next up? The "HOT NUDE FELINES" advertisement, which got better and better as I added blinking pink text and lens flare. Tessa, ever the self-righteous queen, was deeply offended by the ad.
Finally, I couldn't resist the opportunity to feature a handful of sex toys inspired by cats. There really aren't enough of them, and can we talk about how CATS DO NOT COME IN THE COLOR PINK? Let's get some more realism in our feline-inspired sex toys!
At the end of the post, my cats asked fellow cats to post in the comments section, and y'all DELIVERED, with photos as well as grammatically incorrect ramblings — which my cats readily responded to. The best part was when I got an email from New York Toy Collective that was addressed to Boris, congratulating him and the other cats on the takeover. Success.
How'd you like the cat takeover? Which was your favorite ad? Favorite purr? Did you see any other good April Fool's jokes this year?