WARNING!



Adult content ahead!!!!!!
if u are offended by sex products do not scroll down!
















This is a review of a Marital Aid.
do u understand?
ok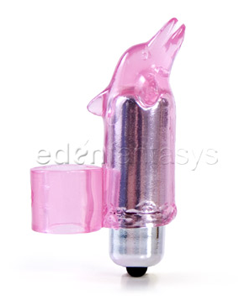 (LOL it took me 4ever to figure out how to add pictures!)
n-e-wayz…
I thought me and my hubby could use something special to spice things up as lately we've been not too sexy. well ever since the 8 babies, i've been REALLY not in the mood and hubby is always trying to get me between the sheets. on top of that i'm self conseous too so we always turn the lights out during our sexcapades. hehe. I think it's more romantic that way! like our wedding night !
anyway i thought this little toy (lol) was sooo cute when i got it in the mail (and yes i gave a wink to the postman haha don't tell my man) i mean what girl doesn't love dolphins??? i just love the silicone-feeling jelly and the baby pink color is my favorite ever!
so after some wine and a lot of flirting (lol I'm so bad), I got hubby to try it!!! he's so wonderful!! KEEP YOUR HANDS OFF HIM LADIES HE'S MINE!
Hubby says I looked super hot when he used this toy on me. it took him a bit to find my love button but once he got there WOW I was seeing stars!!! he even went south and to my backdoor, it was soo naughty. the best part was when he had the idea of using my red cherry dingaling on me at the same time. it was dark so i dont blame him for putting it in the wrong hole, lol.
after he finished and rolled over I even used the toy on myself without him knowing it! omg i felt sooo naughty and I hope he doesn't find out!
like i said this thing is magical! it's a matter of seconds, and I get to my happy place if you know what i mean 🙂 😉 It's also great for teasing the nipples! it's a great multiuse toy for beginners and advanced. ladies, I know your man might be intimidated at first but just reassure him that his manhood is unreplaceable. make him some chocolate strawberries or steak dinner or something hahaha.
Until next time LADIES!!! check back next week for a $5 gift card giveaway from Eden's Fantasies!!!!!