So, I pulled my most elaborate April Fool's Day prank ever this year. A faux Indiegogo campaign, sketches of potential products, a site re-design, a newsletter, a promotional video… even with the help of my partner in crime, Lorax Of Sex, it was an exhausting, delirium-inducing endeavor. But worth it?
I've become somewhat notorious for my April Fool's Day jokes, as has the internet in general. In 2010, I started with a bang with my Cherry-Scented Vibro Dong review coupled with a soul-crushingly ugly site design. In 2011, I wrote an ~*~*~*~* Adult intimate product review!! *~*~*~*~ and redesigned my blog into a mommy blogger nightmare. Last year I was more subtle, publishing a serious-sounding post about upcoming terrible blog changes.
This year, I wanted to go for the gold, and I roped Lorax Of Sex into joining me. I knew I wanted to do an Indiegogo campaign — it's the quintessential stupid start-up thing these days — but we weren't sure about anything else.
At Catalyst, it came to us finally and suddenly. It was so simple, so stupid, so legit enough to fool people maybe for longer than a second. It would be called the Joy Ride, a car seat cover with an O-ring in the seat. I squealed as I gleefully scribbled in Lorax's notebook, "NOW YOU DON'T HAVE TO COMPENSATE."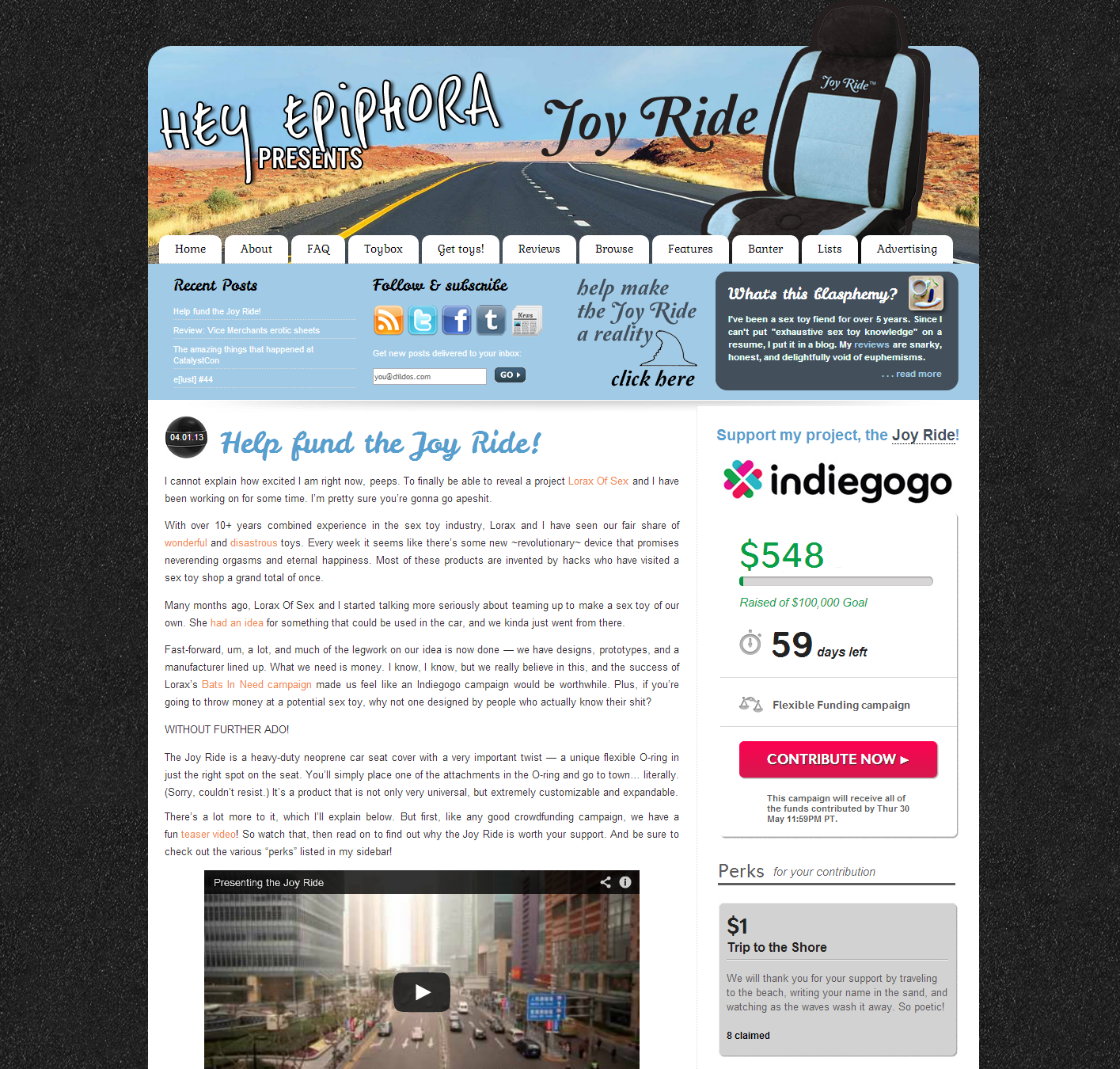 500 zillion hours later, there was this: a site design complete with asphalt background, a sidebar full of Indiegogo "perks," and a bunch of extra shit (video, newsletter, plus Lorax's post on the campaign) that I thought might make it seem like we were really serious.
It's absolutely impossible to find free stock footage of a woman driving a car, and writing a cliche script is hard — but the promo video still came out pretty great. Shira B. Katz is the lovely, pitch-perfect lady behind the voiceover in the video (thanks, Shira!), and my boyfriend will now forever be known as the king of the orgasm crescendo. I told him I wanted music that sounded like a tampon, yogurt, and minivan commercial all at once, and he NAILED IT.
The stretchy O-ring on the Joy Ride was taken directly from an image of a Spareparts harness, painstakingly Photoshopped by me onto an image of a car seat cover. And, as per usual for new and ~revolutionary~ toys, the Cog designs (drawn lovingly by Lorax Of Sex) were all direct rip-offs of other toys: the Rock Box "female" attachment, the Tantus Charmer, and the Vixen Creations Tristan plug.
Also, the Privacy Blanket idea came from my friend Sundae. Truly genius!
AND THE PERKS OH THE PERKS.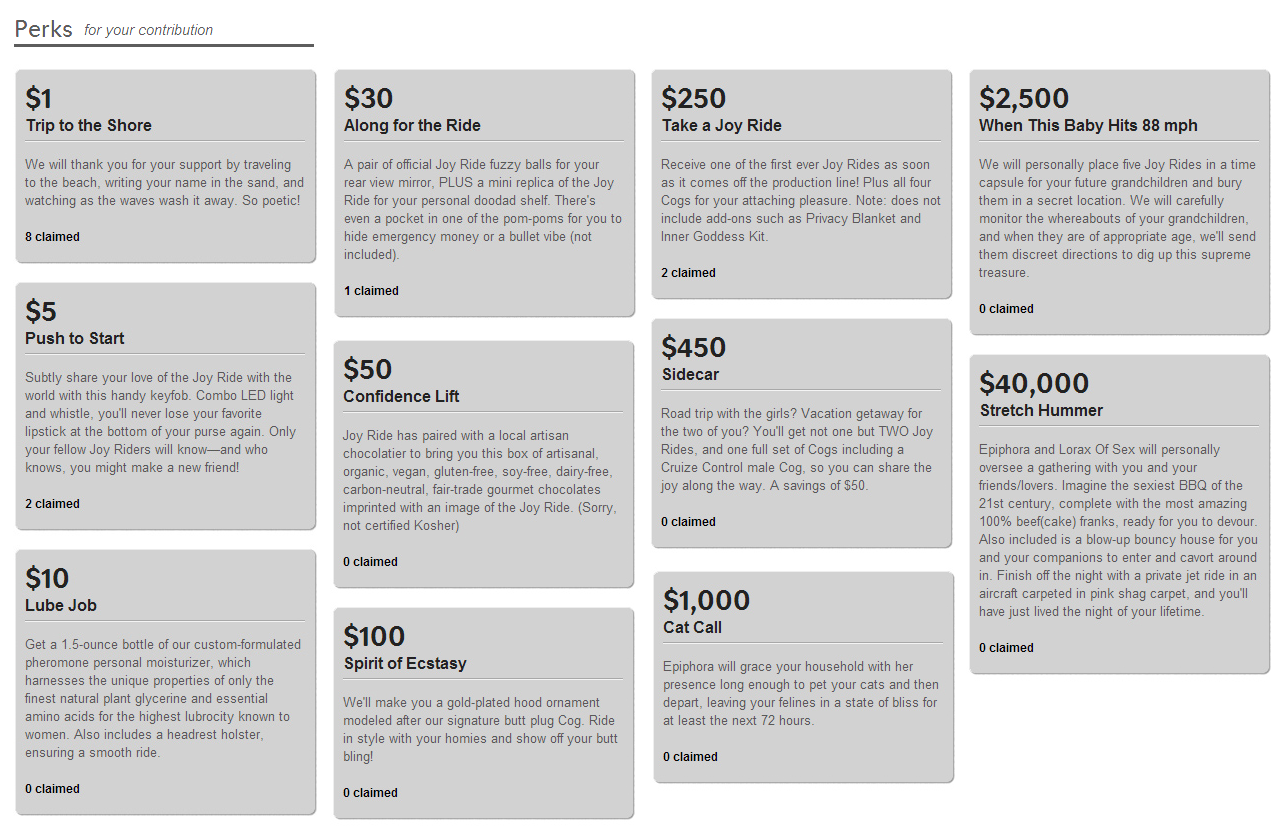 My favorite was this one, written by yours truly:
$2,500 When This Baby Hits 88 mph





We will personally place five Joy Rides in a time capsule for your future grandchildren and bury them in a secret location. We will carefully monitor the whereabouts of your grandchildren, and when they are of appropriate age, we'll send them discreet directions to dig up this supreme treasure.
I also really enjoyed riffing on Jimmyjane with the $40,000 Stretch Hummer perk.
It's seriously embarrassing how many hours I spent working on this. How I stayed up until 6 a.m. Monday morning, my back aching, to finish it to my liking, despite a sensation of impending doom that reminded me of college. My ideas are always far more grand than they should be, especially when it comes to silly things like this. I'm sad it only lasted one day.
But actually fooling people was, of course, the best reward. I cackled maniacally as I read the first YouTube comment:

And my favorite Tumblr reblog was easily this one:
why the fuck is this a thing that exists
Many people were quite worried about the safety of the Joy Ride. They asked "shouldn't you pull over first?" and "is it just me or does this seem a little (lot?) unsafe? Isn't using a cell phone while driving scary enough?" I couldn't resist continuing the joke via Twitter.

The best comment on the post itself was definitely this one:

Because I love that the 50 Shades of Grey reference was the breaking point. I just love that.
I'll admit, as the hours passed and I became less and less sane Sunday night/Monday morning (I may have even prolonged my cold by not getting enough sleep that night), the urge to actually collect money did rise. But I'm not quite that soulless. Instead, if you enjoyed the joke, click one of my affiliate links or one of Lorax's and get yourself something nice that won't cause car accidents.
What was your favorite part of the joke? At which point did you realize it wasn't real? Have I gone off the deep end with my April Fool's ideas?