I cannot explain how excited I am right now, peeps. To finally be able to reveal a project Lorax Of Sex and I have been working on for some time. I'm pretty sure you're gonna go apeshit.
With over 10+ years combined experience in the sex toy industry, Lorax and I have seen our fair share of wonderful and disastrous toys. Every week it seems like there's some new ~revolutionary~ device that promises neverending orgasms and eternal happiness. Most of these products are invented by hacks who have visited a sex toy shop a grand total of once.
Many months ago, Lorax Of Sex and I started talking more seriously about teaming up to make a sex toy of our own. They had an idea for something that could be used in the car, and we kinda just went from there.
Fast-forward, um, a lot, and much of the legwork on our idea is now done — we have designs, prototypes, and a manufacturer lined up. What we need is money. I know, I know, but we really believe in this, and the success of Lorax's Bats In Need campaign made us feel like an Indiegogo campaign would be worthwhile. Plus, if you're going to throw money at a potential sex toy, why not one designed by people who actually know their shit?
WITHOUT FURTHER ADO!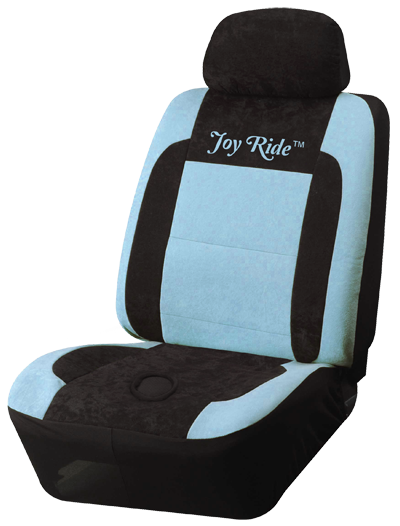 The Joy Ride is a heavy-duty neoprene car seat cover with a very important twist — a unique flexible O-ring in just the right spot on the seat. You'll simply place one of the attachments in the O-ring and go to town… literally. (Sorry, couldn't resist.) It's a product that is not only very universal, but extremely customizable and expandable.
There's a lot more to it, which I'll explain below. But first, like any good crowdfunding campaign, we have a fun teaser video! So watch that, then read on to find out why the Joy Ride is worth your support. And be sure to check out the various "perks"!
Concept and patent-pending technology
The Joy Ride is no ordinary car seat cover. It's made of waterproof PVC-backed neoprene, so your car seat will always remain dry throughout all your adventures. The padded headrest is made with a plush, pillowy material, perfect for those times when you want to just park the car, tilt the seat back, and get it on. The Joy Ride also features a discreet and sizeable pouch on its underside for the storage of its attachments and other sexy accoutrements.
The O-ring is unlike anything you've ever seen before. Stretchy and elastic when needed, it conforms to the shape of the toy placed inside of it within seconds. One size fits all! Any toy from .25″ in diameter through 3″ in diameter will fit.
Cogs (attachments)
Perhaps the best part about the Joy Ride is how how endlessly customizable it will be. We've come up with a few preliminary attachment (Cog) designs, such as a nubby vibrating clitoral stimulator, a lightly-textured insertable dildo, and a pleasurably-bulbous butt plug. Each one is made of 100% medical grade platinum-cured hand-dipped Japanese silicone, firm yet supple, completely body-safe, hygienic, flavorless, with no smell, and super easy to clean.

And for the dudes out there, we've got something really special in mind. It's called the Cruize Control, and it's a steering-column mount for your favorite plastic-cased masturbation sleeve. That's right — now you don't have to compensate.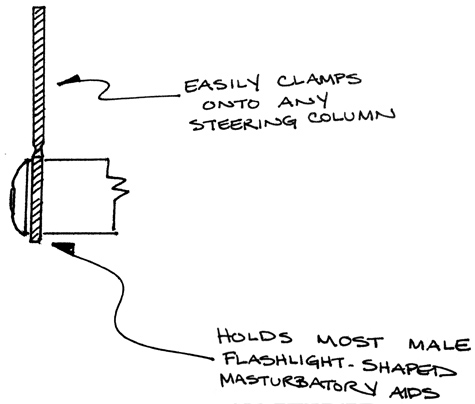 Of course, we don't want you to throw your Cogs in the glove box where any nosy passenger could find them, so we've equipped the underside of each Joy Ride with a generous storage pouch.
This is just the tip of the iceberg, though. With your help, we hope to continually expand the product line with new and interesting Cogs. We're also open to suggestions, so let us know what you'd like to see!
Swatches and add-ons
Aesthetics are just as important as function, so we plan to offer the Joy Ride in an array of exciting patterns and colors to suit every personality. From solid colors to masculine and feminine designs of every flavor, you'll be riding in style and be the envy of your friends.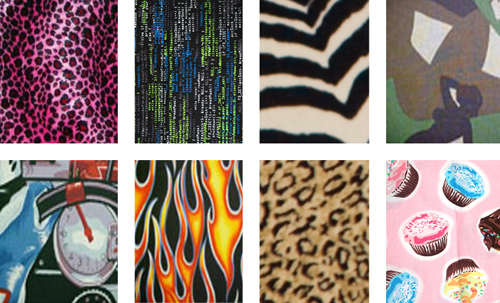 Discretion is our tip-top priority, so we've developed what we call the Privacy Blanket (patent pending). This blanket is loom woven with double stitched edges for durability, and of course, it is not sheer in any way. It's so thick it'll block out the sun! So you can feel extra secure draping it over your lap to keep your exploits all to yourself.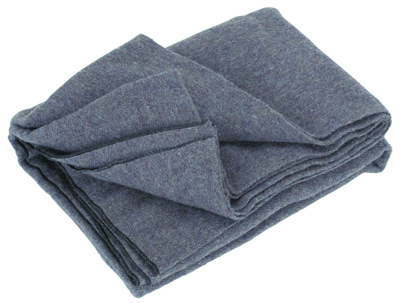 And finally, we have the Inner Goddess Kit.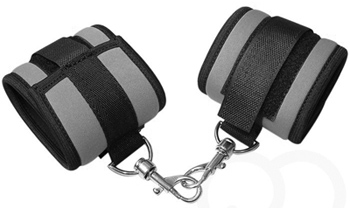 Inspired by 50 Shades of Grey, these sturdy and attractive cuffs attach seamlessly to the sides of the Joy Ride. We'll even throw in a free satin blindfold. The thrill of danger has never been so close!
Perks like you wouldn't believe
We hate when Indiegogo campaigns have shitty perks, so we've dreamed up some pretty awesome stuff for y'all. Things you can get just for supporting the project include custom-formulated lube, fuzzy balls, a handy keyfob, a mini replica of the Joy Ride for your own personal doodad shelf, artisan chocolates, and even a gold-plated butt plug hood ornament! C'mon, how can you resist that?
If you're a big spender, there's even more awesome shit in the running for you. You could even end up with me at your house, bestowing my world-renowned petting skills on your cats. Not a euphemism, sorry.
Ready to contribute? HOORAY! Do it right here.
Share this campaign!
We need your support in order to fully fund the Joy Ride and make it a reality! Please share this campaign far and wide. Or reblog this post on Tumblr or share this post on Facebook. What would be really awesome is if you'd write about the campaign on your blog. You can embed the teaser video, of course, and feel free to yoink any of the text in this post, I don't even care! I'm pumped to finally be telling you about this, and I hope you'll help me spread the word as much as humanly possible.
Thank you SO MUCH for your help, peeps!